This January 26-28, Running Insight held its third Market Week, bringing together the run specialty industry for education, business meetings, networking, and celebration.
The free, virtual event gave retailers across the country access to exclusive educational content and leading brands. In total, 205 retailers attended, and 18 brands sponsored Market Week, emphasizing the industry's need for face-to-face connections and business planning.
Everyone knows run specialty is a constantly changing industry. As retailers continue facing unique challenges during the COVID-19 pandemic, Running Insight recognized the need to include timely, actionable educational content during the event.
Retailers had the opportunity to attend four presentations led by Karnan Associates, industry experts with years of experience advising specialty retailers. Presentation topics ranged from developing store team leadership and the importance of marketing to next-level objectives for 2021.
To ensure there was something for everyone, Market Week sponsors covered a range of product categories, including footwear, apparel, nutrition, recovery, and more. HOKA rnnr, Hyperice, and Aetrex were just a few of the participating brands—view the full list here.
A flexible meeting format tailored to attendees' schedules and business needs made it that much easier for retailers to have productive brand meetings. In total, there were 391 meetings between retailers and brands—the highest number of meetings Running Insight has organized at a virtual event. Here's what attendees had to say about Market Week:
"The flexibility to still have some one-on-one meetings with brands in a timely manner was very useful in a year with no traditional trade show."
"With all the Covid-19 virtual meetings I have been having, I was blown away that not one of my meeting or educational sessions had a hiccup."
"Thank you for hosting and getting us all together, even if it was virtual. Having that connection is important."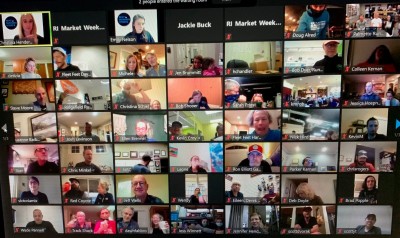 And last, Running Insight was thrilled to honor the Best Running Stores of 2020 during a virtual awards ceremony. In a year when the industry was unable to celebrate in person, it was more important than ever to recognize the stores who went above and beyond in a year that was anything but normal.
With that, Running Insight would like to again congratulate 2020 Store of the Year 1st Place Sports as well as the other three Store of the Year finalists:
Fleet Feet Richmond of Richmond, VA
iRun Texas of San Antonio, TX
Ridgefield Running Company of Ridgefield, CT
Click here to view all 60 of the Best Running Stores of 2020.
We're thrilled with the success of January's event, and we look forward to hosting you at our fourth Market Week later this year. In the meantime, we invite you to stay up to date with the run specialty industry by subscribing to Running Insight.