Even as run specialty stores take their first tentative steps to reopen in parts of the country, virtual races are being promoted as a way to keep running and to keep a community in touch as the world gets used to the new normal. They are also linked to various charities, ranging from COVID-19 relief funds to donations to support local running shops.
A number of these races have come across our desks lately.
The Virtual Brooklyn Mile will be run June 19-21, 2020. The Brooklyn Mile has traditionally been run along Kent Avenue, under the Williamsburg Bridge and onward through the heart of North Brooklyn but this year it will be virtual on Father's Day weekend and will be open to runners around the world in a unique virtual racing format, powered by VDOT. This year's sole beneficiary will be NYC's COVID-19 Emergency Relief Fund, which provides resources and support to health care workers, local businesses, displaced hourly workers, families, youth and vulnerable New Yorkers.
Participants of all ages (13-and-older) will compete against one another and ranked according to their VDOT score. This race concept is circular crowdfunding — the more people who run, the more that gets donated and the larger the prize purse, so the larger the prize purse, the more who will run and the more that gets donated! Race fee is $15.
The cash prize purse is allocated on an age-graded results basis, with 80 percent of total registration proceeds will be donated to New York City's COVID-19 Emergency Relief Fund. The remaining 20 percent of total registration proceeds will go into a prize money pot for award winners.
VDOT was developed by Dr. Jack Daniels, Ph.D., world renowned running coach and exercise physiologist. It is a widely accepted measure of current fitness — the faster the race time, the higher the fitness level, the higher the VDOT score.
To register: https://vdoto2.com/purchase?productId=200929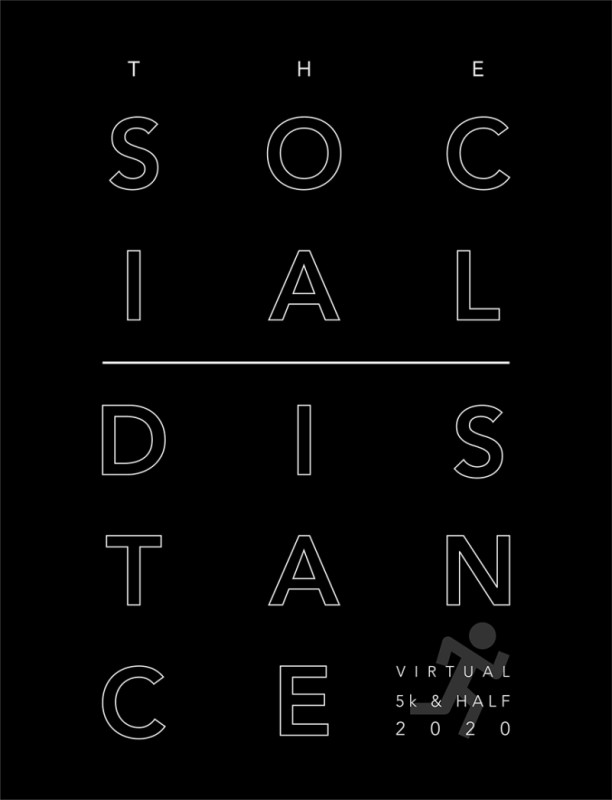 The Social Distance 5K and Half Marathon is another virtual run event being held on June 27-28. Organized by Sound Running, which has partnered with @werunlocal, the virtual races will donate 50 percent of all proceeds from the Social Distance Virtual races to the local running store of the runner's choice.
Registrants will receive a Sound Running training plan and special deals from sponsors — Athletes For Yoga, Feetures, Coros, Now and JR Watkins.
Participants will also have the chance to take part in the "Check-In Run" on June 6-7 as a prep for race weekend.
To register: - https://www.letsdothis.com/us/e/the-social-distance-5k-half-marathon-187630
Road Runner Sports has partnered with Stride, the boutique fitness franchise that offers treadmill-based cardio and strength workouts, to host a national virtual race on Global Running Day, June 3.
Registration is open through May 31 for a $35 entry fee, with a portion of the proceeds being donated to Feeding America. Those who sign up will receive a downloadable bib number, branded T-shirt, finish line photo and participation medal along with a training plan from Stride and access to the brand's "Go the Distance While You Keep Your Distance" Facebook Page, which offers daily running, strength training, and recovery workouts.
On race day, participants will submit a photo of their treadmill or screenshot from their tracking device that shows their distance and pace, as well as a photo of themselves at the "finish line" via Stride's custom race day landing page. Stride will then livestream these posts on the landing page and share all of the photos through social media to commemorate everyone's success.

The Big Sur Marathon Foundation is supporting the Just Run Home School Program by offering their handmade medals to children who complete various event distances before July 15, 2020. Children will be awarded a Big Sur medal that most closely corresponds to their overall mileage logged over the next two months. Awards are provided for running the following distance totals: 5K (3.1 miles), 12K (7.5 miles), 11-Miler, 21-Miler, or Marathon (26.2 miles).
Parents interested in enrolling their child in the free Just Run Home School Program will submit a registration form. Once the form is received, the child will then be added to a Home School group and the parent will receive an email with instructions on how to log mileage run or walked by their child.
Parents will be able to view their child's mileage accomplishments on the Just Run website. Total mileage must be submitted by July 15 in order to receive a medal. All parents will also receive a printable coloring page featuring a customizable badge design that can be used as a fun activity to celebrate their child's running accomplishments.
"We are excited to offer all children this challenging opportunity to earn a medallion for remaining physically active and achieving their running goals," said Susan Love, Program Director. "Staying fit is more important than ever for these kids and their families."
Just Run, a fitness program utilized by schools, launched a fitness-at-home program last month to support physical activity in children facing school closures. The family-friendly program encourages parents to get active with their children while adhering to local, regional, and state Shelter in Place guidelines.
To register: justrun.org.