Cheryl Toussaint has been involved with the Colgate Women's Games for 46 years as a coordinator and as Meet Director since 2014. In this current role she oversees every component of the program, from registration efforts to logistical planning to onsite coordination.
As the nation's longest-running track and field series for girls, Colgate Women's Games develops leaders for the future, teaches girls and young women how to compete and instills the importance of mentorship and education in all participants. "Competing in track and field and my involvement in Colgate Women's Games specifically transformed my life and made me who I am today," says Touissant.
"This is a community of girls and women who all share a hunger for sisterhood and personal growth and Colgate Women's Games provides a place where they can learn about hard work, perseverance, mental and physical health, and the value of contributing to a strong community," she adds.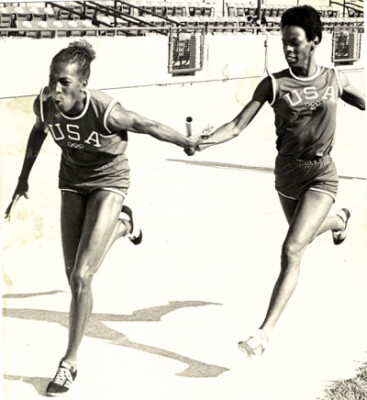 Tell us about your road to where you are today, both in business and as an athlete?
I grew up in Brooklyn with modest means and my friends and I would race each other around the neighborhood just for fun. One day I heard about a local track meet and decided to enter the competition on the spot — I didn't have the right clothes or shoes, but I ended up finishing in fourth place. It changed my life forever, because that was the day I met my longtime coach and mentor Fred Thompson, coach of the Atoms Track Club and founder of Colgate Women's Games.
What happened after that?
After competing in that first track meet, I joined the Atoms Track Club and Fred served as our team's mentor and trained girls and young women at a time when there weren't many athletic opportunities for girls and inner-city youth like me. It was where I discovered and grew my athletic talent. I eventually competed in the 1972 Olympics, bringing home a silver medal.
How has your athletic career impacted your personal life?
My long-time participation in track and field empowered me to become the first in my immediate family to earn a college degree. In addition, the scholarship funds I received from long-time Colgate Women's Games sponsor, Colgate-Palmolive, helped me take graduate courses.
So what is your "typical" day like these days?
This year was atypical in a whole new way because it was our first year hosting Colgate Women's Games outdoors, which we have never done before as we have historically been an indoor meet. But what never changes is the joy I feel when interacting with past and current athletes and coaches and hearing and witnessing the impact that Colgate Women's Games has on all of them.
How did the Colgate Women's Games go this year?
This year, nearly 2000 athletes competed in Colgate Women's Games and the finalists competed for trophies and scholarships at Icahn Stadium on Randall's Island in New York City. There were 1500 spectators cheering them on in the stands — it was such an inspiring day.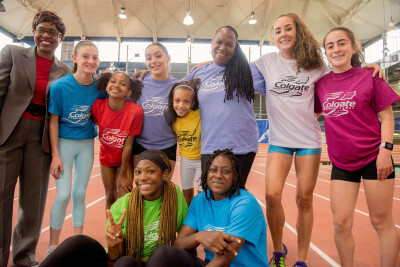 What gets you going in the morning?
It's so exciting to see this program serve generations of girls and witness how the legacy of Colgate Women's Games lives on through the many amazing stories of the athletes. Being able to be a mentor to so many young and aspiring athletes and letting them know they have someone in their corner who believes in them and is there for them is a gift beyond measure.
In that same vein, what keeps you up at night?
Even though thousands of athletes from up and down the east coast participate in Colgate Women's Games each year, I know there are many more individuals who are unaware of the program and who could benefit from the community that Colgate Women's Games offers. It is a safe haven for so many girls, but it also helps them develop a sense of independence in a safe and healthy environment. I always want to make sure that every athlete has the most positive experience possible while participating in Colgate Women's Games. Expanding the program and spreading the word is a big challenge, but it's also my biggest motivator. I know that we'll all keep working and growing Colgate Women's Games to help as many athletes as possible.
What is your personal running routine like these days?
I try to run on a regular basis, not only for the fitness and health aspects, but because it helps me keep a sense of balance in my life. Even if it's just a short jog, putting one foot in front of the other helps me continue to drive forward. When I go for a run, it helps me unwind, reflect and regroup mentally so that I can look forward to what's ahead and begin each new day as one full of opportunity.
How does your focus on Colgate Women's Games create different challenges for you?
I don't think of them so much as challenges as I do opportunities. It's always been my goal to expand Colgate Women's Games and make each season better than the last. I'm always trying to spread the word to ensure the program does the most good for the most people. The indoor track season is so important for athletes on the east coast, but appropriate venues are few and far between. Colgate Women's Games remains committed to serving the needs of the thousands of girls who are striving to stay competitive during the winter months and that's why it's always our goal to continue to overcome challenges and make this free program available when athletes need it most.
Who – or what – is your personal inspiration?
The late Fred Thompson, founder of Colgate Women's Games and legendary coach of Brooklyn's Atoms Track Club, has been my greatest inspiration. He introduced me to track and field, saw potential in me when I didn't see it in myself and challenged me to find solutions to obstacles. He taught me to stand up for what I believe in and I always try to pass along those lessons to athletes I work with.
How has the past year been for you, personally and professionally, in dealing with the pandemic?
2021 was the first year in nearly half a century that Colgate Women's Games was canceled for safety reasons. It was hard, but the health and safety of our athletes and their families is always the priority. I missed seeing the athletes that return year after year, as well as all the new talent that emerges each year, but I am happier than ever that we were able to return in full force this year by hosting the entire season outdoors at various locations around NYC and always taking the latest health and safety guidance into consideration.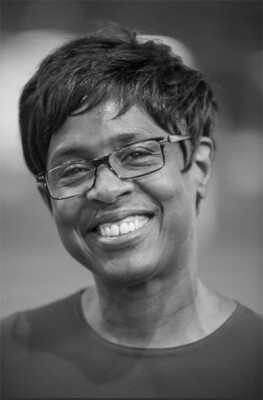 What do you think you bring to your business with a woman's perspective as compared to your male colleagues?
Fred always taught us to lead with authority. He taught us how to represent ourselves on a national stage — that we must be polished, prepared and support other women. These are the lessons that live on through all Colgate Women's Games alumna and empower future athletes.
Do you consider yourself a role model?
As an athlete and in my role as Meet Director, I hope that the young girls participating in Colgate Women's Games see me as an example of how sports can empower you to follow your dreams and achieve things that you might not have thought were possible otherwise.
What advice would you give to our readers – the run specialty retailers – about reaching out and merchandising to female runners?
From my experience as an elite athlete I can attest that when you feel comfortable and confident in what you're wearing, it gives you a decided mental edge when you perform. Everybody has different preferences, so I think that making sure that you're providing a variety of options is key — there is no such thing as one-size-fits-all.
What is your opinion of the products that are available to female runners and athletes? Any suggestions to companies making products for women?
The products in general have definitely improved with time. Today's track uniforms are definitely more tailored than the old, ill-fitting uniforms of the past. Making sure there is a wide-variety of options in fit, style and color so athletes find something they feel comfortable competing in is so important.
And we hear you have a personal uniform story to tell …
I think back to when I lost my shoe during an Olympic race and had to run the 400 with one bare foot. That may not have happened with today's sneaker technology, which is more personalized and durable.
Finally, what are you expecting for you as 2022 takes shape and what is it going to take to achieve that?
Our planning for the next season of Colgate Women's Games is already underway and it will be here before we know it. I'm so proud of all the young girls and women who competed and gave it their all at Colgate Women's Games. It was so inspiring to watch so many aspiring athletes taking the next step in their journey.
How about looking forward?
As we approach our 50th anniversary milestone, every season between now and then is especially important. Our goal is not only to spread the word to future athletes, but to remain connected with the thousands of members of our Colgate Women's Games community, including former participants and their families, coaches and supporters who have helped build Colgate Women's Games' legacy of providing mentorship, scholarship and life-changing opportunities for so many girls and women.
One other thing: Can you tell us a little about your apparel line?
Sure. Tousse Running Apparel was born out of my passion for the sport of track and field, my experience as an elite track athlete and my business acumen managing corporate sports programs and special events. At the time, track uniforms and running apparel were not being designed to complement the myriad of female body types and disciplines in the sport. Most uniforms for girls were one-size-fits-all, boxy and ill-fitting, and they impacted athletes' performance. I began to work with athletes, coaches and designers to develop a customizable line of apparel that other brands didn't offer. Athletes could choose uniforms that worked best for their body type, size, specialty event, style, color and, most importantly, comfort. After about 20 years running Tousse Apparel, I licensed the brand to another production company and focused my efforts full-time on Colgate Women's Games.
Readers are encouraged to visit www.ColgateWomensGames.com to register for updates and stay in touch for more details on the 48th season of Colgate Women's Games.