The Under Armour human performance and product development teams continue to create innovative solutions for runners to head into 2022 with its next generation of performance running shoes. With the help of UA athletes and brand ambassadors, the UA Innovation Lab in Baltimore and UA Human Performance Center in Portland, Under Armour continues with its belief that it "performs best when it is disruptive."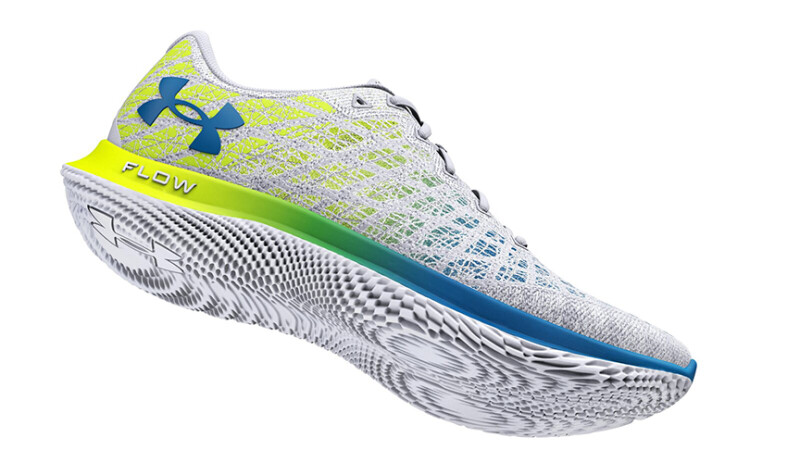 Flow Like The Wind: Flow Velociti Wind 2
The UA HOVR Machina launched with the innovative Pebax Propulsion Plate and the first iteration of UA Flow eliminated the need for a heavy rubber outsole — and the company is taking it from there with its expansion of its Flow running shoe collection that debuted in early 2021 with the UA Flow Velociti Wind and its disruptive all-in-one cushioning system
The UA Flow Velociti Wind 2 "is here to bring runners up to speed — literally," is the tagline.
The Flow Velociti Wind 2 features the same singular, ultra-responsive and long-lasting midsole compound as its predecessor. The UA Flow cushioning platform eliminates the need for rubber on the outsole, drastically reducing the weight and giving runners the feeling of light and effortless speed — the feeling of the wind at their back.
UA Flow is the lightest midsole technology in UA's current running lineup, bringing lightweight cushion and long-lasting technology to the run category. The foam has naturally sticky traction, so traditional bulky overlays of the past aren't needed.
"UA FLOW is a game-changing cushioning technology that expands our capabilities for delivering the best experience and product solutions to the runner," says Douglas Smiley, senior global product line manager for Performance Run at Under Armour.
The UA Flow Velociti Wind 2 launches globally in Spring 2022.
Product DNA:
• Weight (Men's size 9): 8.3 oz
• Weight (Women's size 7): 8.02 oz
• Price: $160 USD
• Heel: 26mm
• Forefoot: 18mm
• Offset: 8mm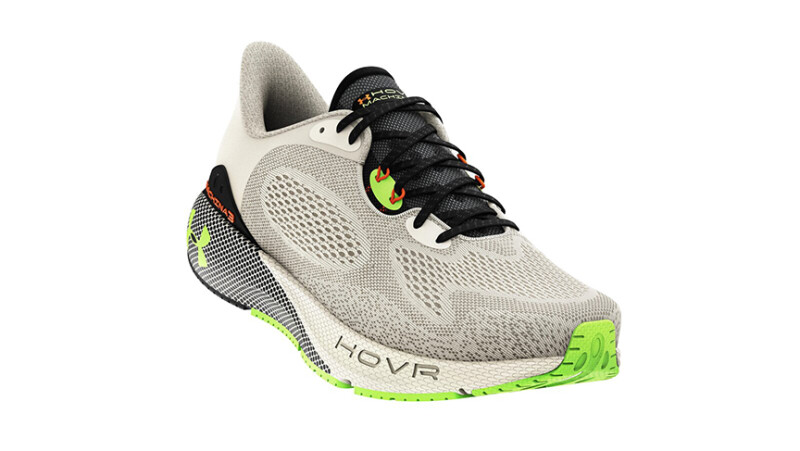 Next Level Speed: HOVR Machina 3
The new third iteration of the UA HOVR Machina running shoes, the HOVR Machina 3, represents the latest in UA's run footwear development.
By blurring the lines between race day performance and everyday high-mileage training, the UA HOVR Machina 3 features a firmer and more responsive forefront HOVR, while the plate's upgraded composite, softer heel HOVR and updated Energy Web and heel capture system make for a fast and comfortable run every single time.
The new midsole design of the UA HOVR Machina 3 enhances smooth landings without losing responsiveness or explosive lift-offs.
Another benefit: Runners can connect their shoes to UA MapMyRun for real-time Form Coaching tips based on their cadence, pace and stride. An embedded sensor tracks, analyzes and stores detailed running metrics to inform ways to improve performance. According to UA, in 2020 UA MapMyRun Form Coaching users ran seven percent faster and three percent farther.
The UA HOVR Machina 3 launches in Spring 2022.
Product DNA:
• NEUTRAL: For runners who need a balance of flexibility and cushioning
• UA HOVR technology provides 'zero gravity feel' to maintain energy return that helps eliminate impact
• Compression mesh Energy Web contains and molds UA HOVR foam to give back energy.
• Engineered warp spacer mesh is lightweight and breathable.
• Solid rubber outsole covers high impact zones for greater durability with less weight.
• Carbon rubber pods under the heel deliver greater traction & durability at high-impact strike zones.
• Offset: 8mm
• Weight (Men's size 9): 10.6 oz
• Weight (Women's size 7): 9.3 oz