Spring has sprung, and that means a flurry of activity among run specialty's retail ranks. Running stores have trumpeted Boston Marathon accomplishments, hosted Earth Day celebrations, ventured to track meets for some grassroots marketing, and solicited Best Running Stores submissions to earn their spot on 2023's distinguished list.
But wait, there's more. Check it out in this installment of The Running Spirit.
Run With It adds a pickleball court
Spurred by a successful two-year run selling pickleball products at its running store, the paddle game's still-exploding popularity and a move into an expansive 6500-square foot home in Fort Walton Beach, FL, Run With It owners Jeff and Donna Harris added an indoor pickleball court to their business in late March (see photo above).
Pickleball at the Palms features a standard-size pickleball court available for daily rental ($24/hour) and even black lights for glow-in-the-dark play.
"The court's full most of the day and it's been a fantastic addition to our business so far," says Jeff Harris, an avid pickleball player himself.
So wonderful, in fact, Run With It will add a covered outdoor court on its one-acre plot this summer.
"As we've gotten really involved with pickleball over the last three years, it's been a great business for us and we see possibilities to do even more," says Harris, adding that pickleball customers regularly shop many of the running store's products, including apparel from lululemon and Vuori.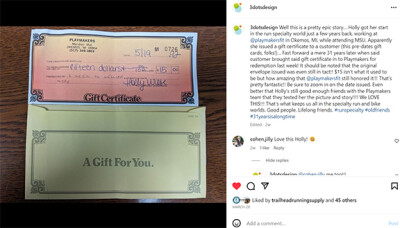 Playmakers takes in a gift certificate … from 1992!
A run shop accepting a gift certificate is nothing new. A run shop accepting a gift certificate from 1992 – the year George H.W. Bush (the father, not the son) inhabited the White House, "The Silence of the Lambs" won Best Picture and a dozen eggs cost less than a buck – is a different story.
But that's exactly what happened at Michigan-based Playmakers in March when a customer arrived with a $15 gift certificate dated May 19, 1992. Playmakers honored the gift certificate, which was presented to a participant in a program called "Six Weeks to Wellness." That's right: six weeks to wellness yet 31 years to redeem.
In another interesting twist, the gift certificate was signed by then-Playmakers employee Holly Wiese. Today, Wiese leads 3 Dots Design, one of the foremost retail design and visual merchandising companies in the run specialty marketplace.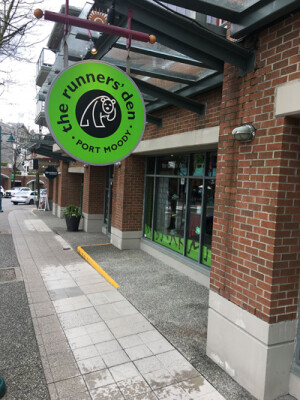 The Runners' Den collects socks
In British Columbia, Canada, The Runners' Den has hosted coat drives and food drives to support local residents facing hardships. For 10 days in March, the Canadian store hosted a sock drive for two local homeless shelters.
To incentivize donations, The Runners' Den issued a raffle ticket for each new pair of socks donated. A gift card in the dollar amount of the total number of socks collected served as the raffle's grand prize. And with 389 socks donated, one lucky winner captured a $389 gift card to The Runners' Den.
"For a first-time event, we were very happy with the support we got from our customers and community," says Runners' Den owner Paul Slaymaker. "We have many generous people in our community and sometimes they don't always know how to help. We provide a vessel to be able to reach a little deeper and get support for these non-profit organizations."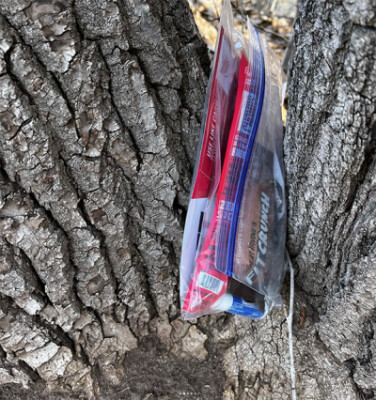 Dashing for cash in Salt Lake City
On April 25, the Salt Lake Running Company continued an ongoing tradition when it tied a Ziploc bag filled with a $25 store gift card and other goodies to a local park bench, posted photo clues of the bag's location to SLRC's Instagram page and invited followers to find the prize and win the bag's contents.
SLRC's Dash for Cash started in 2019 when store leadership was looking for a fun way to engage its Instagram community. SLRC posts a Dash for Cash every 3-4 weeks, rotating days of the week, time of day and, of course, location to keep fans on their toes.
"It's totally random so that followers will feel motivated to keep checking in on us on Instagram," SLRC owner Debbie Perry says, adding that the "monthly-ish" contest is a hit with SLRC fans.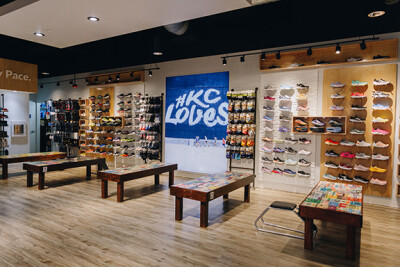 The Running Well Store moves – and plants trees
When The Running Well Store moved its north Kansas City store a few hundred feet down Barry Road to a larger, 2500-square foot space packed with run specialty nods and Kansas City touches, owner Kathy Gates wanted to do something special.
To commemorate Earth Day and the running shop's Grand Opening weekend April 21-23, The Running Well Store also hosted a used shoe drive to benefit the MORE Foundation. Over the new shop's opening weekend, The Running Well Store collected 950 pairs of shoes. Those shoe donations will spark the planting of nearly 5000 trees in Africa.
"What an Earth Day!" Gates beams.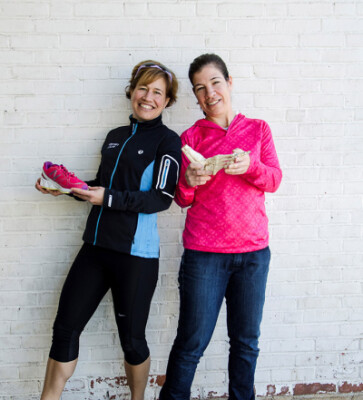 Running stores on the move
The run specialty retail store count continues to grow.
Over recent months, Denise and Art Picus opened Fleet Feet Canton (GA), former Best Running Store in America honoree Columbus Running Company debuted a new store – its sixth – in Grove City, OH, and Fit2Run teased its third Orlando location at the Waterford Lakes Town Center. The Fit2Run will feature a full-service bike shop and bar.
And in Connecticut, Fernanda, and Dave Jacobs are the new owners of the Fleet Feet West Hartford running store. The Jacobs replace the Blozy sisters – Stephanie and Carrie (in photo) – who led the store to multiple Best Running Store in America nods since purchasing the shop in 2008. Fernanda Jacobs has been the store's general manager for the past year.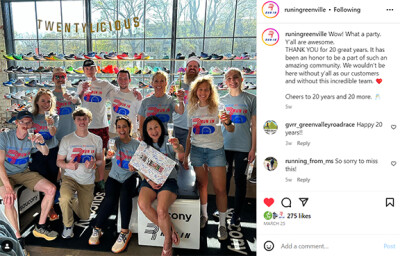 And one last thing: Running Insight is hunting for 2023 anniversaries
South Carolina-based Run In toasted 20 years on March 25 with a SALE-elebration.
If you're a running brand or running store like Run In celebrating a milestone anniversary of 10-plus years in 2023 (ie. 10, 15, 20, 25 years, etc.), Running Insight wants to know. We're planning a special anniversary-themed issue this summer. Send a brief note with the details to me at [email protected].
Have a compelling event, project or initiative to propose for a future Running Spirit column? Contact Running Insight senior writer Danny Smith at [email protected] with details. You can also follow Danny on Instagram @runspecialtyinsider.