The last two months brought spring's return and rolling momentum for America's running stores. Under warmer weather, run shops hosted group runs, pulled a few clever April Fool's Day tricks – Salted Fish GU energy gel, anyone? – called out stellar performances, organized Earth Day celebrations and extended Mother's Day wishes.
Honoring their MO, America's run shops continued to build community, create energy, ignite connections and elevate fitness.
Philadelphia Runner blends running and art education
Philadelphia Runner's University City store paired arts education with fitness on April 23 when it teamed up with Mural Miles to host a special five-mile run. About 140 runners trotted through University City and West Philadelphia, stopping to learn about six notable murals along the route. The Saturday morning event also featured a footwear demo opportunity with On as well as an afterparty with food, drinks, music and giveaways.
Philadelphia Runner outreach and marketing manager Liz Pagonis says the run shop has partnered with Mural Miles – a group that meets monthly to explore murals in Philadelphia – in the past and the collaboration never disappoints. "We have a couple more partner runs lined up with them later this year," Pagonis says.
Rock City Running's scholarship program returns
Earlier this month, Chancellor Taylor and Abigail McElhaney captured the second annual Bill Torrey's Rock City Running and Kinco Constructors Student Athlete Scholarship. The honor recognizes graduating runners from an Arkansas high school who exemplify the qualities of leadership, sportsmanship and integrity. Both Taylor and McElhaney received a $1500 prize and a complimentary pair of Brooks Running shoes.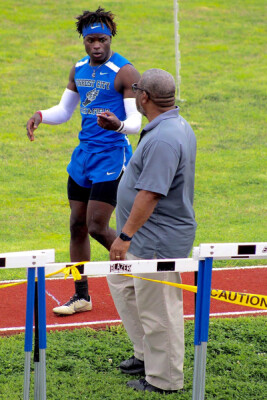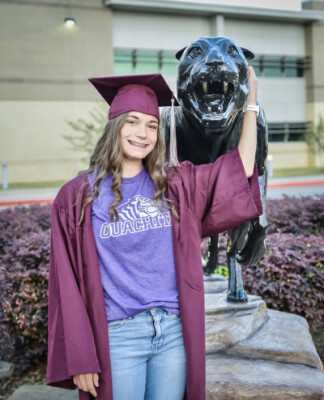 Taylor, of Forrest City High School, will be attending Coffeyville Community College with plans to continue running in college, while Benton High's McElhaney will continue her academic and athletic career at Ouachita Baptist University.
In the interest of finding more ways to give back to the community, Rock City Running manager Bill Bulloch says the store and Kinco have formed a 501(c)(3) organization to elevate the scholarship's profile and potential resources.
Performance Running Outfitters puts socks in bloom
The creative folks at Performance Running Outfitters in Milwaukee turned Balega socks into flowering bouquets for a unique Mother's Day gift. Started by store co-owner Jessica Hoepner years ago and now run by the five-store chain's marketing department, the "sock bouquets" feature four pairs of Balega Grit & Grace socks twirled around wooden sticks and positioned in a glass vase alongside tissue paper and artificial green leaves for a gift as whimsical as it is practical.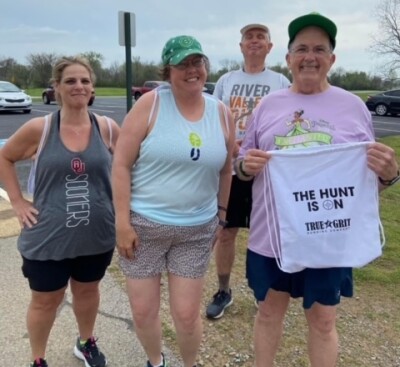 True Grit Running continues its annual egg hunt tradition
On the evening of April 12, True Grit Running Company hosted its annual Easter Egg Hunt. The Fort Smith, AR-based store covered the trails at nearby Ben Geren Regional Park with over 150 eggs.
Nearly 50 people hunted for the staff-painted cardboard eggs, which included candy as well as vouchers for a free packet of energy gel, $3 off a sock purchase and 20 percent off an entire purchase. Three "golden" eggs, meanwhile, featured bigger prizes – a free pair of shoes, wireless headphones and a hydration vest. The running shop also supplied participants with a free drawstring bag featuring the True Grit logo as well as candy-filled goodie bags.
True Grit owner Melissa Vitale says she adapted the idea from the suggestion of a sales rep, who encouraged her to have a small egg hunt in the store. "We grew the idea from there and took it to our group run, thinking it could be a fun challenge to our runners," Vitale says, adding that the 2022 hunt attracted numerous individuals whom the store had not interacted with before. "Now, they know about us and who we are.
Vitale is considering adding a children's egg hunt next year to further bolster True Grit's outreach.
Fleet Feet Little Rock embraces poker for a worthy cause
The Las Vegas spirit came to Arkansas' capital city on May 15 when Fleet Feet Little Rock hosted a Poker Run. Participants paid $20 and picked up a new playing card at different stations along the fun run route. At the end of the run, the best poker hand captured half the pot. The other half, meanwhile, went to First Descents, a non-profit that provides outdoor adventures to young adults impacted by cancer and other serious health conditions.
RunAbout Sports shines a spotlight on its new neighbors
In preparation for its mid-April relocation to a new storefront in Roanoke, VA, RunAbout Sports hosted a moving sale with a twist. While the sale included the typical discounts on footwear and apparel, RunAbout also purchased gift cards from two of its soon-to-be neighbors, Montano's restaurant and the Sugar Magnolia gifts and treats shop. Any customer who spent $100 at RunAbout on April's opening weekend earned a raffle spot for those gift cards as well as one from RunAbout.
"Three freebies up for grabs just for shopping small and helping us clean out our back room to get ready to MOVE! No foolin'," RunAbout's Instagram page blared on April 1.
Fleet Feet Chicago leverages internal talents for new hoodie
To produce its latest private-label RUNCHI hoodie, Fleet Feet Chicago leaned into the talents of its visual merchandiser, Russell Yost — a talented graphic designer with an expertise in fashion design illustration. Printed on a gray Brooks Full Zip Hoodie 2.0, the graphic features a representation of Chicago's skyline and embraces the red, white and sky blue color palette found on the city's iconic flag.
Big Peach, Point 2 Running stand with Ukraine
As the Russian invasion of Ukraine moved into a second month in April, run shops like Point 2 Running Company and Big Peach Running Co. introduced efforts to support the beleaguered nation.
For much of April, Point 2 Running collected items for Ukraine relief at its two Virginia-based stores. Point 2's Medical Supply Collection included requests for ibuprofen, antibacterial ointment, adhesive bandages, antiseptic wipes, eye wash and other first aid materials.
In Atlanta, Big Peach raised funds for the Ukrainian Congress Committee of America (UCCA) and its humanitarian work in the war-battered nation. In early April, Big Peach began taking orders for a gray Stand with Ukraine t-shirt and devoted all proceeds to UCCA initiatives.
"Let's send a message that the RUNATL community moves together and stands united," Big Peach Running Co. owner Mike Cosentino wrote in the store's April 4 newsletter calling for t-shirt pre-orders.
Have a compelling event, project or initiative worthy of consideration for a future Running Spirit column? Contact Running Insight senior writer Daniel P. Smith at [email protected] with details.