With 2023 in full swing, running stores continue hustling ahead with a determined, creative energy. They embraced Valentine's Day revelry, touted a plethora of new footwear releases, celebrated the debut of another track season and, especially in sunshine-deprived parts of the country, rejoiced about spring's nearing arrival.
But wait, there's more. Check it out in this installment of The Running Spirit.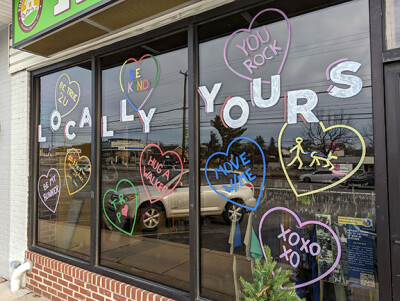 The Running Place shows extra love to its windows
In Newtown Square, PA, The Running Place dressed up its windows with some hearts as Valentine's Day approached.
Running Place owner Ken Taylor, who calls his store's front windows "a labor of love," often ties his windows to seasonal themes. After taking down a winter-themed display in early January, Taylor jumped right into commemorating Valentine's Day.
Taylor sketched ideas on paper before grabbing acrylic paint markers and creating hearts with messages and whimsical images inside akin to the Conversation Hearts' candy popular around Valentine's Day. Messages included "Be My Runner" and "Move w/ Me."
"It makes people smile and lets people know we have a personality," Taylor says, adding that the windows entice second looks from drivers and pedestrians, enliven his storefront and spark conversation.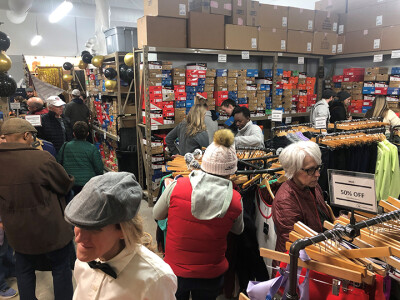 Athletic Annex sets up a one-night mystery shop
When Athletic Annex was ready to host a clearance sale, the Indianapolis-based running retailer ditched the traditional ho-hum sale in favor of a speakeasy-themed special event on Jan. 27 complete with a backdoor entrance, a secret code for access, cocktails and 1920s-era costumes for staff.
The event's initial social media announcement on Jan. 18 shared a secret location for an Athletic Annex sale with savings up to 75 percent. When customers tagged a friend, they received a direct message with coordinates to the sale location – a small warehouse in the back of Athletic Annex's Indianapolis store. Thereafter, customers were tasked to discover the secret four-digit entry code through a series of social media posts carrying clues.
"The interest in this was immediate and it ended up being the best sale we've ever had," Athletic Annex co-owner Justin Porter reports, though he acknowledges the event should have extended beyond four hours. "The first two hours were just brutal, though we handled it."
The success of the event has Athletic Annex leadership already thinking of an encore and contemplating ways to improve the event, including moving to a different venue or extending the duration of the sale.
"We've created an animal here," Athletic Annex operations manager Gareth Wilford says.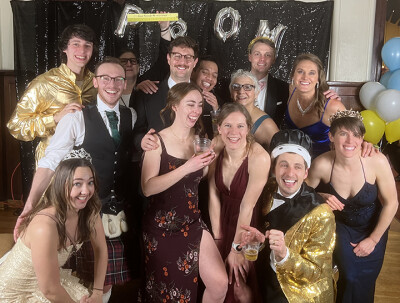 Mill City Running and A Snail's Pace host proms
On Jan. 21, more than 200 members of the racing team from Mill City Running gathered at Minneapolis' PNA Hall for the annual race team prom, a lively event marked by extravagant outfits, creative promposals and end-of-the-year awards, such as Photo of the Year, Teammate of the Year and Performance of the Year.
"You're so used to seeing everyone in running gear that the dressing up/costume component becomes a big deal," said Mill City Running co-owner Jeff Metzdorff. "You're always wondering which mild-mannered runner is going to go all-in on an over-the-top outfit at prom."
Not to be outdone, A Snail's Pace hosted its own prom on Feb. 11. Designed to bring together running club members from all four Snail's Pace stores in southern California, the 20th edition of the event featured 130 attendees, raffles, and a contribution to the UCI Anti-Cancer Challenge.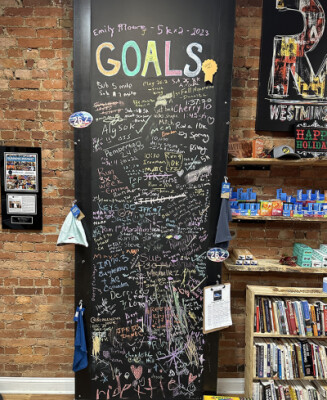 Run Moore puts goals on display
Maryland-based Run Moore continued an annual tradition this January when owner Steve Moore gave a fresh coat of chalkboard paint to his store's "Goal Wall." Over subsequent weeks, customers entered the store to write their 2023 goal on the wall. The personal targets range from earning a Boston Marathon qualifying time to hitting weekly mileage targets to beating a brother-in-law at a race to earn the respect of family members. In an act of public accountability, some sign their name to their goal, while others leave their initials or remain anonymous.
"The goal wall is perhaps my favorite thing in the store," says Moore, who recalls a study reporting that those who wrote their goal were 42 percent more likely to achieve it. "It's fine to set your sights on any goal no matter how big or small it may seem."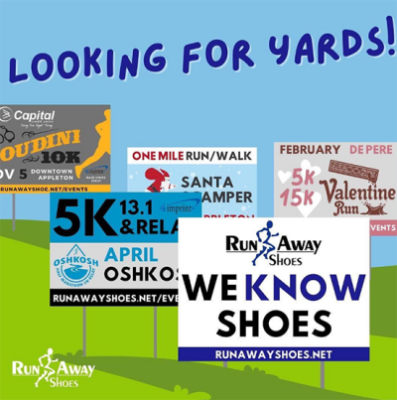 Run Away Shoes goes 'looking for yards'
To generate interest in its local races and stir deeper relationships with its ardent fans, Wisconsin-based Run Away Shoes has offered locals a $25 gift card to one of Run Away's retail stores or races in return for installing a yard sign at their home promoting a Run Away event, such as April's Oshkosh Half Marathon or December's Santa Scamper in Appleton, WI. Depending on a home's location, it will host 3-4 yard signs each year.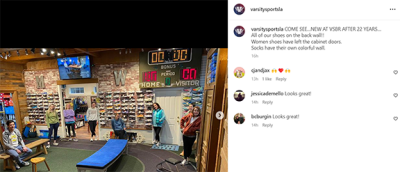 Varsity Sports lights up the scoreboard
I'm a self-confessed college basketball junkie and the NCAA Tournament's opening two rounds remain my favorite four consecutive days of the year. So, with March Madness upon us and me being a sucker for distinctive design elements in retail stores, it's a fitting time to profess my love for the ol' gym scoreboard lording over the showroom at Varsity Sports in Baton Rouge, LA.
Owner Jenni Peters' business embraces quirkiness and character and regularly smacks convention on its tail. It all makes for memorable visits and memorable interactions with a memorable store.
Running stores on the move
Run specialty retail continues to move at a strong pace with a number of stores expanding with new locations or larger footprints. To wit:
• Fleet Feet Tri-Cities owners Julie and Wade Pannell recently added a sixth store to their Washington state run specialty empire with a new location in Richland, WA, while Fleet Feet Mechanicsburg (PA) owners Shelby and Fred Joslyn celebrated the grand opening of their new Harrisburg, PA, store on Feb. 25.
• Just a few weeks ago, New Jersey-based Fleet Feet Montclair expanded into a neighboring storefront, gaining more space for running gear, fun runs, parties, classes and more. Congrats to the Fabbro family and their crew for a move 35 years in the making.
• Karavel Shoes, meanwhile, recently celebrated a move to a larger storefront with more customer parking in Austin, TX.
• Finally, welcome Matt Muller to the run specialty world. Muller recently became the new owner of Ken Combs Running Store in Louisville after purchasing the 43-year-old business from longtime owner Larry Holt.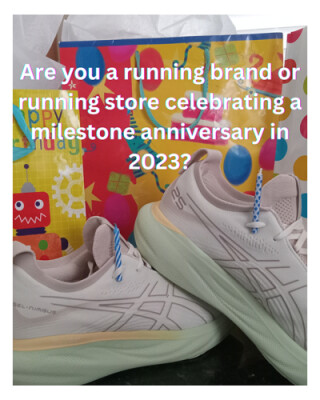 And one last thing: Running Insight is hunting for 2023 anniversaries
Are you like the ASICS Nimbus and celebrating a milestone anniversary this year? (Happy 25th, Nimbus!)
If you're a running brand or running store celebrating a milestone anniversary of 10-plus years in 2023 (ie. 10, 15, 20, 25 years, etc.), Running Insight wants to know. We're planning a special anniversary-themed issue this summer. Send a brief note with the details to me at [email protected].
Have a compelling event, project or initiative to propose for a future Running Spirit column? Contact Running Insight senior writer Danny Smith at [email protected] with details. You can also follow Danny on Instagram @runspecialtyinsider.