Summer is in full swing at America's run specialty shops, where Global Running Day celebrations, a few Father's Day dad jokes on social media and Fourth of July-themed fun runs further cemented running stores as lively, dynamic and fun community anchors.
Here's to the run shops that never stop moving.
After a festive holiday-themed fun run last December at Run Newport, "guest bartender" Ed Wray didn't hesitate to name the Rhode Island-based shop's next wacky adventure: a prom run.
On Monday, June 6, nearly two dozen Run Newport fun run regulars participated in the store's inaugural Prom Night Run event. Donning old prom dresses, tuxedo tops and the like, runners enjoyed a 5K fun run that included storming – albeit respectfully – the town's waterfront gazebo, where hundreds of local teens gathered to take their pre-prom photos.
"The kids were laughing hysterically because no one knew we were coming," Wray says.
Weeks later, Wray says the unique event remains a regular topic of conversation.
"We have so many people kicking themselves that they didn't join us that night, too," he adds.
Charlotte Running Company surprises graduating seniors
Inspired by the work skills of teen employee Avery Lefebvre, Charlotte Running Company (CRC) leadership began considering a scholarship program for its high school workers matriculating into the collegiate ranks.
On May 26, CRC turned the idea into reality when it awarded its first-ever college scholarship to Lefebvre, a two-year CRC employee who will be attending – and playing soccer for – UNC Asheville this fall. Soon after, the nation's reigning Best Running Store in America awarded a second scholarship to East Carolina University-bound Grace Fichter, who has worked at the store since November 2021.
According to CRC owner Jamie Davis, the five-store business plans to award a college scholarship to every one of its graduating high school student employees based on their CRC start date and hours worked.
"We wouldn't have won the number one store award without amazing employees [and] this is just another way for us to express our appreciation," Davis says.
Watch a video of the suprise here.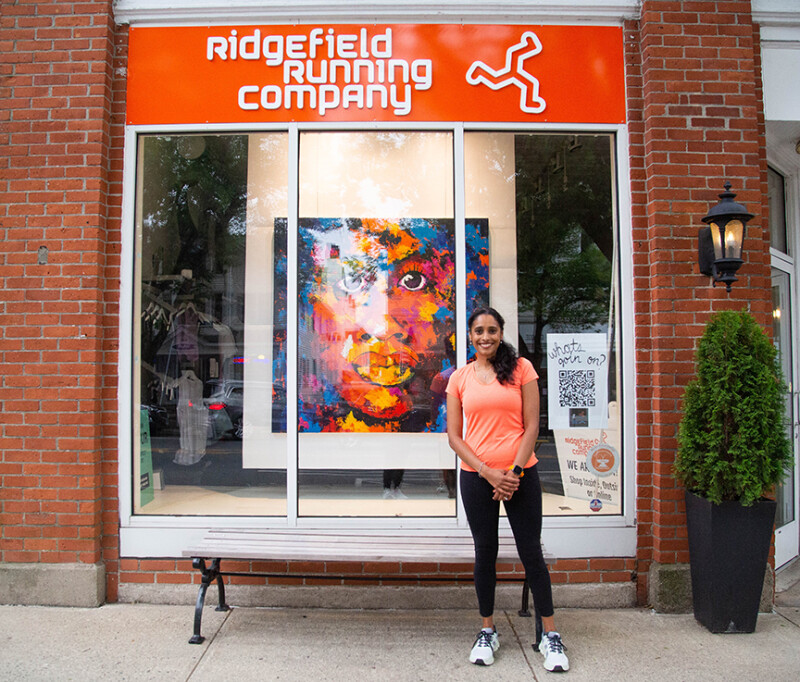 Ridgefield Running Company gets artsy
On June 16, Connecticut-based Ridgefield Running Company partnered with On Running to celebrate The Aldrich Contemporary Art Museum's latest exhibit – "52 Artists: A Feminist Milestone." The event included a fun run around downtown Ridgefield and a private viewing of the museum's exhibit.
In a lively twist, Ridgefield Running Company fit specialist and artist Tharini Pande painted an original artwork inside the store's front store window in the days leading up to the Thursday night event. Pande's painting will remain on exhibit throughout July before it is auctioned off to benefit a nonprofit.
As a women-led business, Ridgefield Running Company owner Megan Searfoss says she was excited to partner with The Aldrich and highlight female artists like Pande, who have historically been underrepresented in galleries.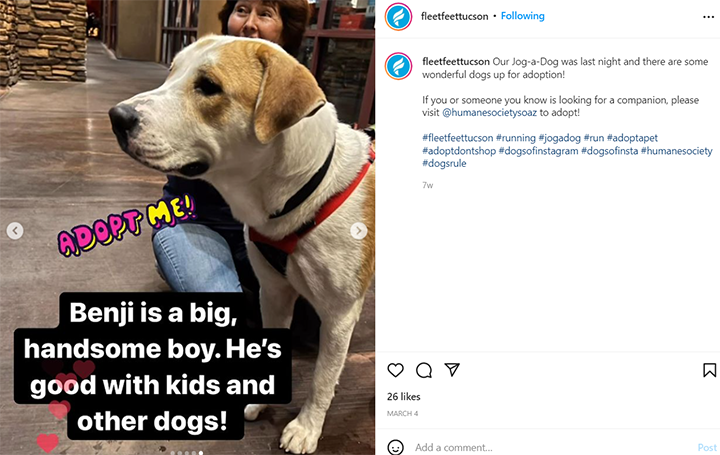 Fleet Feet Tucson Jog-a-Dog program spotlights adoptable dogs
In Arizona, Fleet Feet Tucson continues its Jog-a-Dog program in partnership with the Humane Society of Southern Arizona. At the monthly event, participants can walk, jog or run with adoptable dogs before enjoying an extended happy hour at a nearby establishment.
Past Jog-a-Dog events have helped numerous dogs find homes and put a spotlight on the Humane Society's important work to protect animals and promote adoption.
Medved hits the trails for some nature education
On May 16, Rochester, NY-based Medved Running & Walking Outfitters hosted its first Invasive Species Education Hike alongside Finger Lakes PRISM, a local organization working to reduce the introduction, spread and impact of invasive species within the Finger Lakes region.
Medved's Maggie Baackes says the store planned the event to offer more non-running events – "Walking is literally in the name of our business, so we need to include applicable programming," she reminds. – and to tap into the store's strong trail-based following. At the first-time event, Hoka provided demo hiking footwear for participants to try as well.
The two-mile hike in Mendon Ponds Park included a PRISM field guide pointing out invasive growth and detailing the species' environmental impact. The guide also explained how interested citizens could log identifications into a national database to aid in invasive species' growth management.
Medved plans to host a total of four summer hikes so participants can follow the invasive growth, while Baackes says the store intends to bring additional hiking-based programs to its community calendar, including snowshoe hikes and ecological tours.
Have a compelling event, project or initiative worthy of consideration for a future Running Spirit column? Contact Running Insight senior writer Daniel P. Smith at [email protected] with details.