Propelled by Olympic momentum, cross-country energy and the swelling return of races, the nation's run specialty shops rushed into fall with an upbeat, pragmatic pace.
Over recent months, run shops have worked to re-establish normalcy after a chaotic 18 months. Running stores have resurrected fun runs, touted races and championed exciting new product to solidify their community ties and spark excitement for fitness endeavors.
Charm City Run remembers 9/11
Just as Baltimore-based Charm City Run was preparing to open its first location in 2001, the events of 9/11 shook the nation.
In the two decades since, the now six-location running shop has honored the heroism, commitment and sacrifice of that day's victims, survivors and rescuers with its annual Run to Remember 5K and 11K races. In doing so, Charm City Run has raised more than $400,000 for the Run to Remember Fund supporting the efforts of local first responders, such as the Baltimore Police Department's K9 and mounted units as well as the Baltimore Fire Department's Fallen Heroes Fund.
"Every year at Run to Remember, I feel privileged and honored to be bringing runners together with first responders and military veterans so that runners and people like me can say, 'Thank you,'" Charm City Run owner Josh Levinson says.
As in past years, the 2021 edition of the race – fittingly held on Saturday, Sept. 11 – began in front of the 9/11 Memorial of Maryland and finished at Baltimore's Federal Hill Park. The race's 8:46 a.m. EST start time reflected the moment the first hijacked airplane hit the World Trade Center's North Tower that Tuesday morning in 2001.
In a bittersweet note, though, this year's event served as Charm City Run's final Run to Remember.
"With this being the 20th anniversary of the 9/11 attacks and Sept. 11th falling on a Saturday, this just felt like the right time to end things on a high note," Levinson says.
Fleet Feet Roanoke gets shoes on students' feet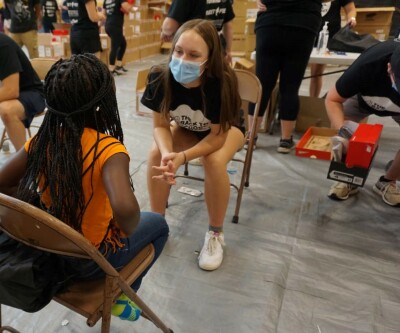 In Virginia, Fleet Feet Roanoke promoted The Back-to-School Shoes Project from Project Forward, a non-profit started in 2015 by Fleet Feet Roanoke owners Robin and Blaine Lewis. The initiative provided new shoes and socks to students who attended Roanoke City Public Schools' Back to School Extravaganza on Aug. 21.
The need is great in Roanoke City Public Schools, where 58 percent of students – some 8000 children – identify as economically disadvantaged. Pulling in support from vendors and the community at large, Project Forward purchased 5000 new shoes and socks that it then used to fit hundreds of kids at the Aug. 21 event.
"These past 16 months have reminded all of us about what is important in life," Robin Lewis says.
Fleet Feet Roanoke team members and partners are now visiting each of the 24 Roanoke City Public Schools to outfit hundreds more students who did not attend the Extravaganza.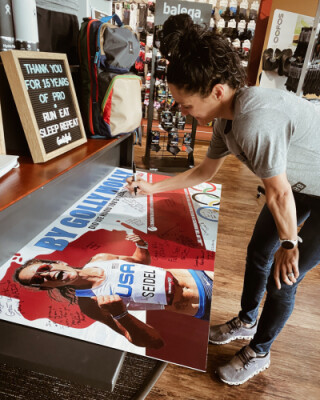 PRO celebrates Olympic medalist Molly Seidel
To celebrate the bronze medal-winning Olympic Marathon performance of Molly Seidel, Milwaukee-based Performance Running Outfitters prepared a congratulatory banner for the Hartland, WI, native and invited customers to visit PRO's Brookfield, WI, store to sign the banner and provide a personalized message to Seidel. Soon after, PRO staffers delivered the banner to Seidel's family home.
847 Running Company brings laughter to its lot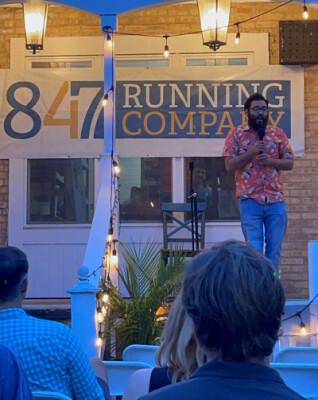 Following a group run at 847 Running Company in Libertyville, IL, staff and runners lingered on the store's back porch one evening and concocted a novel idea: hosting a stand-up comedy show. On Friday, Aug. 6, the suburban Chicago running store made that happen when it hosted its inaugural Porch Sessions, a live event featuring Chicago comedians. The $20 event included food and drinks and attracted more than 60 attendees.
Nicole Nesbitt and Kal Pence, 847 Running Company's owners, describe the event as a "resounding success" that ignited a deeper sense of community, supported a local restaurant and provided comedians much-needed laughs and stage time. Nesbitt and Pence hope to host a second installment of Porch Sessions next month.
Heartbreak Hill Running Company creates the Love Squad
Inspired by the collegiate running journeys of co-founders Dan Fitzgerald and Justin Burdon, Heartbreak Hill Running Company recently launched the Love Squad, a collegiate athlete sponsorship program. Seven male and seven female college athletes make up the inaugural Heartbreak U's Love Squad. The club features athletes from Division I programs such as Notre Dame and Harvard as well as Division II and III schools like Flagler College and SUNY Fredonia.
Throughout the 2021 fall semester, the 14 Love Squad athletes will be sharing their "late-night chats, long sits at the dining hall, training room blues, morning miles, time trials, minor fears, major celebrations and, most importantly, the love that grows through it all" with Heartbreak's TikTok community. In return for the three-month commitment to deliver twice weekly TikToks, Heartbreak is supplying Love Squad members with $500 in gear and a $150 monthly cash stipend.
Healdsburg Running Company energizes return of Lake Sonoma Race Series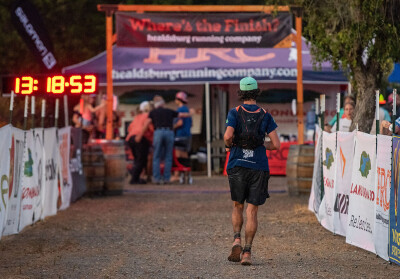 One of the most heralded ultrarunning events in the U.S., the annual Lake Sonoma 50 Miler took a COVID-forced pause in 2020. But in 2021, the event made its triumphant return with a hefty, determined assist from Skip Brand and his crew at Healdsburg Running Company.
Over the Labor Day weekend, ultrarunners and supporters descended upon Healdsburg, a town of 12,000 located about 70 miles north of San Francisco. There, Brand and his seven-year-old run shop were at the center of the action – leading group runs, corralling volunteers, marking the trails, hosting packet pickup and creating a photo booth to help participants memorialize the event.
Though forced to move off its typical April date, the 2021 Lake Sonoma Race Series added a 100-kilometer race to the weekend. A women's half marathon will join the party next year. Proceeds from the Lake Sonoma Race Series, meanwhile, support the Children of Vineyard Workers Scholarship Fund that expands educational opportunities for local students whose parents work in Sonoma County wine agriculture.
Columbus Running Company takes a turn on the gift box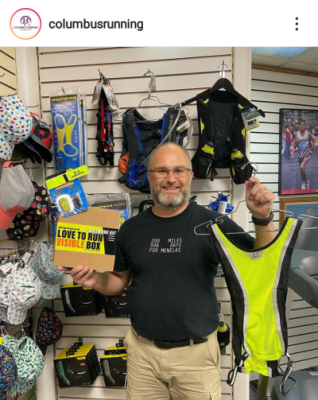 Throughout recent years, we've seen run shops across the country curate and promote gift boxes around holidays such as Christmas, Mother's Day and Easter. We've also seen run shops create gift boxes designed for fall marathoners or cross country runners.
Ohio-based Columbus Running Company put an interesting spin on the gift box when it recently promoted its Love To Run Visible Box. The kit includes three accessories to help walkers and runners stay safe as daylight shrinks: the Amphipod Full Visibility Reflective Vest, the Amphipod Versa-Light Mini and the Amphipod Stretch-Bright Florescent Reflective Band.
Have a compelling event, project or initiative worthy of consideration for a future Running Spirit column? Contact Running Insight senior writer Daniel P. Smith at [email protected] with details.