America's run shops brought plenty of energy to the final quarter of 2021 and have rolled it right into 2022. From celebrating Best Running Store in America nods and sharing glimpses of their visits to The Running Event on social media to touting new products, hosting holiday-themed fun runs and encouraging thoughtful New Year's resolutions, running shops continue to solidify their energetic positions in local communities.
Howe2Run embraces its "family" during the holidays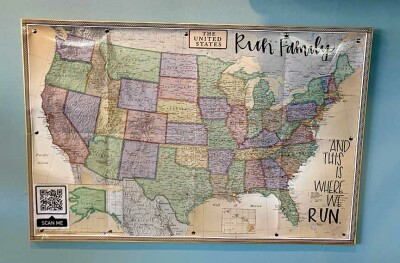 Viewing its run group members as family, Pamela and Phillip Howe, owners of Savannah, GA-based Howe2Run, gifted handmade tree ornaments to anyone who attended the two-year-old store's weekly group run leading up to the Christmas holiday.
"We do things that a family would do here and this was a nice gift to give them," Howe2Run general manager Marc Cameron says of the wooden ornaments.
At the store's final Wednesday group run before Christmas – the December 22 Ugly Sweater Run – Howe2Run unveiled a wall map of the U.S. that included a QR code at the bottom. The QR code leads to a Google Doc in which runners can share their different running travels in 2022.
"This allows us to track our run family's travels throughout the year so we can celebrate each other's achievements and adventures," says Cameron, whose wife created the map that now hangs in the Howe2Run store.
Two Rivers Treads turns its sidewalk into a force for good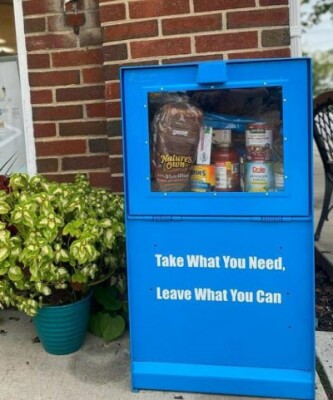 In October, Two Rivers Treads in West Virginia carved out space in front of its store in Ranson, WV, for a "Free Little Pantry," a converted newspaper honor box in which people can leave donations for items of need in the community, such as food, toiletries and diapers.
As winter began to descend upon West Virginia, Two Rivers Treads then rolled out its community coat rack and began requesting donations of spare winter coats as well as winter accessories such as gloves, hats and scarves to help community members in need.
"We consider ourselves a source of community wellness and there are so many people in need in our community," Two Rivers Treads owner Mark Cucuzzella says. "People feel like they want to give, so having a portal where people can donate things and know they are getting out to the community without any intermediate steps is good for the people in need as well as for anyone wanting to give."
St. Pete Running Company rallies support for local coach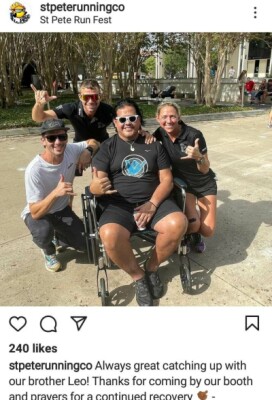 When local swim coach Leo Briceno sustained significant injuries following a catastrophic auto accident in August, one in which Briceno lost his mother, Irma, Florida's St. Pete Running Company responded by creating a line of performance running shirts and tanks featuring the "Hang Ten" hand sign over the words "One Community." All proceeds from sales of the tops went to Briceno's ongoing support and care.
"And our phone was ringing off the hook for two days with folks wanting to buy one and support Leo," says St. Pete Running Company owner Cody Angell, adding that a later in-store fundraiser netted more than $3000 toward Briceno's recovery.
Angell reports that Briceno, a spirited soul who has provided swimming lessons to local homeless individuals, taught English to immigrants and regularly volunteered at races, is on the mend. He recently got engaged and has a baby on the way as well.
"Leo's one of those connectors in our community and someone who's given so much to those around him that this was the right thing to do," Angell says.
Heartbreak Hill captures mind and soul of marathoners
Around the Boston Marathon, Beantown's own Heartbreak Hill Running Company unveiled its Head Check/Heart Check photo project to capture marathoners' pre-race and post-race mindset. Working alongside photographers George Annan and Aisha McAdams, Heartbreak set up a studio at its Newton store to collect the pre-race photos – the "Head Checks" – while post-race candids – the "Heart Checks" – were captured at Concepts in Boston, a retail operation located about a quarter mile from the marathon's Boylston Street finish line.
According to Heartbreak, the project captures "the thoughtful, quiet confidence and meditative state ahead of the marathon and pair[s] it with the joy, relief and feeling of accomplishment after the marathon."
Fairhaven Runners & Walkers issues challenges
Fairhaven Runners & Walkers enjoys a good challenge.
In October, the Bellingham, WA-based running store unveiled its Fall Foliage Challenge, which encouraged runners to embark on autumn adventures by completing 10 different routes – the store defined a route as visiting "a different park, trail, neighborhood or even changing up the directions of a typical route" – in the month of October.
For December 1-25, Fairhaven's Run Like Rudolph program challenged participants to complete 25 different health and fitness-oriented tasks ranging from running or walking a route with holiday lights to completing 10-15 minutes of core exercises, making a nutritious meal or "rolling out" muscles.
And with its 2022 Fitness Goal Challenge, Fairhaven asked participants to submit a 2022 goal along with actionable steps they planned to take to achieve their stated objective. The store plans to check in with every participant near the close of 2022 to gauge progress and award those who kept their pledge a Brooks bag/tote.
Fleet Feet Coppell gives a shout-out to frontline warriors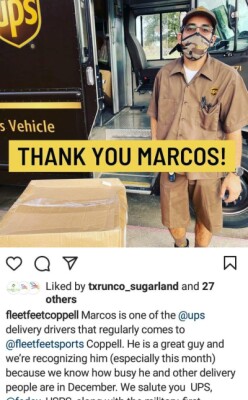 Fleet Feet Coppell gave a tip of the hat to frontline workers by sharing a photo of its local UPS driver, Marcos, on its Instagram feed December 17.
"He is a great guy and we're recognizing him (especially this month) because we know how busy he and other delivery people are in December," the store's post read. "We salute you UPS, @fedex, USPS, along with the military, first responders, medical folks, grocery workers and ALL those in service to others during the hectic holiday season."
As supply chain issues continue breeding anxiety among many U.S. run shops, folks like Marcos are a welcome sight at the door. Yet more, frontline laborers' work along the supply chain continuum will help run shops navigate present-day inventory challenges and appease customers.
A 12 Days of Christmas Photo Challenge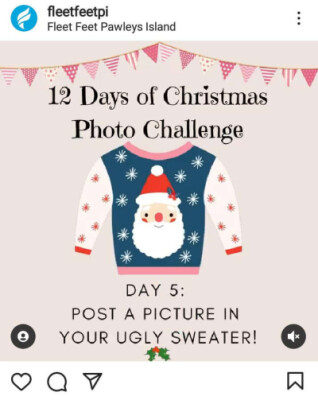 With Christmas approaching, many run shops got into the "12 Days of Christmas" mood. Some offered unique daily deals over a dozen-day period while others highlighted different products to entice purchases.
Fleet Feet Myrtle Beach went in a unique direction with its 12 Days of Christmas Photo Challenge. Every morning starting December 12, the store shared a new photo challenge – post a picture with a Christmas tree, with something Fleet Feet, while doing a favorite holiday tradition and with a favorite holiday sweet treat being four such examples – and invited participants to share it on their individual feeds as well with Fleet Feet Myrtle Beach. Every time someone participated, they were entered in a raffle for a $100 Fleet Feet gift card.
Fleet Feet Monterey launches mile race series
From quirky runs like the Donut Mile (Princeton Running Company) or the Popsicle Mile (Colorado Running Company) to competitive events like the Hoka Long Island Mile (Sayville Running Company), running stores continue embracing the mile as a compelling, accessible and versatile race distance.
On California's central coast, Fleet Feet Monterey introduced a three-part road mile series that challenges participants of all ages to improve upon their performance from one race to the next. The first $15 event took place on January 8 with additional mile races slated for January 22 and February 5.
Have a compelling event, project or initiative worthy of consideration for a future Running Spirit column? Contact Running Insight senior writer Daniel P. Smith at [email protected] with details.