As the COVID-19 pandemic washes over American life, run specialty retailers continue to display a persevering spirit, unveil creative ideas and deepen ties to the communities they serve. Veteran Running Insight contributor Daniel P. Smith spotlights clever ideas, cool initiatives, creative happenings and the community-minded energy now dashing across the run specialty marketplace.

Door-to-door delivery … by bike … and with a sweet treat
At Nebraska's Lincoln Running Company, longtime manager Ann Ringlein has made a daily habit of hopping on her bike and delivering product to customers upwards of 40 miles away. It's a move that saves the store on shipping costs, keeps the ever-energized Ringlein moving and demonstrates the store's can-do spirit. She's also added a partner – a local UPS driver who's volunteered to make deliveries on weekends for the shop – and tossed in a special treat on Monday deliveries: tubs of cookie dough from the Cookie Co., a fellow small business in downtown Lincoln. Customers have left Ringlein and her fellow cycling partner handwritten thank you notes and even homemade cookies. "This has just blown up and Ann could really use a pull-behind trailer," jokes Chris Rogers, the third-generation owner of Lincoln Running Company.

Run stores renovate and refresh
With most running stores ordered to shut their doors, numerous retailers are using the time to renovate, remodel and refresh their interiors. On March 26, Running Insight detailed the expansion and remodeling project going on at Kelley's Pace in Mystic, CT. Others are similarly taking the time to update their brick-and-mortar presence. Three Rivers Running Company in Fort Wayne, IN, teased a new shoe wall and refreshed showroom. Commonwealth Running Company in Evanston, IL, is currently making its store "prettier, fancier and more fun." And Issaquah, WA-based Plateau Runner announced a remodel, as did the Brooklyn Running Company, which posted an April 10th photo of lumber and debris scattered on the floor of its flagship location in the borough's Williamsburg neighborhood. "You didn't think we were just going to sit home and pout out the pandemic, did you? ZERO CHANCE," the store boasted on Instagram. It was a powerful image and a weighty message honoring the resiliency, hustle and optimism that defines run specialty retailers.
Corralling kids into activity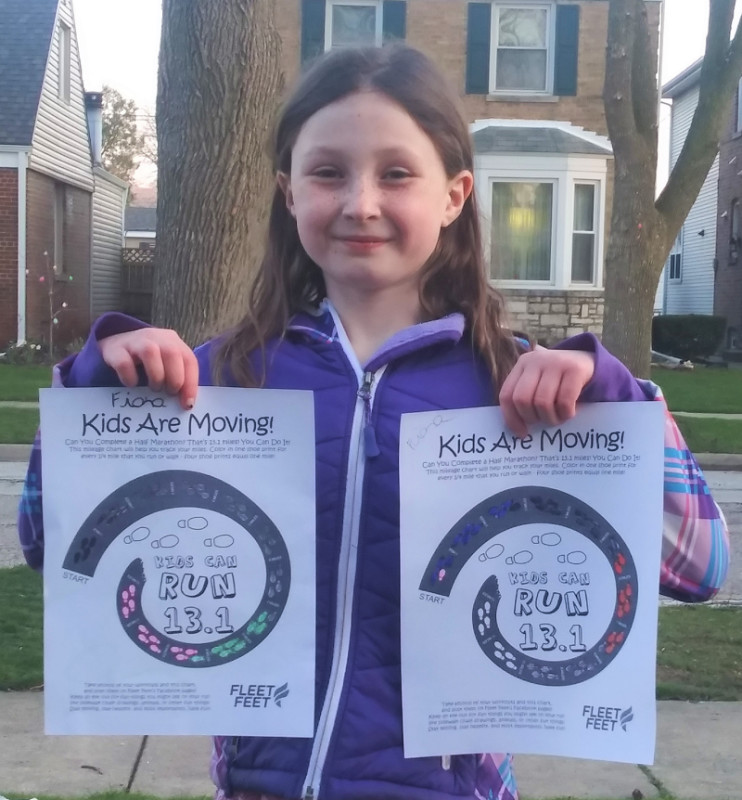 With walking and running accelerating amid adults, a few running stores are urging kids to get into the game, too, an especially worthwhile venture given the absence of physical education classes, sports leagues and, in many cases, shuttered parks. In Texas, the Good Times Running Company put its Healthy Kids Running Series online. The five-week series started April 19. Fleet Feet Sacramento, meanwhile, shared a Kids Mileage Tracker that included 52 footsteps tracking progress, one quarter-mile at a time, toward a 13.1-mile goal. Here's to seven-year-old Fiona Smith – the apple of this writer's eye – for nearly knocking down two full sheets through the first half of April.
Running stores keep giving and giving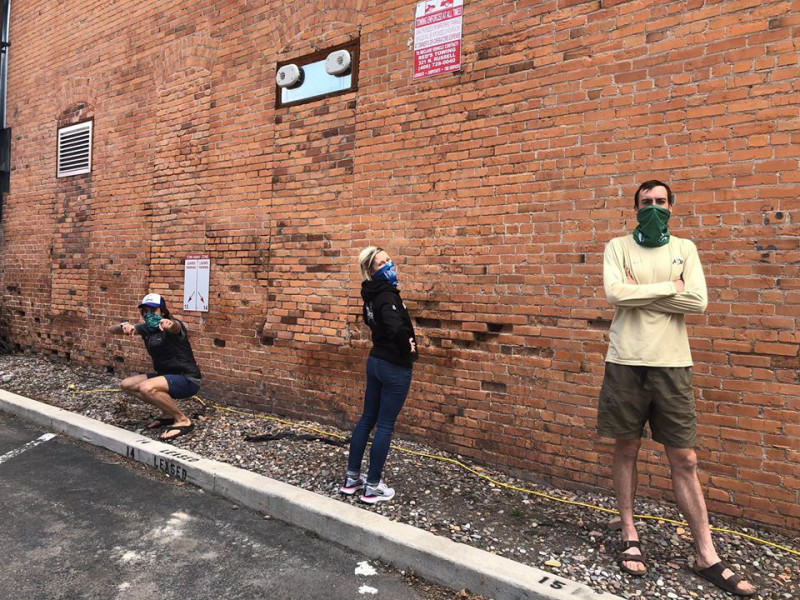 The community-minded, philanthropic spirit so engrained in retailers' hearts shines bright. After iRun Texas had to postpone its March bra fitting event, the store donated Brooks running bras to Street2Feet, a local training program for individuals experiencing homelessness. Connecticut-based Ridgefield Running Company, meanwhile, donated 60 pairs of new running shoes to the Bridgeport Rescue Mission on April 14. And in Montana, The Runner's Edge, a former America's Best Running Store of the Year honoree, has already donated more than 300 neck gaiters to area organizations for use as cloth face coverings amid the COVID-19 pandemic.
Medved Running & Walking unleashes a different kind of "high five"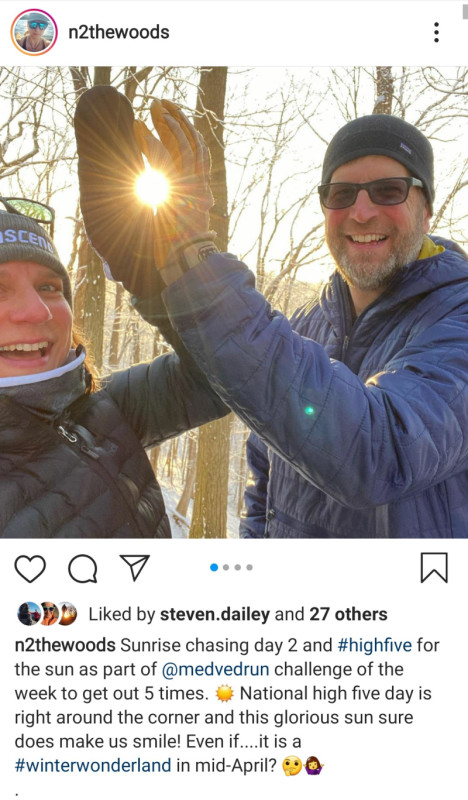 Unable to celebrate National High Five Day in April, a celebrated store tradition on each April's third Thursday, Medved Running & Walking Outfitters in Rochester, NY, challenged its customers to get out for a run or walk five times from April 13-19. Medved training group coordinator Maggie Baackes says the challenge was designed to keep runners, walkers and families with cooped-up kids engaged and motivated. "We know that running or walking by yourself right now can get really boring and unmotivating when we are so used to the camaraderie of our running groups, so hopefully these challenges provide a little bit of entertainment and accountability," Baackes says.