America's running shops carry their resilient, upbeat pace into the summer of 2021 with post-pandemic optimism increasingly taking hold. Fun runs, in-person races and in-store shopping continue to become more commonplace across the U.S. landscape, a welcome return to normalcy after a disruptive 2020.
Over recent months, run shops have recognized Global Running Day on June 2 and America's birthday on July 4, celebrated Mother's Day and Father's Day, championed an ongoing flood of new product, shared Olympic Trials observations, given shout-outs to local athletes and unveiled fun offerings that underscore the industry's community ties and creative flair.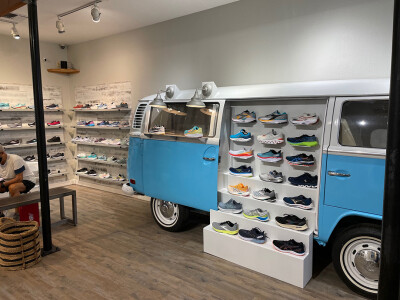 Fleet Feet Sacramento and Cincinnati unveil a wild shoe display
Volkswagen's iconic Type 2 Microbus – or the VW Bus as it was better known in the U.S. – remains among the most distinctive-looking vehicles of the last 50 years. A pair of Fleet Feet stores have now transformed that idiosyncratic symbol of counterculture American life into an eye-catching shoe display.
With the help of 3 Dots Design, Fleet Feet Sacramento and Fleet Feet at Fifty West in Cincinnati sliced a VW Bus in half from front to back, painted the top white and the bottom in sky blue and incorporated shelving to showcase the latest running footwear. The driver's side of the van sits in the Fleet Feet Cincinnati showroom, while the Sacramento shop hosts the passenger's side.
The van not only acts as an energetic focal point displaying footwear, but also ties into the sense of adventure athletes can find with running shoes on their feet.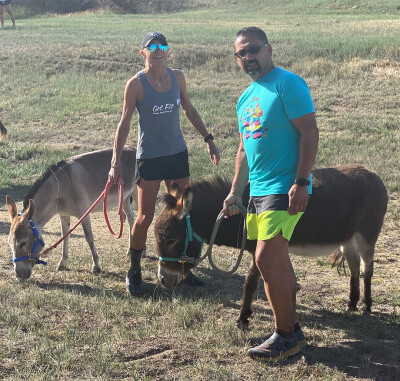 Get Fit invites a run with the burros
On May 2, some 50 runners and burro racers gathered at Canyon Rose Ranch near Amarillo, TX, for Get Fit's inaugural Burro de Mayo race. Participants could partake in a one-mile burro race or two-mile trail run. Burro race champions Santana Gonzalez and Lesley Brown received unique sterling belt buckles with the colorful Burro de Mayo piñata donkey for their winning runs, though two local organizations might have been the real winners.
Get Fit and its partners raised $5,600 for The Bridge Children's Advocacy Center in Amarillo and The Bureau of Land Management, Wild Horse and Burro Division.
Running shops put a twist on the mile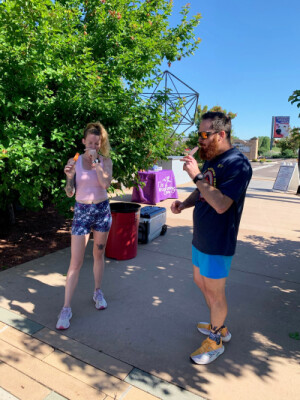 Numerous run shops have put the mile center stage of late – albeit with a twist.
On May 4, New Jersey's Princeton Running Company hosted the Quatro de Miler – an event that challenged participants to down a taco after every quarter mile while traversing 5280 feet. Exactly one month later, Princeton Running Company swapped tacos for donuts with the Donut Mile celebrating National Donut Day on June 4.
In celebration of its 21st Anniversary, the Colorado Running Company invited all who are "immune to brain freezes" to participate in its Popsicle Mile on July 3. The novel event also raised money for Achilles Pikes Peak, the local chapter of an international organization that encourages people with disabilities to participate in mainstream athletics.
Rochester Running Company outfits children with new kicks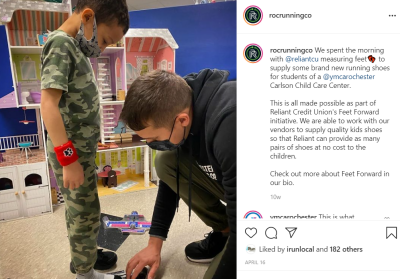 In 2016, Reliant Credit Union launched the Feet Forward program and partnered with Rochester Running Company in Rochester, NY, to provide no-cost pairs of high-quality sneakers to children. On the morning of April 16, Rochester Running Company staff visited the YMCA Rochester's Carlson Child Care Center to measure feet and ready footwear orders.
"We are able to work with our vendors to supply quality kids' shoes so that Reliant can provide as many pairs of shoes at no cost to the children," Rochester Running Company beamed on Instagram following their April 16 visit.
Red Rock Running Company review reminds of run specialty's impact
On June 12, a Yelp reviewer named Ray L. recounted his recent experience at Red Rock Running Company in Las Vegas. Ray shared that his grandmother wanted him to shed his unhealthy habits, get in shape and outlive her. Motivated, Ray turned to Red Rock Running, where Stephanie served him in a welcoming, friendly and helpful manner before his purchase of Brooks Adrenalines.
"I left the store not only with perfectly fitting shoes, but my self-esteem had gone up a little bit," Ray wrote. "I tried my 1st little jog the other day and my feet did not even hurt. I am now working on my 7th day of jogging slowly and I am already starting to feel better. My grandmother is going to have me around for a long time."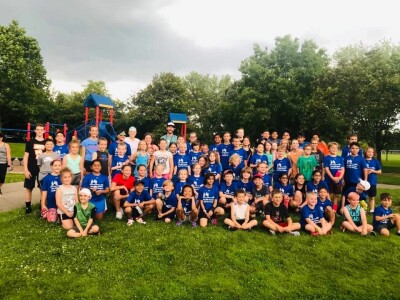 Xtra Mile Running, Charm City Run get youth on the move
As the 2020-2021 school year ended, many run shops introduced youth running programs to keep kids active and engaged.
In Chicago's northwest suburbs, Xtra Mile Running launched its Kids' Club in June. Designed for kids 8-12, the $25 program includes weekly group runs, two track meets and a capstone 5K.
In Baltimore, Charm City Run's Mighty Milers program continues kicking. The two-month program for kids in grades 2-8 includes three coach-supported runs and workouts each week, a discount on Charm City Run purchases and race registrations and a positive, fun-filled environment.
TerraLoco resurrects its $5 5K program to spotlight local nonprofits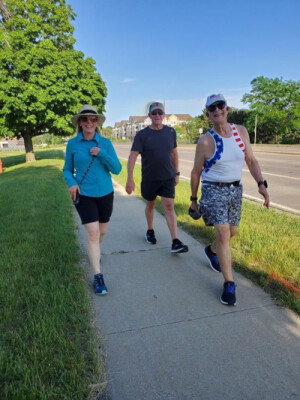 After a year hiatus due to the COVID-19 pandemic, Rochester, MN-based TerraLoco kicked off its season of $5 5Ks on May 31 with nearly 50 attendees raising money for The Landing, Project Legacy and ACTS-4-KIDS. The grassroots events continue every Monday evening through October with all proceeds directed to those three nonprofits.
TerraLoco launched the $5 5K program soon after opening its doors and has raised awareness and funds for dozens of local nonprofits in the eight years since.
"The $5 5K program is just one aspect of our commitment to giving back to the community," says TerraLoco owner Tiffany Piotrowicz, who calls the program a win-win for the charity and the running store, which sees an average of 30-80 participants at each $5 5K.
"Bringing in dozens of people, including folks there just to support the charity who may have never been in our store before, is a great thing for us. When they come to an event and see the welcoming atmosphere, are greeted by people who truly are excited to see them there and also get that warm-fuzzy feeling from giving back, they associate all of those feelings with our shop and they are more likely to return in the future."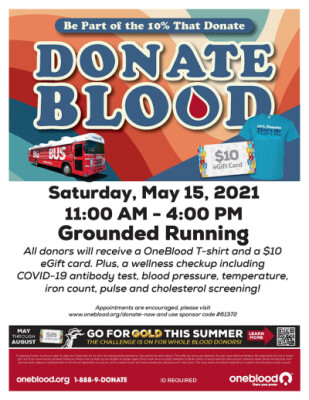 Grounded Running hosts a blood drive
On May 15, Grounded Running in Beaufort, SC, hosted its third blood drive since March 2020 in partnership with OneBlood. More than 100 donors have given blood over those three events. Donors at the May 15 event received a OneBlood T-shirt and a $10 electronic gift card as well as a wellness checkup that included a COVID-19 antibody test as well as screenings for blood pressure, temperature, iron count, pulse and cholesterol.
"Blood drives are important to sustain life and during 2020 and the beginning of 2021, such drives have been significantly reduced due to COVID-19," Grounded Running owner Tim Waz says. "We love giving back to our community in every way possible and giving the gift of blood is one of the most personal ways possible."
Grounded Running has another blood drive scheduled for August 7.
Veteran retailers bid adieu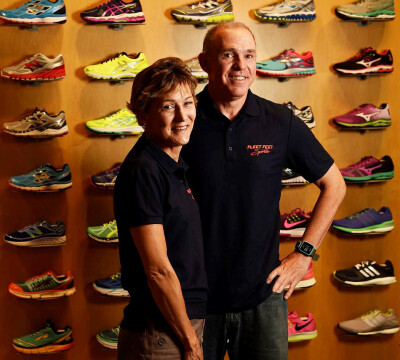 After more than three decades in the run specialty industry, Playmakers co-owner John Benedict is entering the retirement ranks.
"I realized the sooner I retired, the sooner the younger leadership team (Tom Keenoy and Brian Jones) could begin their journey into Playmakers' ownership," Benedict recently told Running Insight.
Over in Syracuse, NY, Ed and Ellen Griffin retired in May after a 21-year run owning and operating Fleet Feet Syracuse. The Griffins sold their store to Fleet Feet Development Company and will stay on as consultants for one year while remaining the store's landlord.
"It gives us great comfort in knowing that what we started in 2000 will continue strong and long into the future," the Griffins wrote in an open letter on the store's website. "It has been an honor to be a part of your lives and to be a part of this great community."
Have a compelling event, project or initiative worthy of consideration for a future Running Spirit column? Contact Running Insight senior writer Daniel P. Smith at [email protected] with details.