Even in the midst of the COVID-19 pandemic there is no lack of clever ideas, cool initiatives, creative happenings and community-minded energy dashing across the run specialty marketplace. Here veteran industry observer and Running Insight contributor Daniel P. Smith spotlights what many run retailers are doing to keep their businesses going, keep spirits up and maybe just maintain their own sanity.
Ann Arbor Running Company plants itself on local
With loyal customers asking Ann Arbor Running Company owner Nick Stanko what they might do to support their favorite local running store, Stanko arrived at a novel answer: lawn signs. "People support their local politicians with yard signs, so I figured why couldn't they do the same for their favorite local running store, especially with so many people out walking and running these days," Stanko says. Somewhere around 100 yard signs carrying the store logo and website are now scattered around the Ann Arbor area.
Embracing some childhood whimsy

Amid some gloomy times, running stores are showing their playful side. Pennsylvania-based Aardvark Sports introduced Aardvark Taag. Participants run, walk or bike to a friend's house, "taag" them with a sidewalk note and the recipient is then tasked to "taag" someone else. New York's Smithtown Running Company provided a pair of similar action running shots on Instagram and challenged friends to spot five differences in the photos. And both Medved Running & Walking in Rochester, NY, and Bear Creek Running Company in Keller, TX, unveiled scavenger hunts. Bear Creek's scavenger hunt included store staff dropping prize-filled Easter eggs at one of four local parks from April 1-11. https://www.instagram.com/p/B-r8LLvnssl/
Forget a material world: We're living in a virtual world

From virtual pub runs and virtual races to virtual fittings, the run special channel continues living in a virtual world. On April 9, Ontario, Canada-based Tri & Run Sports hosted a virtual bra clinic on Facebook Live. Staff introduced the benefits of each style and showcased in-stock collections, while also providing viewers a discount code for purchases from the Tri & Run online store. On April 7, Run Hub Northwest in Eugene, OR, hosted a Facebook Live session with Kara Clark from Hoka One One. Clark discussed Hoka's brand history and key characteristics before featuring products carried at Run Hub. And in Kansas, Manhattan Running Company hosted a multi-day virtual fashion show to spotlight its latest apparel from lululemon.
https://www.instagram.com/p/B-pvFcbHR5V/

Showing Gratitude for 'Frontline Heroes'

Running stores continue to recognize and give to first responders and healthcare workers battling the COVID-19 pandemic from the frontlines. The Fleet Feet in Rockford, IL, is helping its customers say thanks as well. The store's $20 Frontline Heroes gift packs feature a pair of premium socks, Nuun hydration tabs and a Fleet Feet aluminum water bottle.
https://www.instagram.com/p/B-u4Oa_JpvG/
Turning T-shirt sales into meals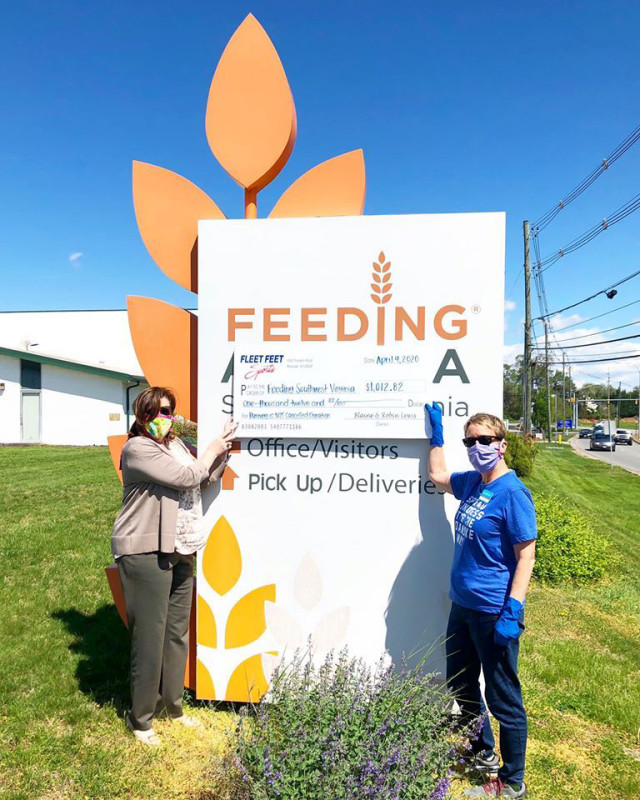 Spurred by sales of their store's "Running Is Not Cancelled" and "Walking Is Not Cancelled" T-shirts, Fleet Feet Roanoke handed a $1,012.82 check to Feeding Southwest Virginia (Feeding SWVA) on April 9. With the local food shelter at risk of running out of food amid the COVID-19 pandemic, Fleet Feet Roanoke's donation enables Feeding SWVA to distribute more than 6000 meals. "We are humbled to be able to do a small part to help them directly help people in our local community," says Robin Lewis, who co-owns the Fleet Feet Roanoke store with her husband, Blaine. "And we're getting ready to place another shirt order to raise more."
Plogging Around Town

Palmetto Running Company had a number of significant events planned throughout April and May in conjunction with its Eco-Initiative. Of course, many of them have changed and Keri Straughn reports that they had to cancel their Earth Day 5K (along with all of the events surrounding it) but decided to combine them all into a virtual Earth Day Plog! Here's how it will work on April 22:
* Participants register online for free, but with encouragement to make a donation to the CCL (Coastal Conservation League).
* Participants are asked to run/walk/skip do whatever while also picking up litter around town.
* Participants post photos using hashtag #prcecoplog .
* PRC then chooses (at random) a participant from the photos to receive a free pair of Brooks shoes of their choice.
And, finally, a little comic relief

On April Fool's Day, track and field coverage site FloTrack brought some much-needed levity to these challenging times with a post announcing a new Netflix true crime documentary taking a "hard look at the criminal underworld behind" Nike racing shoes. Not to be outdone on April 1, Bull City Running Co. in Durham, NC, teased the arrival of "fly kicks from L.A. Gear." The Loop Running Supply Company in Austin, TX, extended the good humor beyond April Fool's Day with this comical April 6 Instagram post featuring famed "Sex and the City" character Carrie Bradshaw:
https://www.instagram.com/p/B-pGtjfFZ_9/