Injinji Moves Into Gloves, Headbands
The company that pioneered the toe sock concept is making a logical expansion into gloves and a headbands. If you know how to make a product that fits around individual toes, it is a natural to do the same with fingers.
So as temperatures drops Injinji has come out with its Lightweight Running Gloves and a Lightweight Running Headband to combat the cold.
Made from a fiber blend of nylon, polyester, and spandex, the lightweight running glove allows for movement, breathability and comfort, tailored in both a men's and women's model. Another feature is a tech-friendly material on the thumb and pointer finger that allows for easy use of phones and other electronics.
The Lightweight Running Headband adds full coverage to the ears and doubles as a sweatband barrier. It is designed with the same fiber blend as the gloves.
Each piece is featured in slate, a neutral color that will pair well with any outfit.
Nike Looking To Block Adidas Primeknit
In an escalation of the ongoing sneaker wars, Nike is asking the International Trade Commission to block imports of certain models of Adidas Primeknit shoes, claiming that the shoes infringe on its patents covering its lightweight Flyknit design technology.
The complaint seeks to ban imports of lifestyle, soccer cleats, running and hiking shoes, including Adidas by Stella McCartney Ultraboost, Pharell Williams Superstar Primeknit Shoes, Terrex Free Hiker and X Speedflow. In total, Nike charges 49 Adidas shoe designs using its allegedly similar Primeknit technology and infringes on six Nike patents.
Nike also filed a patent-infringement suit in Oregon federal court making similar allegations.
The patents cover Nike's FlyKnit technology, which uses specialized yarn from recycled and reclaimed materials to create a "sock-like" fit in the shoe's upper.
Cohen Joins Ironman Group as CMO
The Ironman Group has named Suzanne Cohen as its new chief marketing officer. Cohen joins the executive team after leadership roles with JPMorgan Chase & Co., Marriott International, Starwood Hotels & Resorts, and the respective luxury brands within, including W Hotels, The Ritz-Carlton, JW Marriott, St. Regis, and The Luxury Collection, where she focused on consumer marketing.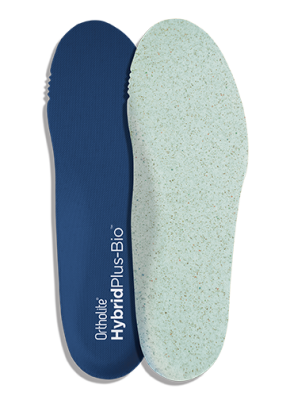 OrthoLite Unveils Two Sustainable Insole Technologies
OrthoLite, the maker of branded, high-performance and comfort footwear solutions, has expanded its range of eco formulations with the release of OrthoLite HybridPlus-Bio and HybridPlus-Recycled insole technologies. The formulations that elevate the total eco content of the insoles to 57 percent and 50 percent, respectively.
Both new formulations are the result of OrthoLite's expanding commitment to its Zero Waste initiative and the creation of more sustainable footwear solutions and close the loop on production waste material and come in direct response to the increasing demand from OrthoLite brand partners for more sustainable product solutions.
OrthoLite HybridPlus-Recycled provides the ability to elevate the eco-content of insoles to 50 percent. The blend of seven percent recycled rubber powder and 43 percent recycled PU foam achieves a total 50 percent recycled content, which uses less petroleum and less energy while adding less to landfills.
OrthoLite HybridPlus-Bio offers 57 percent total eco content with the formulation of seven percent bio-oil derived from castor, 43 percent recycled production waste foam and seven percent recycled rubber. The blend combines hybrid and bio-oil formulations to further reduce the use of petroleum.
Both the OrthoLite HybridPlus-Recycled and the OrthoLite HybridPlus-Bio deliver sustainable comfort and performance critical in insole, strobel and upper applications. The formulations create a cooler, drier environment inside all categories of footwear, so consumers can feel and perform their best.
"Through the creation of our dedicated in-house recycling facility, OrthoLite continues to invest in the development of more sustainable solutions that optimize our supply chain from end to end by capturing and repurposing waste material. The new HybridPlus technologies are a direct result of these investments," says John Barrett, president of OrthoLite. "Pursuing sustainability has been one of OrthoLite's core values since the company launched 25 years ago with insoles containing recycled rubber. Our commitment to furthering sustainability in footwear is not always the easy way forward, but it is most certainly the right one as we enter our next 25 years. We look forward to affecting positive change faster by working with our global supply chain and brand partners to invest in and implement circular solutions."
Coros Unveils Web-Based Coaching and Training Platform
Coros Wearables, the makers of performance sports wearables, has developed the Coros Training Hub, a web-based platform focused on improving the way athletes and coaches interact with their data and each other. The Training Hub brings the following enhancements for Athletes and Coaches:
Web platform for easier workout building and data analysis
Calendar view allows for predictive modeling of future fitness and fatigue
Team view offers easy team management for coaches
Comments section provides simple interface for athlete-coach communication
In addition, the Training Hub offers several enhancements to the data previously only viewable within the Coros App including:
Customized order of charts for easy and efficient viewing of user's data
Zoomed in view of specific portions of workouts for enhanced analysis
Library of workouts that allows for easy drag and drop into training calendar
Search function for previous activities by type, date, or keyword
The. Coros Training Hub is available for early release to the first 2000 users who sign up here and will be more broadly released within the next month.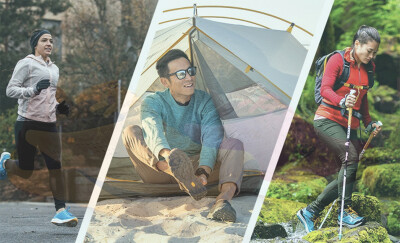 Topo Athletic Awarded American Podiatric Medical Association Seal of Acceptance
Topo Athletic has received the American Podiatric Medical Association (APMA) Seal of Acceptance on all seven of the performance shoe models Topo submitted for evaluation. The APMA Seal of Acceptance is awarded after every approved Topo shoe passed an intensive evaluation and testing process that ensured each model supported good foot health.
The Topo models that received the APMA Seal of Acceptance include the following: Phantom 2, Magnifly 3 (and Magnifly 4), Ultrafly3, Fli-Lyte 4, Rekovr 2, Trailventure (& Trailventure WP) and Ultraventure 2.
"The craftmanship behind every Topo shoe is the result of decades of research in pursuit of the optimal design to help the foot function naturally and power movement up the body's kinetic chain," says Tony Post, CEO and founder of Topo Athletic. "We want the comfort of our shoes to inspire people to move more and for longer. We believe the APMA Seal of Acceptance is a powerful indicator that we are achieving what we set out to do."
"Footwear education is such an integral part of my practice and I always recommend shoes that match the shape of a human foot rather than forcing feet to conform to the shape of shoes," adds podiatrist Dr. Neil Feldman, of Central Massachusetts Podiatry. "Topo Athletic shoes have always been my go-to – and not just for myself, but also for my patients. I appreciate their gimmick-free design and focus on only the elements that let my patients move naturally and pain free."
The APMA Seal of Acceptance was created to empower podiatric physicians and consumers with the right information to make educated decisions regarding foot health. The organization's goal is to raise awareness around products that demonstrate exceptional quality and prioritize consumer comfort and safety. Each submitted product undergoes a detailed evaluation by an expert committee that reviews all application materials and verifies that all claims are supported by documentary evidence.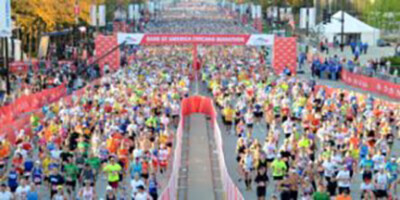 V Foundation Announces 2022 Bucket List Race Calendar
The V Foundation for Cancer Research recently unveiled its 2022 race calendar highlighting bucket list races in popular destinations across the U.S. By joining Team V – the V Foundation's endurance fundraising team – runners have the opportunity to make their miles count for more as they train and fundraise for Victory Over Cancer.
Members of Team V receive guaranteed race entry, a race shirt and support for training and fundraising. Some races also include a fundraising option for a complimentary hotel stay. Since 2014, Team V has raised more than $3 million for cancer research through runners' participation in endurance events across the country, including the TCS New York City Marathon, Boston Marathon, Chicago Marathon, New York City Half Marathon and the Tobacco Road Marathon & Half Marathon. Runners who have already registered for a race can still join Team V by selecting the 'Fundraise Only' option during registration.
Team V 2022 Race Calendar:
Walt Disney World Marathon Weekend – January 5-9
Disney Princess Half Marathon Weekend – February, 24-27
United Airlines New York City Half Marathon – March 20
Bank of America Chicago Marathon – October 9
TCS New York City Marathon –November 6
For more information on how to join Team V and to view upcoming race schedules and deadlines: v.org/teamv.
The V Foundation for Cancer Research was founded in 1993 by ESPN and the late Jim Valvano, legendary North Carolina State University basketball coach and ESPN commentator. The V Foundation has funded nearly $290 million in cancer research grants nationwide.