In 2016, The Wall Street Journal proclaimed, "Women and girls, not long ago an afterthought in distance running, now own it."
Joan Benoit Samuelson is a premier reason why.
In 1984, Samuelson, already a two-time Boston Marathon champion, jumped onto American television screens - and into American hearts - when she captured the first women's Olympic marathon at the Summer Games in Los Angeles. A monumental event in women's running, many credit Samuelson's victory for pushing women's running from the margins to the mainstream and inspiring a new generation of female athletes.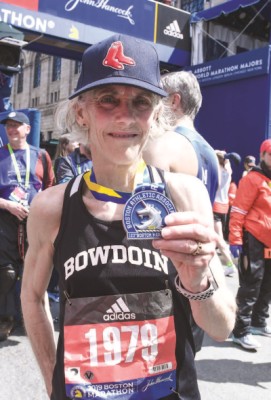 But Samuelson's contributions to the sport did not stop there, as she has remained a consistent and uplifting presence in the sport. She founded one of the nation's premier road races in the TD Beach to Beacon 10K and inspired again and again in competition, including an age-defying 3:04 finish at the 2019 Boston Marathon that came one month shy of her 62nd birthday.
Samuelson admits it took some time to understand the influential role she played in the growth of women's running. Back in 1984, her foremost goal was to compete for the gold medal. "I only did what I did to see how fast I could run, but I happened to be in the right place at the right time."
Throughout the 1980s and into the 1990s, she began to recognize and appreciate the change her victory – alongside the pioneering steps of women like Kathrine Switzer, Wilma Rudolph and Mary Slaney – helped stir. "When I started running, there were very few people out on the roads, let alone women, but I started to see more and more women out, even when the elements turned in a place like Maine. If I gave the gift of inspiration to anyone, especially as it relates to their health and well-being, that's a powerful gift I'm glad to have given."
In 1998, Samuelson founded the Beach to Beacon 10K in her hometown of Cape Elizabeth, ME. "When I went into the tunnel in Los Angeles, I wasn't sure I could pass through the darkness and make it into the light. When it happened, I wondered if I was capable of carrying that mantle. Could I figure out ways to give back to the sport? Beach to Beacon was one way to do that. The idea was to bring a world-class event to Cape Elizabeth with the mission of shining a light on kids."
In its inaugural year, 2408 runners completed Beach to Beacon. The following year, it became the first road race in Maine history to top 3000 finishers. The 2019 event - the most recent to be held given the race's 2020 cancellation due to COVID-19 - hosted nearly 6500 finishers from nine countries and 42 states. "A lot of people have destination races on their bucket list and Beach to Beacon has became one of those signature events for people."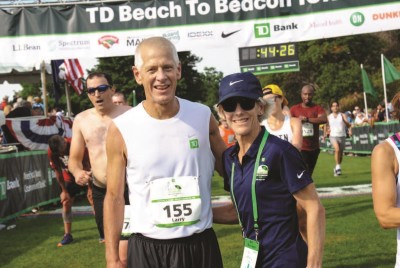 Women participants have certainly fueled the growth of Beach to Beacon as well as road races across the U.S. In 1990, women represented only one out of every four road race finishers. These days, women are the clear majority. "Women today have an opportunity that wasn't afforded to most in previous generations and they're eager to do it all— to lead balanced lives that tie together family, social, professional and personal health. Running is an affordable and accessible outlet for them to do just that."
But it's not just road races that stir Samuelson's excitement about women's running. Outdoor track and field now boasts more female participants at the high school level than any other scholastic sport in the U.S.— approximately 220,000 girls participated in cross-country in the last school year, according to the National Federation of State High School Associations.
Programs like Girls on the Run, meanwhile, are introducing a new generation of young women to the sport. "It's a new frontier for women and not just in our sport, but in so many others as well. Running is really a lifestyle and people like to run, which they can do anywhere, anytime, without needing a lot of special equipment."
Yet more, Samuelson is excited to see more women holding prominent positions in the sport. She notes female executives at some of the industry's major footwear players as well as a surging number of women owning run specialty stores. "The more the merrier, as they say. Having new perspectives is important and the balance of perspectives among the genders is certainly a piece of that. These women are bringing a balance to the sport that is important for its success and long-term health."
For running brands and retailers eager to better connect with and engage female consumers, Samuelson offers a single word: Listen. "These are educated consumers who know what they need, so listen to them. It's much like the athlete-coach relationship. A coach can make helpful suggestions, but, ultimately, the coach is not inside the head of the athlete. Listen and pay attention to feedback because that's how you can achieve improved results together."