Profiles of the three other finalists for Store of the Year.
FLEET FEET MONTCLAIR
Montclair, NJ
www.fleetfeet.com/s/montclair
Key Personnel: Dawn and John Fabbro, Owners, and a dedicated staff of 24, including their three daughters.
History: Founded November 1, 1987
In Their Words: "Our local store is part of a national vision to build a running community dedicated to health and wellness. For 34 years, we have listened to the message of our community, adapting to be part of solutions to the needs surrounding us.
"This year more than ever, inclusivity has been the constant measure of our success: Does everyone who comes through the front door feel welcome and invited in? Customers? Staff? Vendors? The UPS driver or the mail carrier? Are we providing the gear, services and support that each person needs to successfully keep moving their bodies and minds forward each day?
"These questions are our daily challenges to listen better and to learn at every opportunity. It is unique, possibly, after more than three decades, to learn that we must expand our boundaries to broaden our community and that we can remain open to change in order to continuously take steps forward.
"We are focusing our efforts in 2021 and 2022 on broadening our cultural comfort zones and learning more about Diversity, Equity and Inclusion (DEI). Including new people is obviously good for business, but it is good us personally and is what we sense is needed right now. We are using running to bring people together.
"As one of our marathon training program participants who recovered from heart surgery seven months ago and went on to complete the 2021 NYC Marathon recently shared, "...there is synergy in our community — we accomplish more as a group than we can as individuals."
What the Award Means to Them: "Fleet Feet Montclair has recognized our need to encourage inclusivity in all aspects of our business. Being recognized by the industry reaffirms that our direction is one that rings true and resonates nationwide. We are privileged to join the leaders of the running channel who understand that Running Changes Everything and can be used as an agent for change, especially when our country and world need to take one step at a time toward positive outcomes for our global community."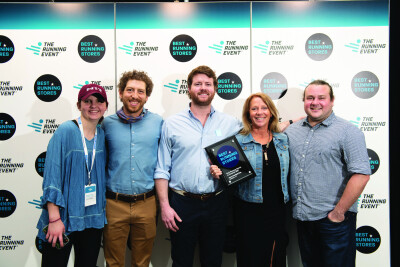 JOHN'S RUN/WALK SHOP
Two Stores in Lexington, KY
www.johnsrunwalkshop.com
Key Personnel: Melody, Owner; Riley, GM; Emma and Kellen, Shoe Buyers; Nic and Taylor, Receivers and Assistant Buyers; Michelle, Floor Manager
History: John's Run/Walk Show was founded in 1978 and remains in its original location and currently operates two locations in Lexington.
In Their Words: "We run our business according to the belief that when it is in our power to do good, or help one another, we should, and we try to emulate this belief in everything we do, whether that's one-on-one with a customer, or on a wider scale with our community. We have proven time and again that when you bring others along in your successes, it's better for everyone.
"One way in which we did this during the pandemic was by starting #859together during the initial shutdowns, when local businesses were really struggling to stay afloat. The hashtag was a rallying point for us and other local businesses that allowed social media users to find a space where they could discover how to help local businesses make it through.
"We truly have people from all walks of life in our running community — everyone from kiddos running their first races to people in their 90s finishing 5Ks every weekend. We have Olympic level athletes running to compete, people running to improve their health and runners who participate for the social and mental health benefits."
What the Award Means to Them: "We are so incredibly honored to be receiving this award, not just because it acknowledges all of our hard work, but because we are first and foremost our staff, customers and running community and we get to share this with all of them. We are beyond excited to be able to highlight everyone around us who helped us get to where we are today."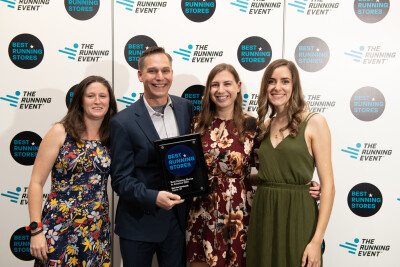 RUN HUB NORTHWEST
Eugene, OR • www.runhubnw.com
Key Personnel: Dustin Pearce, Owner, GM; Kris Pearce, Owner; Lauren Moe, Operations Manager; Lillie Schrock, Store Manager; Macie Gale, Apparel Buyer, Lead Merchandiser
History: Run Hub opened in May of 2015 on Eugene Marathon weekend and there is one location. Owners Kris and Dustin Pearce moved to Oregon in 2012 after living in Missouri and while Dustin had worked part-time in two running shops in Missouri, there was no intention to open a running store in Eugene. After a couple of years a need for something different began to surface and Run Hub was born in the spring of 2015.
In Their Words: "Run Hub feels like a hub for the walking and running community in Eugene," says store manager Lillie Schrock. "We strive to know the names of everyone who walks in our doors. We remember their favorite shoes, what race they're training for or what injury they're overcoming. Making sure someone finds the right product, be it a pair of shoes, hydration vest or apparel, is more important to us than making the sale."
Macie Gale, apparel buyer and merchandiser, echoes those thoughts. "Run Hub is unique in the sense that it is fundamentally centered around the community," Gale says. "Our reach extends to the medical field, everyday walkers and runners, gym goers, retired gardeners and the functional style-seekers and our approach to everyone is as unique as their specific purposes and preferences. More importantly, Run Hub stands on a pillar of strong ethics, embracing diversity and empathetically approaching every person who enters our building and influence."
"Our staff is passionate about providing excellent customer service and meeting the customer where they're at," adds operations manager Lauren Moe. "Whether it's a customer with wide feet looking for a comfortable shoe to wear all day or a regular runner wanting to upgrade their footwear, we go the extra mile to find a solution to the customer's problem.
What the Award Means to Them: "It is great to be recognized for the work we've done and it helps us maintain momentum as we continue to grow and expand our initiatives," says Schrock.
Gale concurs: "Receiving this award is humbling. We work hard every day, investing in our customers and community with our time and knowledge and it's an honor to be recognized for this. Leading is more about giving power to others than harboring it. Run Hub does this by enabling its customers to understand products and own their personal experience to better themselves.
Finally, Moe calls it "an honor" and as she looks back at the strides they've made since the shop first opened six years ago, she sees they've come a long way. "We are a dedicated group of individuals who truly care about our customers and want to make a difference in their lives, " she says. "Being nominated as a top running store only fuels our fire to be better and do more for our local community.