On a Saturday night in April 2008, just as running gear emerged as popular for a 5K as a trip to the grocery store, Fleet Feet Sports Chicago celebrated the grand opening of its then-new location in Chicago's Old Town neighborhood with an in-store fashion show.
While attendees sipped wine, model-employees strutted down a makeshift runway sporting the latest fashions from Adidas, prAna, Lolë, and others. Showcasing a vast array of products, Fleet Feet Chicago slyly trumpeted its chops as a lifestyle store, not just a running retail stop.
A decade later, the vino still flows, the athleisure trend persists and fashion shows continue at Fleet Feet Chicago, though owner Dave Zimmer and his crew have transformed years of reflection and learning into elevated events that make the register ring and strengthen the Chicago store's position as a prominent activewear player.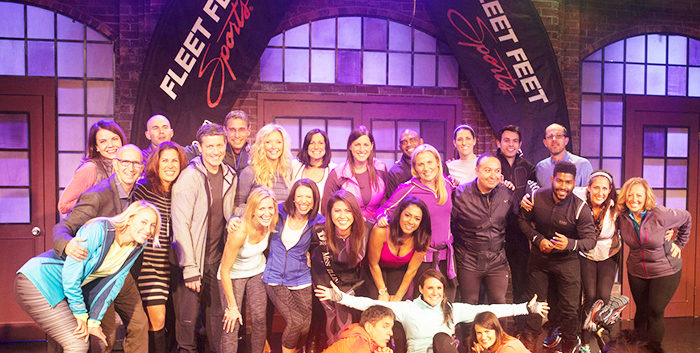 "As a channel, we focus so much on the technical aspects and sales of footwear that the larger dollar of athletic apparel often becomes an afterthought," Zimmer says.
"The fashion shows allow us to position ourselves as an apparel-selling resource."
Across the country, other running retailers have similarly turned to fashion shows to spotlight – quite literally – the latest apparel, push new trends, introduce upstart brands, deepen customer engagement and jumpstart sales.
At Get Fit, a nine-year-old running shop in Amarillo, TX, owner Karen Roberts has made her Female Fashion Show a staple of the store's annual calendar. She moves product aside, creates a runway and welcomes as many as 75 women into her 3000-square-foot shop, pre-selling $10 tickets to an event that includes food and beverage, a goodie bag and door prizes.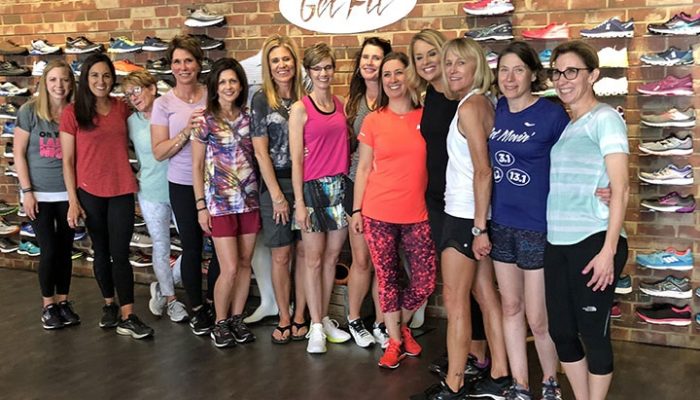 "We get immediate sales and that's always a benefit," Roberts says of her fashion shows.
Producing a fashion show, however, is no easy feat. Such an event requires thoughtful and detailed planning.
Location, Location, Location
Minneapolis-based Mill City Running has hosted a number of fashion shows since opening five years ago. Holding shows both in-store and at off-site venues, owner Jeff Metzdorff favors in-store shows.
"In terms of sales, having it on site is imperative," Metzdorff says. "Plus, there's no space to rent or two-drink minimum and dressing rooms are right there."
That said, executing an in-store show, namely transitioning from the fashion show setup to a sales environment, can prove difficult.
Fleet Feet Chicago has crafted a suitable compromise: it now holds its fashion shows at a theater located just steps from its storefront. The theater, Chicago's famed Second City, features the stage, lighting and audio to deliver a crisp show. Following the event, then, attendees are directed to the Fleet Feet store to obtain their gift bag.
With a recently acquired flex space above his store – the aptly branded Mill City Athletic Club – Metzdorff looks forward to holding a fashion show upstairs so the Mill City showroom can remain a ready-to-shop environment.
"We're mentally preparing for how this will all come together," Metzdorff says.
Get Fit's Female Fashion Show is a popular spring event, while Mill City has hosted spring and fall shows and notched success with both.
After years of hosting both a spring and fall show, Fleet Feet Chicago nixed the spring show and moved solely to a December show highlighting cold-weather gear, which lends itself to better price points, layering and more technical features. The early December show also allows Fleet Feet Chicago to leverage the holiday-shopping spirit.
"We found that the closer we put the show to the holidays, the better the shopping mindset of our customers," Fleet Feet Chicago director of merchandise Catherine Moloznik says.
Plan with Purpose
For a successful fashion show, thorough planning isn't optional. Savvy stores dig into the details earlier rather than later and do so with an array of checklists.
"You only have one shot at this," Zimmer reminds.
From gathering the models and securing an event emcee to promoting the event, creating a show program, prepping the apparel for each model and defining staff assignments, executing a compelling fashion show requires constant attention to detail.
"The more preparation, the better because there's no faking this," Metzdorff says. "If you're winging it, it'll show quickly."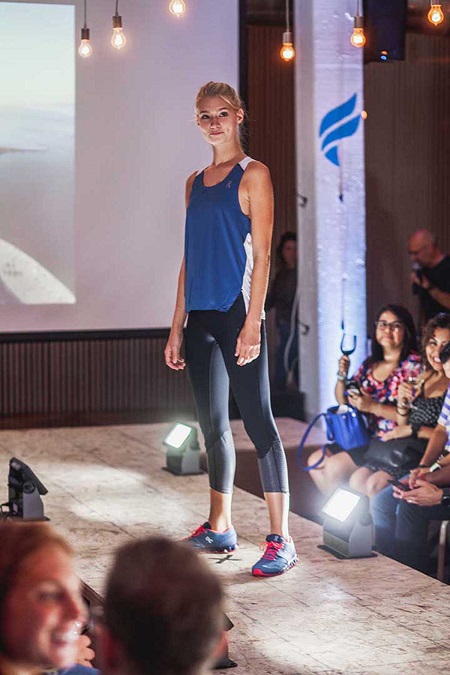 Add a Charitable Aspect
Like others, Get Fit links its fashion show proceeds to a local charity. The beneficiary at its most recent show, for instance, was Heal the City, an Amarillo-based free healthcare clinic.
Not only do attendees appreciate the philanthropic aspect, especially when a ticket price is involved, but a strategically selected charitable partner can also boost promotion.
"The charitable piece makes a big difference on the marketing side when the charity promotes the event to its network," Roberts says. "If people believe in [the charity's] mission, then they want to support and give."
Corral Vendor Support
Similar to others, Roberts isn't shy about soliciting vendor support. She asks vendors to donate the outfit each model will wear, to supply door prizes such as shoes and apparel and to contribute sample packs or other small items to the fashion show's gift bag.
"Getting vendors on board helps you to create a more complete event," she says.
Choose the Right Models
When it comes to models, stores have various approaches, each holding its own merits.
Roberts invites her top 20 female customers to be her show's models, which further punches up the show's local aspect.
"It's a feel-good for them and us," she says.
Mill City, meanwhile, culls its models from its running community, favoring the big personalities who frequent the store's fun runs and events.
"These 'store celebrities' add to the atmosphere and there's always buzz about who will be in the show," Metzdorff says.
After years of using local ambassadors and local celebrities, Fleet Feet Chicago has since turned to a local modeling agency with a diverse roster of professionals.
"These individuals know how to walk a runway, showcase apparel and are comfortable on the stage," Moloznik says.
Have Showcased Product
With sales being a primary goal, it's critical stores have a fashion show's featured product on hand for customers to purchase following the show. That demands stores decide on the show's product well in advance and place the necessary order.
"If you don't have the product on hand, then you won't get the sales you deserve," Roberts says.
At its fashion shows, Fleet Feet Chicago takes it another step: An event program for attendees identifies the model's attire while the show's featured products are also called out on the sales floor so customers can easily find them for purchase.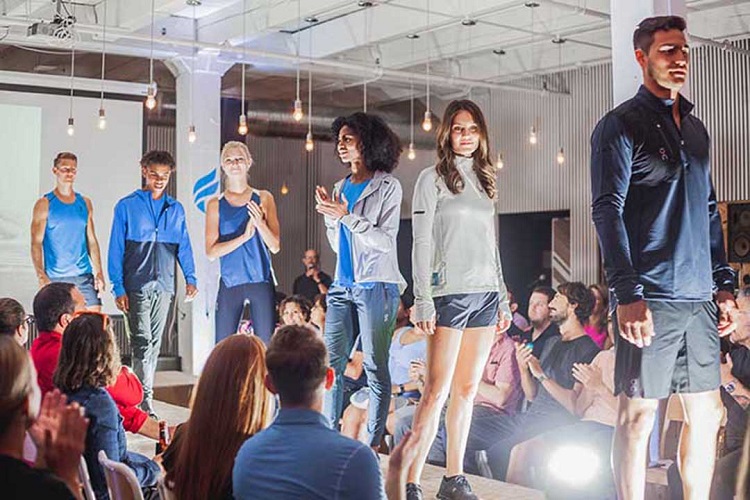 Respect Thy Customer
Retailers can easily, and innocently enough, create a fashion show that comes across as an overzealous commercial for the store. It's best to avoid preaching, Zimmer says.
"Approach this from a high-level production perspective and be focused on entertaining your audience," Zimmer says. "That way, they are inspired to be a part of what you're doing."
Reflect and Evolve
Carbon-copy events will eventually fail to resonate with customers, so smart operators add in various details from year to year to enliven the environment, from live music to food trucks.
Metzdorff always tries to keep customers' perspective top of mind. Worried that he might be burning out his customers with annual fall and spring fashion shows, for instance, Metzdorff pulled back.
"We had to find the right cadence and one a year is the right number for us," he says. "We didn't want to find out the hard way that things were becoming rote."