The novel coronavirus pandemic demonstrated – and continues to showcase – the resiliency and creativity of running retailers. But such qualities have long been hallmarks of the run specialty channel, which boasts a lengthy history of confronting market forces head on and finding paths to success and sustainability.
Consider the go-go-go running shop in America's most obese city.
Or the Best Running Store in America honoree killing it in America's least fit city.
Across the U.S. landscape, running shops exist and thrive in some of the most unlikely places, overcoming the inherent challenges of their environment – and, more recently, a global pandemic – with a mix of entrepreneurial fire, spirited solutions and customer-centric focus.
In America's most obese city…
Up against it: Of the nation's 100 most populous markets, McAllen, TX, and its sister cities of Edinburg and Mission claim the highest percentage of obese adults and the greatest percentage of physically inactive adults. A border town with Mexico, McAllen is, in fact, best known for its tacos and hot weather.
"It's one of the most inhospitable places to run in the United States," says German Madrazo, who opened McAllen-based Valley Running Company in 2011 with his wife, Lucy. "It's not a place that embraces wellness."
When Madrazo, a Mexico native, arrived in McAllen in 2011, he said the area had no active running scene.
"There were probably five races total," he says, "and though there were some decent-sized high school teams, there was no commitment to running after school ended."
Overcoming the odds: Upon opening Valley Running, Madrazo installed fun runs from the store and introduced a running club that operates on a 14-week season. In its first season, Valley Running's club had 12 members. In quick team, Madrazo grew that to upwards of 100 participants each season.
"We preach love and passion for the sport and one's health, and that's resonated with people," says Madrazo, a high-energy personality who competed in the 2018 Winter Olympics as a cross-country skier for Mexico.
Inspired by that energy, some of the store's running club members formed their own event company and that organization now hosts vibrant races in and around McAllen throughout the year. That's spurred additional events and a more active populace, which Madrazo calls "a dream come true."
"We didn't want to come into a community of running stores and sell running shoes," he says. "We didn't want to follow the path, but to break the path and that's what we've done here."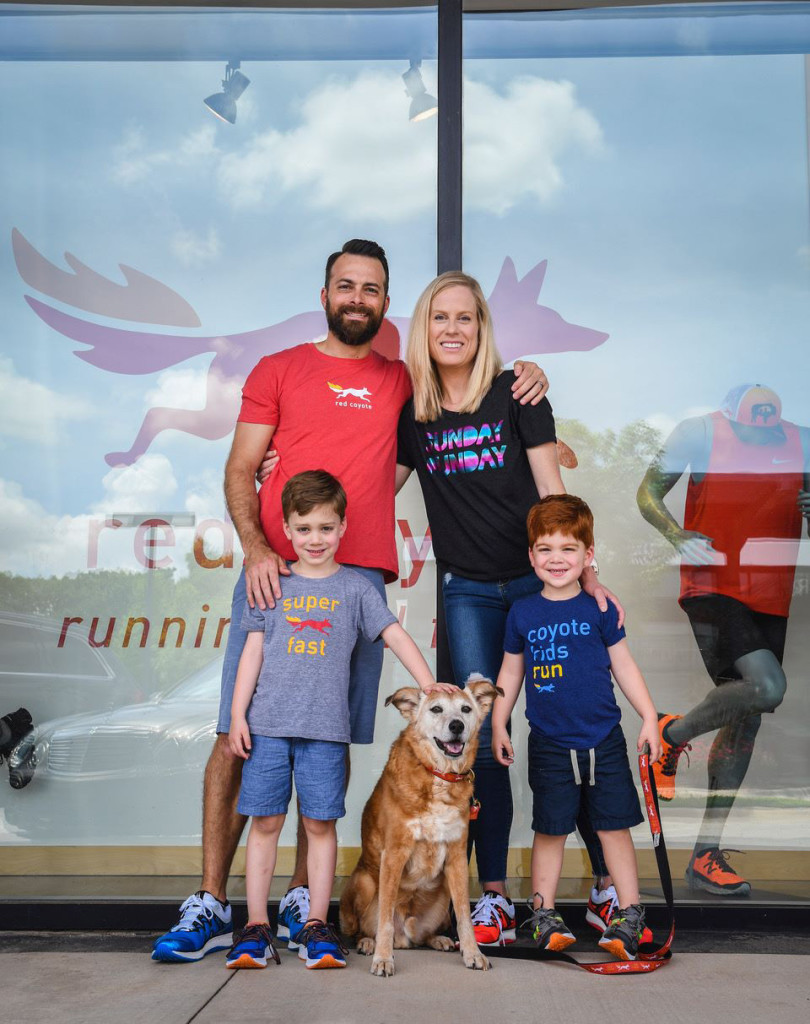 In America's least fit city …
Up against it: Last year, the American College of Sports Medicine named Oklahoma City America's least fit city, an unfavorable designation attributed to high rates of diabetes, obesity and cardiovascular disease as well as a dearth of public recreational facilities. The city is rich in fast food restaurants, but poor in sidewalks, which further hampers individuals' ability to safely embrace running or walking outdoors.
When Red Coyote Running and Fitness owners Jon and Burke Beck moved to Oklahoma City from runner-friendly San Diego, they quickly discovered OKC lacked organized running options, finding neither competitive nor social outlets.
"This isn't a runner-friendly community," acknowledges Burke Beck, an Oklahoma City native.
Overcoming the odds: When the Becks opened Red Coyote in 2010, they carefully chose a more encompassing name to forge a more inviting atmosphere for non-runners. They also initiated a Newbie 5K program to encourage beginners and launched a Pack Pint Run blending a short jaunt with post-run libations. That first Pack Pint Run brought six people. In pre-COVID summers past, Red Coyote would welcome as many as 250 participants.
"We thought we had something good, it was just a matter of getting others to buy in," Jon Beck says, adding that an inclusive race team of some 100 individuals serves as community ambassadors for the two-store operation.
With OKC lacking a race production company putting on high-quality events, Red Coyote began adding its own events about five years ago. The Becks now own four races, including the Love Run 5K and 10K, which attracted more than 1,000 people for its June 2019 debut.
"We had our doubts this would work, but knew we'd be okay when we saw a Red Coyote bumper sticker on a car. That proved our brand was resonating with people," says Jon Beck, adding that he knows of at least 11 people inked with Red Coyote tattoos. "How awesome is that?"–