Fall is always a busy time for run specialty stores. Between the start of the cross-country season, the back-to-school crowd and the autumn racing season, run shops are energetic, busy retail spaces. Even in the face of such chaos, however, run shops never stop moving, creating, connecting, inspiring and serving their local communities. Running Insight senior writer Danny Smith spotlights a few spirited acts from the nation's running retailers.
605 Running Company spearheads effort to spotlight suicide prevention
Last year, South Dakota-based 605 Running Company co-owner Greg Koch was a founding member of the 437 Project, a 12-person relay team running the 437 miles across South Dakota to raise awareness and funding for the state's suicide prevention hotline, the Helpline Center. At the event's end, the 437 Project handed Helpline a $123,000 check, the largest single donation in the organization's history.
But Koch, 605 Running and the 437 Project had even bigger plans for year two.
As the 12-member team, which included 605 Running team members Carter Gronseth and Benson Langat, finished their three-day state-crossing odyssey, 605 Running organized a 4.37-mile run/walk to coincide with the relay team's Sioux Falls arrival on Sunday, Sept. 24. In tandem, the 437 Project and the community run/walk doubled 2022's figure and generated a whopping $251,000 for the Helpline Center.
"South Dakota unfortunately has one of the highest suicide rates in the country, so having resources available is vital," Koch says. "The 437 Project embodies our goal at 605 Running to connect physical and mental health and drive healthy living, so it's an easy initiative for us to get behind and support."
Swags asks the questions
On August 16, Louisville-based Swags Sport Shoes hosted its fifth annual High School Trivia Night. Billed as a great team-bonding experience to kick off the cross-country season, a dozen different local programs participated in the event and tackled questions across categories, such as Disney, running and state nicknames. The winning squad – Manual – received a $250 donation to its program as well as the team's school name engraved on the store-displayed trophy.
Cloud 9 Multisport turns shoe sales into clean water
For every shoe and sandal sale at Cloud 9 Multisport this year, the run specialty shop based in Winona Lake, IN, is committing $3 to Water for Good, a nonprofit that builds wells in the Central African Republic to expand clean water access. Having sold 717 pairs of shoes from June 16-August 31, Cloud 9 wrote a $2,151 check to Water for Good at the close of August, which brought the store's year-to-date total to $4,593.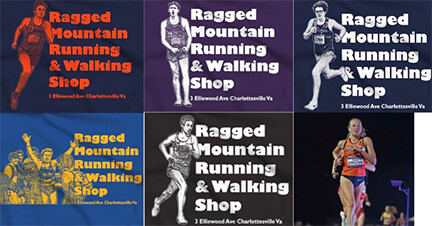 Ragged Mountain celebrates UVa's sub-4 milers
Sitting in the shadow of the University of Virginia, Ragged Mountain Running & Walking shop happily taps into 'Hoos euphoria, including the success of the Cavaliers' cross-country and track programs.
The running store's original runner logo recognizes Vince Draddy, the first UVa runner to break the four-minute mile barrier way back in 1981. Draddy remained the school record holder until this past February when a crop of Virginia athletes – five to be exact – eclipsed the four-minute barrier, led by a new 3:55.24 school best mark by Conor Murphy.
To honor the past and celebrate the present, Ragged Mountain released limited-edition Ragged Mountain Running tees featuring Murphy and his sub-four teammates: Gary Martin, James Donahue, Nate Mountain and Jack Eliason. All profits from the sales of the shirts went directly to the athletes themselves.
A running store encourages students and families to walk to school
On Oct. 4, the St. Pete Running Company in Florida sponsored Azalea Elementary School's Walk to School Day. The event invited students and families at the 500-pupil school to leave their cars at home and use their feet as transportation to campus. Once on campus, St. Pete Running Company provided organic apples, snack bars and water to students.
New stores, a move and an ownership change
In South Carolina, the Hilton Head Running Company moved into a new space in September – but only after extracting the pet smell from the former dog grooming store. Located a half-mile from its previous home and in a more heavily trafficked area, the new space offers added space for inventory and store events as well as parking and spurred owner Alfred Olivetti to expand the store's operating hours.
Florida-based Fit2Run continued its ambitious growth with the opening of new stores in Gainesville, FL, and Pensacola, FL. The Pensacola store, which opened in September, marks the 29th store in the Fit2Run enterprise.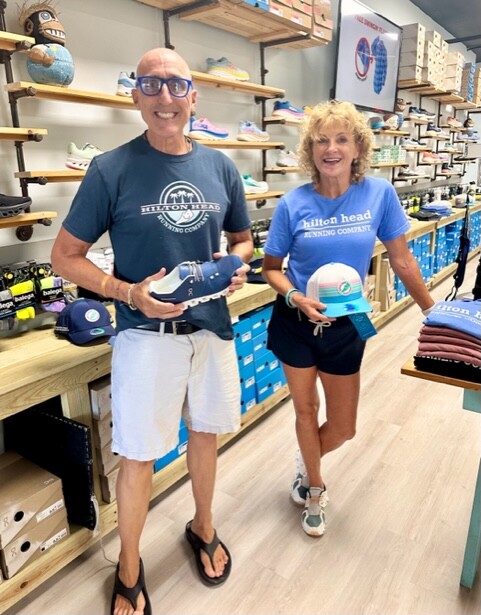 Speaking of rampant growth, Fleet Feet's store count continues to climb. On Oct. 7, Fleet Feet celebrated the opening of a story in Greenwood, IN, the company's fourth store in metro Indianapolis. Down I-65, local owner/operator Christi Beth Adams will soon add a fourth store to her Fleet Feet Nashville orbit. The shop in Franklin, TN, is slated to open Nov. 1.
And finally, Michele and Mitch Allen, owners of iRun Texas for 14 years, have passed the ownership baton to Garrett Sage. Under the Allens' direction, iRun Texas earned multiple Best Running Stores in America nods and grew to three San Antonio locations.
Have a compelling event, project or initiative to propose for a future Running Spirit column? Contact Running Insight senior writer Danny Smith at [email protected] with details. You can also follow Danny on Instagram @runspecialtyinsider.