In a move anticipated for some time now, inov-8 founder Wayne Edy is back leading the footwear company as it prepares to launch what it is calling "the biggest sports footwear innovation of 2021." Edy bought back the company from Descente last year and has kept it under wraps while spearheading the design of a new running shoe.
The shoe will be the world's first-ever to feature a Graphene-enhanced foam, called G-FLY, and has been developed in collaboration with The University of Manchester, the "Home of Graphene." The planet's strongest material, Graphene has been infused into the foam of the new shoe to help improve the performance of trail and ultramarathon runners.
inov-8 will make a full reveal on March 24, with the shoes set to go on sale shortly afterwards.
Edy founded inov-8 in 2003 and now owns 100 percent of the business outside of Northern Asia.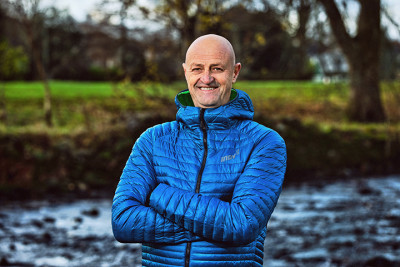 "I'm delighted to be back at the helm ahead of what is an exciting new chapter in the continued development of the world's most innovative sports brand," he says. "We benefited from being part of the Descente group from 2015 to 2020, but we're now independent again and preparing for our biggest ever product launch next month.
"It was a risky time to purchase back the business, but it was an easy decision, driven by my hunger to lead more product innovations," Edy adds. "After a very uncertain period in which we reluctantly furloughed some of the team during the first lockdown, we quickly restructured and brought clear focus to the business. My instincts were to continue investing and, despite most of the team working from home, by the end of the year we had made an incredible recovery, leaving 2020 a much stronger business with a highly motivated team.
"Now, with momentum under our feet and awards coming in thick and fast, we can accelerate, using ground-breaking product innovations to grow in 2021 and beyond."
inov-8 first used Graphene in 2018 when launching Graphene-enhanced rubber, which delivers a tough grip. Sales of its running, hiking and fitness shoes featuring the wonder-rubber have surged over the last three years.
Once again teaming up with The University of Manchester and footwear veteran Doug Sheridan, inov-8 is set to push the boundaries even further with their new shoe, which boasts three patent-pending technologies.
"We're bringing together the worlds of science and sport and combining them with innovation and entrepreneurial agility to go up against the major sports brands – and we're going to win," adds Michael Price, inov-8 COO.
As well as being 200 times stronger than steel, Graphene is also the world's thinnest material and boasts astonishing flexibility. A team of over 300 staff at The University of Manchester has pioneered projects into Graphene-enhanced sports cars, medical devices, aeroplanes and sports footwear.
Dr Aravind Vijayaraghavan, Reader in Nanomaterials at The University of Manchester, home to both the National Graphene Institute and Graphene Engineering Innovation Centre, adds: "This is the next major step in our highly successful partnership with inov-8. Building on the global success of Graphene-Grip rubber, we are excited to extend the superlative properties of Graphene to the foam of the next generation of inov-8 shoes.