Two leading running brands went in different retail directions in the Big Apple in late 2020, with On debuting a futuristic retail location downtown to showcase its footwear and apparel while ASICS announced the closing its New York City flagship store.
On Opens High-Tech Flagship
In mid-December On opened its global flagship store, located at 363 Lafayette Street in New York City, offering what it describes as "a design-centric and technologically driven approach to the in-store consumer experience."
Centered around its unique "Magic Wall," On NYC provides customers an effortless new way to shop for shoes and apparel. Shoppers can either stop in the store or schedule a virtual shopping appointment and receive product within four hours to try on in their homes before purchasing.
"Ten years ago, we set out to revolutionize the running experience. Today, we've reinvented the retail experience," said On co-founder David Allemann upon the store's opening. "With design and technology at the forefront, On NYC will empower shoppers to engage with our products in an entirely new way.
Upon entering On NYC, shoppers will experience the latest in retail technology. Spanning nearly the store's length and height, the 62 x 9 x 3 foot Magic Wall is striking in both appearance and technological capabilities. The front side of the Magic Wall allows shoppers to analyze their running styles in seconds right on the store floor.
With hidden gait-cycle analysis technology, shoppers need to only run a few strides to get instantly matched with the best shoes for their individual running style. Combined with a custom-built invisible foot scanner with depth cameras that achieve an accuracy of +/- 1.25mm, shoppers receive not only model recommendations, but also their size. On's team of running expert store "advisors" are available to facilitate and coach along the way.
The back of the Magic Wall enables shoppers to explore and try on the entirety of the On shoe collection – it carries every model and size. At checkout, an advisor brings out a fresh pair and facilitate a seamless, contactless purchase.
Behind the Magic Wall, changing rooms are available to test On's apparel collection.
ASICS Closes Fifth Avenue Site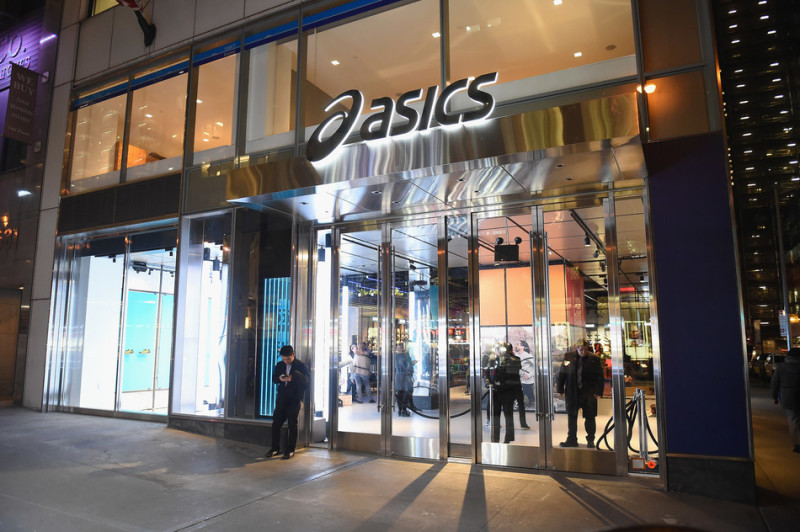 Also in mid-December, ASICS shuttered its New York City flagship store on Fifth Avenue in Manhattan, which opened in 2017, citing the prolonged impact of COVID-19 as the primary reason. The 2035-square-foot store was its first U.S. flagship store featuring two brands — ASICS and ASICS Tiger.
"Amid the uncertainties regarding when the novel coronavirus pandemic will end," the company said in a statement, "the closing will improve the profitability of its North American business, considering the business risk of continuing to operate the store and other factors."
ASICS said that for the fiscal year December 31, 2020, it expects to record approximately $22 million as the loss on the cancellation of the lease contract and the loss on the impairment of the related fixed assets.