Even though the Boston Marathon will not be run this year until October, the Boston Red Sox and Major League Baseball are paying tribute to the iconic race for one weekend by trading in the team's traditional red-and-navy-themed colors for a yellow with baby blue trim look with stencil lettering — all inspired by the marathon and Patriots' Day.
The new look – to be worn only during a home series against the Chicago White Sox on April 17 and 18, ahead of Patriots' Day on April 19, when the race would normally have taken place – is part of Major League Baseball's partnership with Nike, the league's official uniform partner, in something called its City Connect series.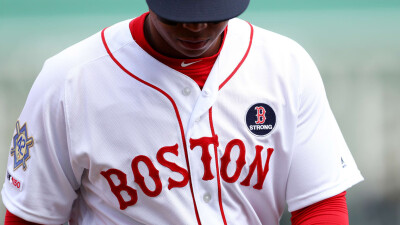 On April 19 the team will once again wear the Boston Strong uniforms they have used since the marathon bombing in 2013.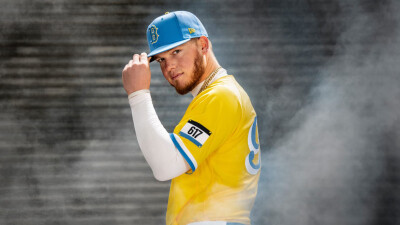 While the yellow and blue colors pay tribute to the Boylston Street finish line, another nod to the marathon the uniform includes a replica racing bib with the number "617" — a Boston area code — on the sleeve.
The Red Sox caps will still have the iconic "B" on it, but now it will be in the same bright yellow and blue as the jersey, and there will be special socks, too. (The socks will still have some red socks on them.)
Nike is making "a uniform series that celebrates the bond between each team and its city and pushes the boundaries of baseball uniform design to build energy around the game for both players and fans" for a number of MLB teams. As the 2021 season progresses six other teams will be revealed: the Miami Marlins will be next followed by the Chicago White Sox, Chicago Cubs, Arizona Diamondbacks, San Francisco Giants, and Los Angeles Dodgers.
The Boston Marathon has been run every Patriots' Day since 1897 (except 2020 and 2021). The 125th Boston Marathon will be held on Monday, October 11, 2021.
The special Red Sox uniforms, along with caps, socks and other fan apparel will be available on at MLBShop.com, the MLB Flagship Store in New York City, SNKRS, the Nike App and select other retail locations.