Bob Wallace, a true legend in the running industry and a true character in life, passed away July 21. His passing leaves a marathon-sized hole in the running business.
His wife, Rebecca, provided an insightful obituary of sorts of the ups and downs (mostly ups) of Bob's life and that is excerpted here: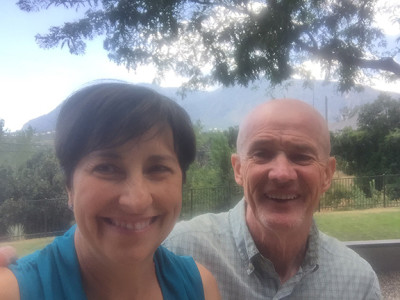 Robert Wallace was the king of sarcasm and self-deprecating humor, which makes a sentimental tribute feel out of character. Yet those who had the opportunity to be part of Bob's life from June 21, 1951 to July 21, 2020 want to shout from the peaks of every 14er he climbed that he was a beloved badass. (This is where Bob would say, "Actually I was just an ass.")
Raised in Croydon, outside Melbourne, Australia, Bob started running as a 12-year-old when his teacher, Roy Whitehead, sent him out to run in the rain. He showed talent and continued to run with the Richmond Harriers, and then at age 18, received a track scholarship to Long Beach State in the United States. He eventually transferred to the University of Texas at El Paso ("Harvard on the border") where he set two conference records in 1974, before graduating with a bachelor's degree in business administration.
In 1976, he placed second at the Australian Olympic trials marathon, which was his first marathon. He won the Australian Marathon Championship in 1977 and represented Australia in the 1982 Brisbane Commonwealth Games. He ran 20 marathons in under 2:20, with several first place finishes to his credit, including the Dallas White Rock Marathon in 1980.
In 1981 he clocked his fastest marathon time at Grandma's in 2:13:14. The following year he ran Boston Marathon, and while Bob told everyone how slow he ran that day, he still had a top-ten finish, sunburn and all. The best part of his Boston Marathon story wasn't in gutting it out to finish, but in hobbling back to his hotel and coming face-to-face with a cleaning lady, who asked, "How did you do?" With a grin on his face, Bob said, "I finished ninth!" To which she replied in all seriousness, "Better luck next year."
Bob never went back to run Boston, but he seized on his luck when he bought a struggling Dallas running store in 1995 and renamed it Run On! With his wife and business partner, Rebecca, the business grew to six stores and a race timing company before they sold it in 2012 to what is now known as JackRabbit Sports.
He was regarded as a visionary in the retail running industry, setting an example for running stores all over the country. (Especially that time he took off running after thieves who fled the store with unpaid merchandise, shouting, "You're never going to outrun me!") His leadership style was one of authenticity, trust and empowerment. People were drawn to him because, in his sly way, he knew how to bring out the best in them.
Wallace was a founding member of the retail trade group now called The Running Industry Association. In its first meeting, certain retailers wanted to exclude Fleet Feet stores from membership. Wallace put his foot down and the group was founded open to all stores.
Between hundreds of marathon clients he coached and as the co-author of How to Train For Your Bucket List Marathon, he poured his soul into helping others leave their footprint too. Bob had a huge heart for the running community and was adept at helping people reach their goals. What Bob's running clients came to understand is that his coaching went beyond achieving a personal record. Bob taught people how to believe in themselves the way he believed in them, so they could go on to set and accomplish other life goals.
Despite being diagnosed with a brain tumor in February 2019 and the interminable treatment that followed, Bob continued to run, hike, bike and climb mountains near his home in Colorado Springs. Though his diagnosis influenced the way he embraced the rest of his life, which brought out a softer side to him.
Bob is preceded in death by parents, Neil and Yvonne. He is survived by sisters Jane (Peter) and Angela (Flo); brother, Jack; daughters Yvonne Winchester and LaRoux Wallace (Paul); and grandson, Jack. Bob leaves behind his best friend and wife, Rebecca (Salinas) Wallace.
Rebecca asks that those wishing to pat tribute to Bob please consider donations to the Cheyenne Mountain Zoo, Humane Society of the Pikes Peak Region, or an animal rescue group of your choice. (This is where Bob would say, "Don't be cheap.")