Jeff Galloway Appears in Comedy Central's "Office Race" Movie
Running hit the big screen on Comedy Central as Olympic runner and famed running coach and retailer Jeff Galloway appeared in the film Office Race as a race announcer. The film, about an office rivalry that escalates when the main character decides to compete alongside colleagues in a 26.2 mile race he's unprepared for, aired on Labor Day (Sept. 4) and stars Joel McHale, Kelsey Grammar, Alyson Hannigan and Beck Bennett.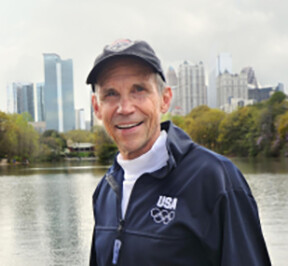 The inclusion of Galloway, owner of Phidippides Running, as an announcer in the movie Office Race is timely since Jeff founded and directs a corporate race where employees enjoy friendly competition called the Kaiser Permanente Corporate Run, Walk & Roll — and it's coming up on September 28. When the film debuted, organizations in the Atlanta area, coincidently where scenes from the movie were filmed, were gearing their employees up for this race event that's touted as the "biggest office party in town." Click here to watch the official trailer.
La Sportiva and Janji Release 'Door to World' Collaboration
In their first-ever collaboration with a running brand, performance mountain gear brand La Sportiva has partnered with Janji on a limited edition collection, "Door to World" — a collaboration that aims to expand the community of trail running and open the door to new frontiers for adventurers seeking to explore the world on foot. Combining La Sportiva's near-century of experience creating the world's finest mountain footwear with Janji's young, expressive designs, the 10-piece capsule collection includes trail running footwear, Jackal II, and a complete running kit that combines ultra-running technicality with vibrant designs for everyday wearability.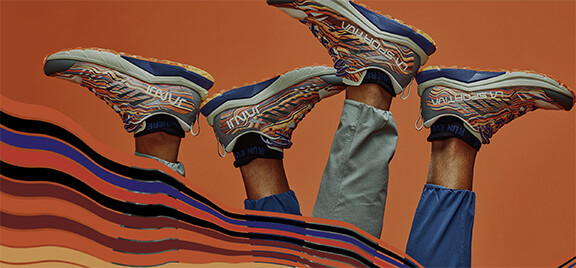 "Up until this release, Janji has been known for exclusively creating ultra-capable trail-running apparel, eschewing footwear to focus on bringing durable construction, comfortable performance fabrics, and technical pocketing systems to tops, bottoms, and outerwear designed for all day endurance pursuits," says Dave Spandorfer, founder of Janji. "We've been patiently waiting for the right footwear partner to come along and we've found that at La Sportiva, making this their first domestic collaboration."
Unifying the entire capsule is Janji's colorful Tectonic Shift print, which pays homage to the colorful magnitude of the environments we set out to explore. Bringing these epic, primal landscapes to trail-capable, everyday wear inspires us to discover the world outside our own front door.
"La Sportiva and Janji share an understanding that trail running has the power to change lives," said Jonathan Lantz, president of La Sportiva North America. "Running is incredibly difficult, but it is because of the hurdles that this sport presents, not in spite of them, that this activity is so beautiful. This unique collaboration reflects both brands' commitment to crafting eco-friendly products that embrace the toughness of the trails while working to create a welcoming community that sees every runner as an athlete on a journey of self-discovery and empowerment."
"Door to World" Highlights:
La Sportiva's Jackal II is redesigned to inspire runners with a reduced weight, roomy toe-box and a redesigned heel for an incredibly comfortable stride.

Janji's new Zephyrunner Wind Shell is a "vaporlight," packable windbreaker that's constructed of the brand's lightest fabric yet: 20D nylon micro ripstop fabric weighing in at 40gsm.

Sustainability: The entire capsule will include the use of recycled materials, with La Sportiva's Jackal II updated with recycled mesh (forefoot, tongue and lining) and Janji's accompanying kit is constructed from a majority of recycled materials

Give Back: As with all Janji collections, two percent of all apparel sales will go to clean water projects
The La Sportiva x Janji "Door to World" capsule collection was exclusively available at REI beginning September 6 and will be available on janji.com and lasportivausa.com beginning on October 3.
K-Swiss Partnering With Pickleball Star
Strengthening its position in the pickleball space, K-Swiss has signed a multi-year apparel and footwear partnership with professional pickleball player, commentator and "Coach to the Stars" Matt Manasse. With three pickleball-specific shoes in its line already, K-Swiss is reaching out to the run specialty community with its participation at The Running Event 2023 in Austin, TX, in November and will be a presenting sponsor of the full-size pickleball court at TRE.
Brooks Signs NIL Deal With Shawnti Jackson
Brooks Running has entered into an NIL deal with Shawnti Jackson, who holds the title of the fastest American high schooler of all-time after running 10.89 earlier this year. Jackson's signing marks Brooks' foray into the evolving space of NIL deals and expands on the brand's breadth in the sport beyond its historic expertise in the distance arena with further investments in speed disciplines.
This deal comes after a phenomenal senior year for Jackson, which included defending her 100m title at Brooks PR Invitational, a semi-final appearance in the 100m at USA Outdoor Championships and claiming the 200m title at U20 Pan American Games in Puerto Rico. Her 200m championship time of 22.35 is the 7th fastest time ever by an Under 20 athlete at only the age of 18. The only other American women ahead of her on that list are Allyson Felix and Sha'Carri Richardson. This fall she started her freshman year at Arkansas where she plans to study criminology.
New Product: Salomon S/LAB Phantasm
Salomon recently unveiled its updated S/LAB Phantasm lightweight, carbon-plated road running shoe. The shoe has PEBA foam in the midsole, located above and under the carbon fiber plate, is lighter and more responsive, "delivering an explosive, propulsive energy when running at high speed." The full-length carbon fiber plate provides a more "rigid and demanding build for athletes, while its spoon-shaped geometry optimizes propulsion."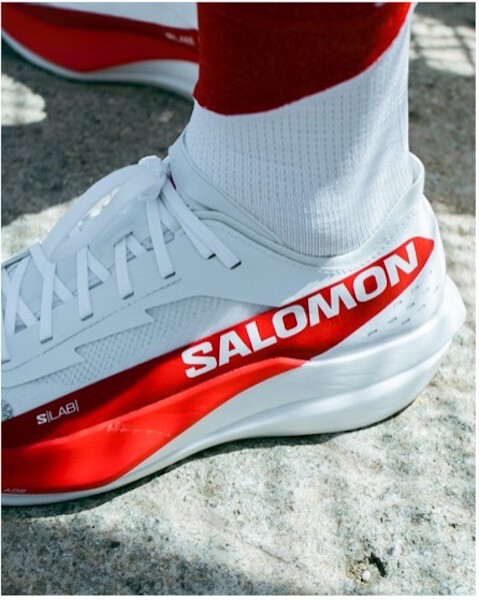 "The foam, plate and geometry are the three essential parts to constructing a premium road racing shoe. These three elements on the new S/LAB Phantasm 2 are significantly improved to offer a better performance for elite and sub-elite runners on race day," explains Gatien Airiau, product line manager for Salomon road running footwear.
With 3mm of foam added under the plate, the S/LAB Phantasm 2 reaches a height of 37.5mm, meeting the regulation limit of 40mm from the World Athletics Organization.
Salomon re-engineered the shoe's upper to be a lighter, single-layer mesh for increased breathability, reducing the shoe's overall weight. Designers shaved 10 grams off the shoe for a total weight of 219 grams per pair. The rocker was also redesigned and moved forward to "reduce the transition time from heel to toe, benefiting runners with a forefoot stride.
Merrell Gets 'Scrappy' With New Limited Edition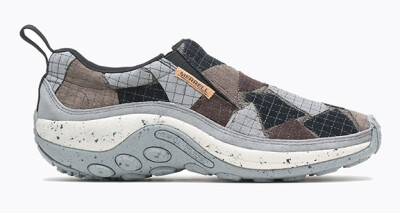 A recently launched limited run footwear collection from Merrell called Scrap is built partially using excess materials from the brand's production line. The Scrap product line includes three styles: Jungle Moc Scrap ($125), Moab 3 Scrap ($130) and Moab Speed Scrap ($150).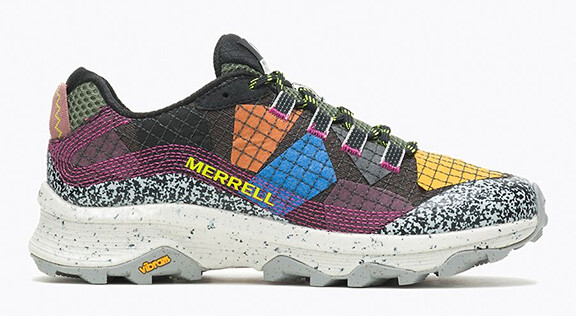 Each Scrap shoe has a unique pattern, with the uppers made from the brand's leftover scrap material that may have otherwise ended up in the waste stream. The scraps are uniquely placed, cut and stitched onto the footwear.
"The Scrap line's signature feature is the computerized grid stitch to trap all the normally unusable scrap pieces, leading to a unique aesthetic across the collection," explains Ian Cobb, senior design director. "This was a passion project for our team as we look to merge style with eco-conscious decisions such as making footwear with excess materials from the production process."
The line was released earlier this month in honor of Zero Waste Week, an annual international campaign to educate and support efforts to reduce landfill waste.
New Product: Brooks Green Silence Ghost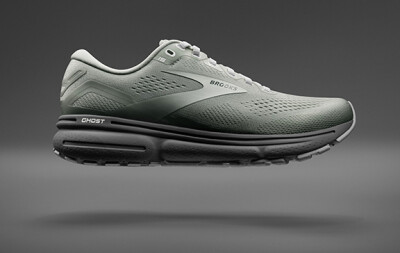 Brooks recently unveiled the Green Silence Ghost, a specialty shoe that showcases the ways the brand has grown and innovated its materials and production processes to reduce its carbon footprint as it strives toward a goal of net-zero greenhouse gas emissions by 2040.
The Green Silence Ghost 15 is the culmination of over a decade of innovation, including processes such as dope dyeing cut down water use by 94 percent, and greenhouse gas emissions by 92 percent. The Green Silence Ghost 15 paves the path to moving Brooks' entire product line closer to its goal of incorporating at least 50 percent recycled or bio-based content in all the materials used in Brooks products by 2030.
The Green Silence Ghost 15 previews some of the advances that will be seen throughout Brooks' inline footwear beginning with the Fall 2023 season. Dope dyed textiles, particularly the sockliner topcloth will be seen in several footwear styles as of Fall 2023. In addition, Brooks plans to apply dope dyed yarns to all tongue and collar linings across all new styles as of Spring 2024.
Starting in Spring 2024, Brooks plans to feature a new outsole made up of 20 percent recycled silica content.
OrthoLite Founder Glenn Barrett to be Inducted into HOF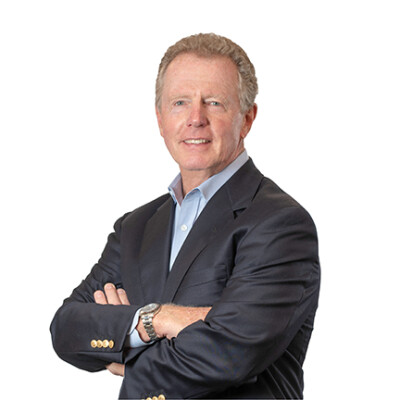 OrthoLite founder and CEO Glenn Barrett is one of four inductees in the Class of 2024 of the National Sporting Goods Association (NSGA) Sporting Goods Industry Hall of Fame for his significant impact on the industry.
Barrett revolutionized the footwear segment of the sporting goods industry from the inside out. While most public attention is paid to the outer style of footwear, OrthoLite, which Barrett founded in 1997, focused on the inside with an emphasis on the importance of comfort and performance. Barrett introduced a new open-cell PU foam insole technology that led OrthoLite to become recognized as the world leader in branded footwear component technologies. Today OrthoLite partners with more than 500 of the world's leading footwear brands who trust OrthoLite to elevate the comfort, performance and sustainability of their footwear.
"I am honored to receive this recognition alongside an admirable group of my industry peers," says Barrett. "As I continue this journey in developing footwear solutions, I can assure the sporting goods industry that OrthoLite will continue to deliver innovative footwear solutions for our brand partners with a focus on comfort, performance, innovation and sustainability."
Barrett joins his fellow class of 2024 inductees: Cathy Pryor (Hibbett Sports), Karsten Solheim (PING Golf) and Mike Thompson (Rawlings). The foursome will join more than 180 retailers, team dealers, manufacturers and industry influencers who have been honored with induction into the Sporting Goods Industry Hall of Fame since it was established by the National Sporting Goods Association in 1955.
Skratch Labs Launches Limited-Edition Cookie Mix Sport Fuel
Skratch Labs, the maker of performance nutrition, recently launched its limited-time Cookie Mix Sport Fuel, made with wheat flour, oats and brown cane sugar. The "throwback recipe allows anyone to create portable, homemade nutrition similar to most energy bars, but with no excess ingredients, more moisture and personalized to their tastes," said the company.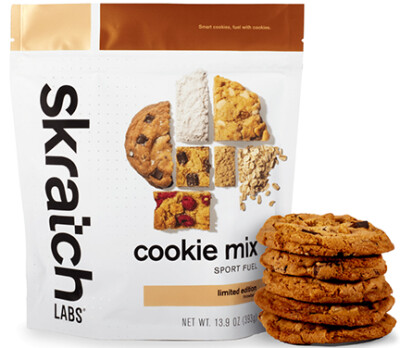 Cookie Mix is sold dry in a base flavor for customizing with mix-ins, including chocolate chips, fruits or nuts. Add one stick of butter and an egg, or preferred vegan substitutes, and the batter is ready to bake. It is also made with non-GMO ingredients and is nut-free, dairy-free and kosher. It comes in a 13.9-ounce bag, which makes about 18 cookies.
Skratch Labs created the Cookie Mix in 2014 during the Tour of California when the company provided "human support for riders and their support staff." At the time, "riders were served cookies for dessert and began asking for cookies during the race. Now, this throwback recipe offers that same fueling nutrition to anyone looking to take their dessert on their next ride, run or workout," said the company.
"The best sports nutrition is the one you actually want to eat," says Skratch Labs co-founder Dr. Allen Lim. "And who doesn't love a good cookie? So we came up with a mix that can be easily combined with whatever flavors you want in your fuel and still offer the sustained energy needed to perform well during heavy exertion. This cookie mix makes it easy to get nutrition that's simple, fresh, delicious, and homemade—exactly what you want when you're going hard. And maybe even when you're not going hard."
Keen Walks With WK400 Line Extensions
After three years of development and 5000 miles of testing, Keen introduced the WK400 last February, a shoe designed for walking. Taking it another step now, the brand recently released elevated leather and waterproof iterations with the same comfort and tech as the original, plus enhancements for even more versatile for workout-to-work and even weekend wear.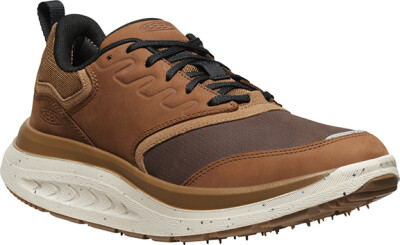 WK400 Leather (photo left): Designed with environmentally preferred leather that's both lighter on the planet and elevated enough to pair with slacks. Reflective details on the toe and heel bring an added flare to the traditional athletic sneaker.

WK400 Waterproof: Designed with Keen.Dry waterproof protection so that walkers can ditch bulky rain boots and walk with comfort and ease on rainy days.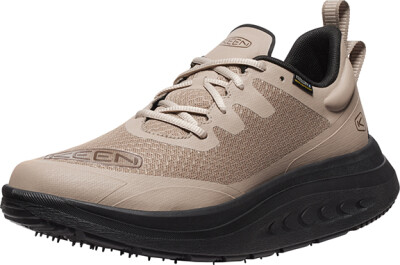 During the development of the first WK400 sneaker, Keen discovered that foot moves in a continuous arc while walking, a distinct pattern separate from a runner's stride — and one that most shoes fail to support. To address this, Keen created Keen.Curve technology, fusing constant curve geometry, underfoot plate technology and a high-energy midsole to create a unique sensation of seamless forward motion.
WK400 Leather and Waterproof are free of toxic chemicals, including PFAS, reflecting the brand's commitment to environmental sustainability.
Saucony Unveils C
orn-powered Triumph RFG Sustainable Shoe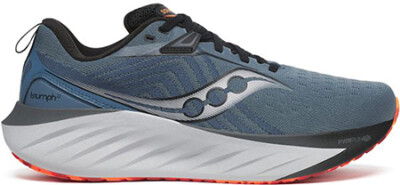 Running toward a more sustainable future, Saucony has taken a major step in its sustainability journey –a goal that 90 percent of its products will contain organic, recycled or renewable materials by 2025, with 100 percent by 2030 – with the launch of the Triumph RFG (Run For Good), billed as its most sustainable shoe to date. The Triumph RFG brings together plant-based dyes in the upper with a 55 percent corn-based PWRRUN BIO+ midsole foam to help limit the dependence on plastic, a major contributor to negative environmental impact. The 80 percent natural rubber outsole is engineered to offer the same level of performance as a synthetic sole. The Triumph RFG launched September 5.
Among the shoe's details:
PWRRUN BIO+ cushioning is 55 percent corn based, limiting dependence on plastic.

PWRRUN BIO+ sockliner; made to perform with PWRRUN+ sockliner for added comfort

Durable gum rubber outsole is made from 80 percent natural rubber.

Breathable mesh upper made of cotton using plant-based dyes.

Soft collar and padded tongue for 360 degree fit and feel.

Heel-to-toe Offset: 10mm (37mm heel/27mm forefoot)

Weight: Men's 10.4oz. (295g), Women's 9.7oz (275g)

Sustainability: This style is vegan and contains recycled materials.

MSRP: $160
"This year, as we celebrate Saucony's 125th anniversary, we look back on how creating a better world has always been part of our deep-rooted heritage," says Rob Griffiths, Saucony global brand president. "At Saucony, we say that when we innovate, we elevate — the industry, our partners and the sport.
"But quite simply, the future of our sport depends on the future of our planet and we know we can do better for ourselves and the earth," he adds. "There's no one-size-fits-all solution. That means as a member of the global community, it is imperative that we are constantly innovating, researching, and committing to our promise to find more sustainable options. We believe there is no finish line when it comes to sustainability; we are dedicated to pushing ourselves and the industry to do better."
Over the years, Saucony has implemented a variety of projects on its sustainability journey, including the launch of its Spring 2020 apparel line — nearly 100 percent of styles were made in part with organic, recycled or renewable materials.. In 2021, the brand launched the Jazz Court RFG, crafted using only seven natural materials and zero plastic; it became Saucony's most eco-friendly shoe at the time, delivering on the brand's long-term goal of excluding virgin plastic from their products. Further, in 2022, Saucony became the first running brand to collaborate with Cycora by Ambercycle, creating performance running tops made from 23 percent Cycora material, a regenerated polyester sourced from textile waste that would otherwise have ended up in landfills.
"What we use to make our footwear and apparel has a big impact on our environmental footprint — that's why we focus on natural and recycled materials that reduce the need for synthetic chemicals and harmful production processes," explains Brian Moore, senior VP–global product for Saucony. "Sustainability and running performance don't always go hand-in-hand and runners who care about the environment shouldn't have to make a choice. The Triumph RFG is proof that sustainability and performance can work in tandem with the added goal of ensuring that the product remains affordable for the consumer. Saucony continues to make progress in its sustainability journey, and the Triumph RFG is just one of many Saucony styles to be reimagined with the future of the planet at the forefront."
As part of its sustainability strategy, Saucony has initiated the RFG Standard, a baseline measurement that indicates if a product meets the brand's sustainability goals while continuing to deliver on the performance consumers need. A product that meets those standards, such as the Triumph RFG, earns the RFG Badge.
Xero Expands With Four New Running Shoes

Continuing its commitment to the running space, Xero Shoes launched four new running shoes on August 22.
Scrambler Low

– An ultra-lightweight trail runner, unparalleled lightness and flexibility are guaranteed by the fiberlite technology in the Michelin sole.

HFS II

– An evolution of the best-selling road running shoe, with a more aggressive tire tread-inspired outsole for comfort.

Mesa Trail WP – A waterproof version of its trail shoe, Mesa Trail. This version keeps feet dry on cold or wet runs in a surprisingly lightweight package.

Speed Force II

– The "closest-to-barefoot" racing flat. Co-founder and Masters All-American sprinter, Steven Sashen, uses this for training, racing, and everyday wear.
OrthoLite Cirql Appoints Thwaites VP&GM
OrthoLite, the maker of comfort and performance footwear insoles and the company behind OrthoLite Cirql™, a sustainable materials solutions provider for the global footwear industry, has appointed Matt Thwaites as its VP&GM of OrthoLite Cirql.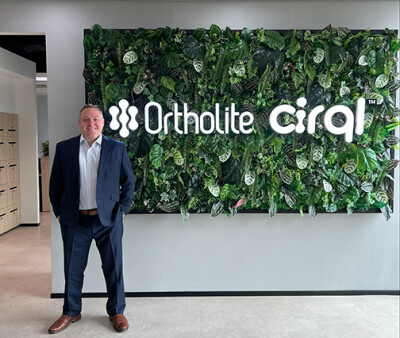 OrthoLite Cirql is footwear solution that enables true circularity for brands and factories. This innovative new material solution is the first industrially compostable, recyclable, and biodegradable foam technology for footwear that is free from traditional plastics.
Thwaites brings more than two decades of experience in sales and operations in the textile industry to his new role. He will lead production, sales and go-to-market strategy globally for OrthoLite Cirql, furthering the vision of moving the global footwear industry toward a 360-degree solution of circularity. Matt will be based in Ho Chi Minh City, Vietnam, at the headquarters of OrthoLite Cirql.
Before joining the OrthoLite Cirql team, Thwaites worked as the global sales and marketing director, Footwear Division for Coats, the world's leading industrial thread company. During his nine years at Coats, Thwaites rose the ranks from Business Development Director of Coats Vietnam to ultimately leading a team of more than 300 people through record sales levels, and was a key member of the COVID relief solutions team.
The appointment of Thwaites comes on the heels of a partnership announcement between OrthoLite Cirql and Novamont, the international innovator and manufacturer of biodegradable and compostable bio-products. Novamont, based in Italy, is the biopolymer material supplier of OrthoLite Cirql.
Oofos Promoted Mischler to COO
Ooofos, the maker of Active Recovery footwear, recently promoted Dave Mischler to chief operating officer, where he will be responsible for leading the execution of Oofos's business plan, overseeing all internal affairs and administrative functions, and serving as a conduit for the leadership team. The product development, ecommerce, wholesale sales, sourcing and global logistics/operations teams will report into him.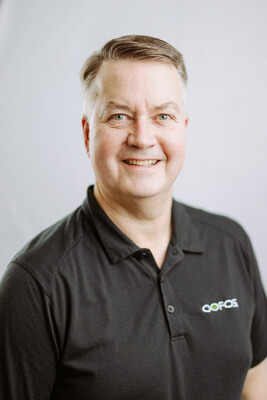 Mischler has more than 35 years of experience in finance, R&D, supply chain management, Go to Market and international sales, with most of his career spent in the athletic footwear and apparel industry at Reebok and Adidas in a variety of executive leadership roles. Prior to Oofos, Dave served as senior VP and chief supply chain officer for Unifirst, a maker of uniform rental and supply products.
Equally as important as his contributions to the business, the way Dave has worked with the Oofos team and its partners has been truly representative of the brands' OOsoul and values. This includes his recent completion of the Pan Mass Challenge, a two-day, almost 200-mile bike-a-thon through Massachusetts that raises funds for Dana-Farber Cancer Institute. Dave personally raised more than $12,500 that will go directly to cancer research and patient care.
Among the changes happening, president Steve Gallo will be stepping away from Oofos to take on a new, exciting opportunity. Steve's accomplishments include building a very strong US retail distribution infrastructure, transforming the company's DTC oofos.com business and building a strong base of US wholesale retail partners.
New Product: New Balance FreshFoam X 1080v13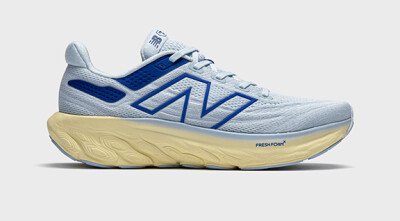 Last week New Balance unveiled the newest iteration in the Fresh Foam X family – the Fresh Foam X 1080v13, featuring soft cushioning, elevated comfort and an improved fit for all who run. A new outsole design built off research and development from the New Balance Sports Research Lab increases forefoot stiffness and an enhanced rocker to improve transitions between strides – helping people run their way, comfortably.
The Fresh Foam X 1080v13 has more cushioning for a soft and lightweight feel. The foam compound paired with increased midsole stack heights provides a comfortable run, no matter the distance. Also featured in a new engineered mesh with reflective details and a structured fit. The Fresh Foam X 1080v13 will be available for purchase at newbalance.com on Oct. 13 with an MSRP of of $165.
Saucony Names Deschenes VP–U.S. Sales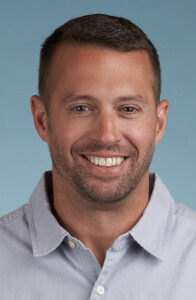 Saucony has named Chris Deschenes its new VP–U.S. sales, effective immediately. He also joins the company's senior leadership team, reporting to Saucony Global Brand president Rob Griffiths. Most recently, Deschenes was vice president of sales for The Wolverine Kids Group.
Deschenes comes to Saucony as a 20-year veteran, working in sales and product merchandising roles for Life is Good, Sperry, Converse and Puma North America. As VP– sales for The Wolverine Kids Group, Deschenes managed a portfolio of kids' brands, including Sperry, Saucony, Merrell, Keds, Pro Keds, and Hush Puppies.
Craft Sportswear Appoints Waypoint Outdoor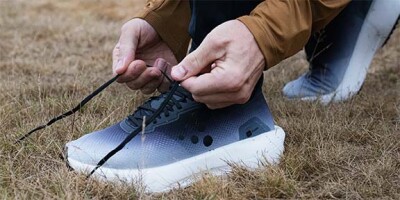 Craft Sportswear North America has appointed Waypoint Outdoor as the nationwide sales agency of record for Craft's footwear collection. This partnership marks a significant milestone for both companies as they join forces to expand Craft's reach in the footwear market.

Waypoint Outdoor's vast network and experienced team combined with Craft's current rep force will provide an immediate increase of boots on the ground to support Craft's expanding footwear dealer base and pinnacle accounts. This will also enhance Craft's ability to support their established performance apparel business and the launch of their Smart Margin in-stock program.
Medi-Dyne Kicks Off Medical Research Program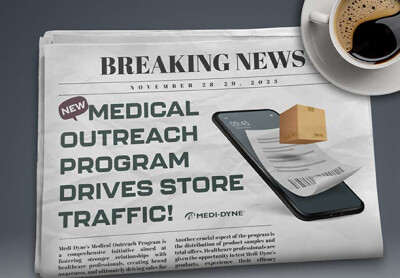 In the ever-evolving healthcare landscape, companies must find innovative ways to connect with their customers and enhance their brand presence. For Medi-Dyne, a provider of innovative healthcare and medical products, this has become a reality through its new Medical Outreach Program that offers significant benefits for stores that stock Medi-Dyne's products.
The Medical Outreach Program is a comprehensive initiative aimed at fostering stronger relationships with healthcare professionals, creating brand awareness and ultimately driving sales for both the company and its retail partners. This initiative is a testament to their commitment to providing quality healthcare solutions while fostering partnerships that benefit all stakeholders.
The program includes Educational Webinars and Seminars, Product Samples and Trials and Networking and Collaboration. It is designed to increase retail foot traffic, enhance brand credibility, provide targeted marketing and improve community engagement as stores that actively participate in Medi-Dyne's outreach events become community hubs for healthcare and wellness discussions.
Mizuno USA Adds Chris Brewer
Mizuno USA recently added Chris Brewer to its leadership team. Brewer, a seasoned industry veteran with a track record of transforming businesses and driving growth in the footwear sector, has held key positions at Adidas, Under Armour and Fila.