Inov8 Rebrands With New Name and Logo
Inov8 is rebranding for the first time its 20-year history. Founded in the mountains of Northern England in 2003, the company sells innovative running, hiking and gym gear in more than 50 countries worldwide. Now, to mark its proud two-decade milestone, INOV8 has a fresh new look designed to support accelerated growth into the next 20 years.
The rebranded name – it's a small, but significant change – and logo will showcase on product for the first time this December when Inov8 will launch a revolutionary new off-road running shoe. This will be the first shoe in a new 2024 coming-of-age footwear collection that incorporates the biggest-ever design changes made by the brand. These changes include new foot-contouring fits and new cutting-edge technologies that will enhance performance and comfort for runners, hikers, and gym enthusiasts.
The company's name is being simplified from Inov-8 to Inov8, making it easier to read. The use of a foot-shaped logo to symbolize the number 8 is being replaced by a new logo of a bird's talon, which signifies the brand's past, present and future.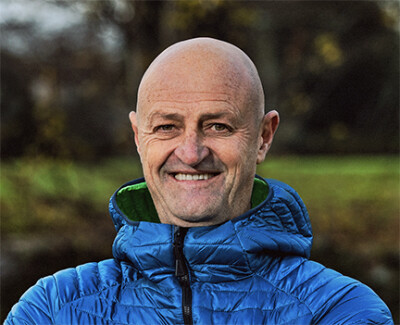 "This is a milestone moment for inov-8, arguably the biggest in our 20 years," explains Inov8 founder Wayne Edy. "The new identity and footwear collection are game changers. They'll supercharge us into the next two decades with a modern look and feel that is more relevant across all our categories, while retaining the heritage upon which we've built international success.

"The use of the new talon logo is crucial in this," Edy adds. "Much like birds use their talons to grip to a surface, to create a sense of control and balance, our talon logo does the same, reflecting the long-standing proud design ethos of our footwear."

As well as showcasing on the first new shoe, the brand's revamped look will also be evident in selected Inov8 stores prior to 2024. A full rebrand rollout is planned for the new year.

To further inject fresh energy and skillsets, a new Inov8 management team has been assembled over the past 18 months, led by CEO Mike Snell. Edy continues to be heavily involved in the day-to-day running of the business and is personally overseeing the design and development of the new 2024 footwear collection.
Merrell Commits to Three New FKTS Athletes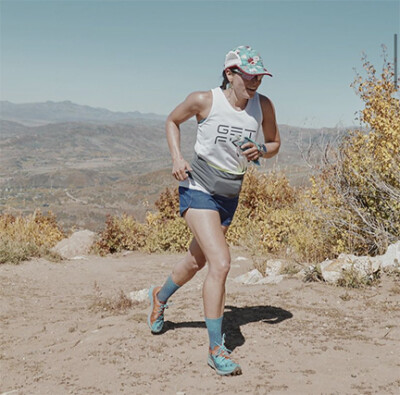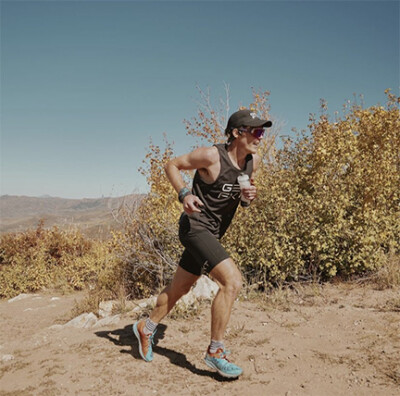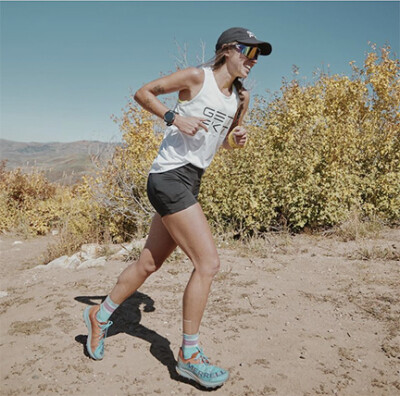 Merrell has named Sara Aranda, Morgan Elliott and Mercedes Siegle-Gaither as its newest Merrell Test Lab (MTL) trail team athletes. The three recently competed in Merrell's Get FKT Challenge to race to earn a spot on the global roster of trail runners.
Aranda, Elliott and Siegle-Gaither were three of six contestants selected to race the newly set Base to Thunderhead route in the MTL Skyfire 2 trail running shoes. Morgan completed the route in 34:19 with Mercedes and Sara tying at 48:41. Following Aranda and Siegle-Gaither's athletic performance and tie coming down to the milliseconds, Merrell decided to award both women with contracts.
The route was 3.2 miles long with a vertical gain of 2,201 ft – starting at the base of the Steamboat Gondola and finishing at Thunderhead Lodge. The winners were named for setting the Fastest Known Time (FKT) recorded on the route.
"We're elated to have Sara, Morgan and Mercedes as part of the Merrell trail team and are looking forward to integrating these athletes into our prototype testing," says Merrell senior brand marketing specialist Ben Stark. "The Merrell Test Lab gets into the heart of the sport: we make niche performance shoes for specific end-use purposes and each shoe has a very focused design as seen in the FKT race with our MTL Skyfire 2."
Paradis Sport Receives Entrepreneurship Grant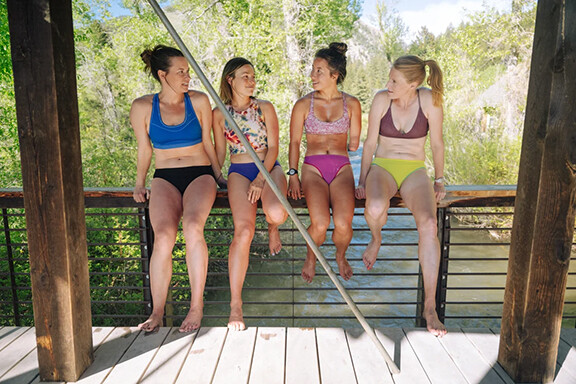 Paradis Sport, the maker of performance underwear, was recently selected to be a grant recipient of the Hello Alice program in partnership with the Global Entrepreneurship Network, Progressive and Etsy. Paradis Sport continues to receive rave reviews in Backpacker, Women's Running Magazine, Treeline Review, and Outdoor Life – including best "thong" category for hiking.
Former D1 athlete Sarah Weihman founded Paradis Sport because she couldn't find high-quality athletic underwear that worked. Thousands of women were complaining about the same thing: other brands' undergarments rode up, fell apart quickly, or were uncomfortable. She enlisted top female industry experts to help design performance underwear that women want and deserve and then fit-tested the prototypes with elite athletes across 30 sports. Paradis Sport quickly developed a pro athlete following that includes members of the US Ski Team, USA Triathlon, US Swimming, Team Canada and US Rugby among others.
New Product: CAYL & New Balance for Mountains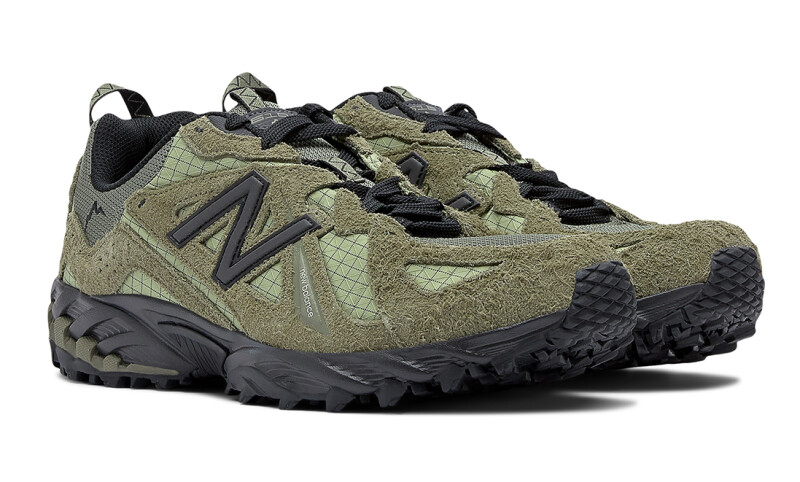 The recently released CAYL & New Balance 610T is described as "a refined expression of modern, outdoor-inspired design." The silhouette's bold lines and angular lugged outsole cut a distinctive figure to begin with, but are taken to another level by CAYL's material and color choices. The shoe's unique overlay pattern is rendered in hairy suede, while the synthetic upper is outfitted with a printed grid pattern. This mimics the look of ripstop, the rugged, functional textile that is a signature feature across CAYL's clothing and accessory ranges. The multi-faceted inspiration is emphasized with the utilitarian flair of pale, earth toned green upper and contrasting black sole unit. MSRP is $160 USD for the 610T and $175 for More Trail v3.
CAYL & New Balance became globally available on October 13 on NewBalance.com, cayl.co.kr and at select retailers.
Feetures Breaks Ground on New Warehouse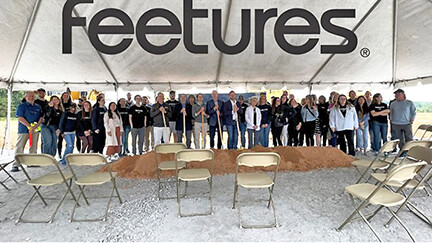 Feetures broke ground on a 60,000-square-foot warehouse facility in Hickory, NC, at the end of September, a move that reflects its "remarkable growth and its unwavering commitment to future innovation in the performance sock market."

Feetures also said that "this milestone event marks a significant step forward for the company as it expands its operations, improves productivity and continues to lead the industry around sustainable initiatives."

"We're thrilled to break ground on our new warehouse facility in Hickory," says Joe Gaither, CMO of Feetures. "Feetures is born and bred in North Carolina and as our business continues to grow we felt that building locally was the best investment we could make in our success."

The warehouse will employ 30 in the city and county limits of Hickory and Catawba County, and Feetures anticipates adding between 25 to 30 new jobs to accommodate business growth in the next five years.

As part of the expansion, Feetures will update its storage capacity, material handling and warehouse management systems to improve productivity and efficiency for continued growth through 2029. They also align with the company's environmental responsibility initiatives.
Seirus Heats Up Offerings for Runners For Fall 2023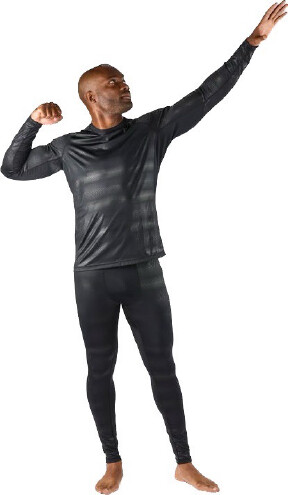 With a long history of making technical, high-quality gear for snowsports, Seirus recently expanded its product line for Fall/Winter 23-24 to offer an array of cold-weather gear specifically for runners.

Among the new products, Seirus' Heatwave baselayers use a dual-stage technology that's breathable, wicking, and warm. Long-sleeve tops and full-length bottoms are available in various men's and women's styles, sizes and weights.

The lightweight All Season weight provides versatile comfort, while the performance-weight Body Mapped design strategically tailors warmth and breathability to different areas of the body. There are multiple Body Mapped Performance-weight top options, including the Quick Hoodie featuring a built-in Headliner that provides elevated warmth, comfort, and versatility.

Highlights of the running glove line include the All-Weather Soundtouch Hyperlite Glove and the Heatwave Gore-Tex Infinium Soundtouch Trace Glove. Both incorporate Seirus' proprietary Soundtouch technology that allows the wearer to keep their gloves on when using phones, touchscreens and fitness tracking devices.

Seirus has runners' heads covered, too, with a lightweight skull liner to Headliner hoods, two different weights of neck tubes and headbands. The thin Heatwave Sock rounds out Serius' running collection, providing moisture-wicking, thermoregulating options from head to toe.

"Whether on the road, trail, or track, runners rely on gear that boosts their performance," says Danica Carey, director of marketing at Seirus. "Our clothing is comfortable in all conditions, keeping you warm by incorporating industry-leading technologies that enhance moisture management and functionality."
Jambar Signs Running Power Couple Joe and Sage Hurta-Klecker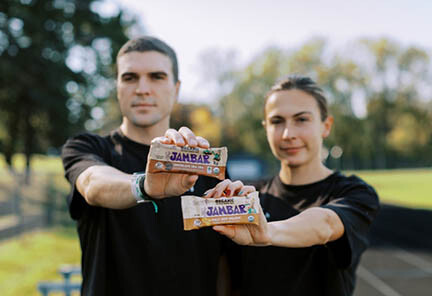 Organic energy bar maker Jambar has signed a sponsorship deal with runners Joe Klecker and Sage Hurta-Klecker. The married couple ran track together at CU Boulder and now are teammates and pro runners for On Athletics Club. As new members of Team Jambar, the Kleckers join athletes including Olympic Gold Medalist Jonny Moseley, Stroller Mile World Record Holder Neely Spence Gracey, pro cyclist and Gravel Hall of Famer Ali Tetrick and pro freestyle skier Ryan McElmon.
"Joe and Sage both had incredible collegiate careers. It's been really exciting to watch them now competing at international events, and we are thrilled to help fuel their journey to the Olympic Trials," says Jennifer Maxwell, creator and CEO of Jambar and co-founder of the original PowerBar.
Kane Partners With Honey Stinger On New Shoe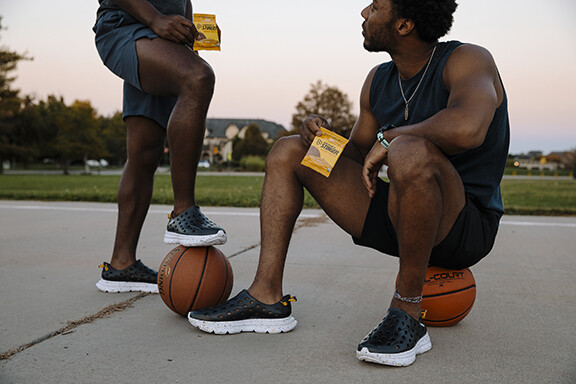 Kane Footwear is collaborating with Honey Stinger for its latest recovery shoe — the Honey Stinger x Kane Revive, launching this week. The shoe features Honey Stinger's signature black and honey yellow colors: a black upper and a white sole with black and yellow speckles.
The brands were brought together by their mission to offer the best recovery products: Honey Stinger offers its Recovery Collection with nutrition that contains vital amino acids for recovery and Kane Footwear provides lower body recovery with their active recovery footwear.
The Honey Stinger x Kane Revive shoe features dual density cushioning for a plush, supportive feel, a 10mm heel-to-toe drop to reduce Achilles tendon stress and raised nodes on the sole that encourage circulation. The shoe was designed in collaboration with sports podiatrist Dr. Dan Geller to promote full lower body recovery.
Suunto Is In The Sound Game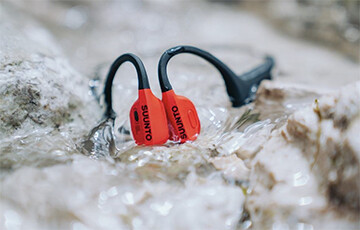 Suunto, best known for its performance sport watches, has developed the Suunto Wing open-ear sports headphone featuring bone-conduction technology. Bone-sound technology transmits vibrations directly to the inner ear via the cheekbones, bypassing the eardrum, allowing users to continue to hear sounds around them. In addition, the bone-sound headphones do not create pressure in the ear canal, making them more comfortable to wear for a longer time.
"The titanium and silicone headphones weigh just 33 grams and sit comfortably and securely on the head, under a helmet or cap, and even during highly active sports," explains Petri Lehtovirta, Suunto's head of product.
IP67 certification confirms they can withstand temporary submersion to a maximum depth of one meter of water for a maximum of 30 minutes, so they are tough enough for all weather conditions. They can withstand temperatures from -20°C up to 60°C making them ready for any climate. The headphones can be fully charged in just one hour and can then be used for approximately 10 hours. A 10-minute charge in between gives up to three hours more playing time.
The Suunto Wing headphones will be available on October 17 for $199 in Lava Red and black.
P3R and Brooks Running Extend Partnership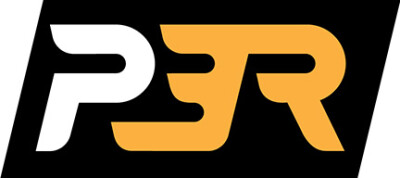 P3R has renewed a partnership with Brooks Running through 2026 that makes Brooks the official footwear and apparel sponsor of P3R's signature events, including the Dick's Sporting Goods Pittsburgh Marathon Weekend of Events, EQT Pittsburgh 10 Miler & 10K and the Fleet Feet Liberty Mile. Brooks has been the official footwear and apparel partner of P3R and its events since 2016.
"We are thrilled to continue our partnership with Brooks, a brand that is as passionate about inspiring people to run and MOVE as we are," says Troy Schooley, P3R CEO. "For the past eight years, Brooks has helped us deliver our promise of offering the best possible experience to our participants. We look forward to continuing our collaboration with them to inspire even more people to embrace the love of moving."
Dick's Sporting Goods Pittsburgh Marathon Weekend of Events participants will have the opportunity to purchase Brooks co-branded gear, such as a finisher jacket and other training gear. Brooks will also continue the tradition of creating an official Pittsburgh-themed running shoe that celebrates the DICK'S Sporting Goods Pittsburgh Marathon with its black and gold colors. The Pittsburgh-edition of the Brooks Revel 6 is scheduled to release in spring 2024.
"Brooks and P3R share a goal of inspiring any and all to move and a belief that running can change lives," adds Ed Riegert, Director, North America Retail & Events Marketing at Brooks Running. "The Dick's Sporting Goods Pittsburgh Marathon Weekend of Events and other P3R events represent some of the best sporting events in the Pittsburgh area. We're thrilled to continue this partnership and bring Run Happy to all P3R event participants."
New Balance Unveiled Fresh Foam 1080v13 Last Week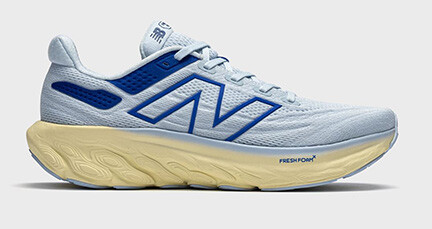 Last week – October 13, 2023 to be exact – New Balance officially released the newest version of its marquee Fresh Foam running shoe, the Fresh Foam 1080v13. The Fresh Foam 1080v13 is New Balance's latest running shoe truly designed for everyone. New Balance specifically designed this model to include its top-of-the-line technology while maintaining a versatile, approachable shoe so all runners can get the best experience.