NYC Marathon Partnered With &Mother On Childcare Stations
This New York City Marathon earlier this month featured a new concept: lactation stations and childcare services for runners, giving nursing runners the privacy they need and providing all parents with the flexibility to have their children cared for while they run the five boroughs of New York City. Lactation stations and childcare only started becoming available at races within the last year as a means to promote runner equity.
&Mother, an official NYC charity, partnered with Vita Coco coconut water to make it happen, giving NYC marathon runners accessibility to prioritize their physical well-being.
&Mother was founded by Alysia Montano, a six-time U.S. Track and Field Champion known for competing at the U.S. Olympic Trials while eight months pregnant. Her organization is dedicated to supporting athletes who want to pursue both career and motherhood.
Alysia and her &Mother team have also all used coconut water during their pregnancy to stay healthy and fueled, as it's packed with nutrients and electrolytes that combat dehydration.
The NYC Marathon had three lactation stations set up along the course and a private area at the start and finish areas.

Anne Cavassa Lands at PrimaLoft As President
Anne Cavassa, former president of Saucony who has also held leadership roles at Brooks, Nike and Timberland, has resurfaced as president of PrimaLoft, where she joins CEO Mike Joyce in "a strategic move reinforcing the company's "commitment to growth, innovation and sustainability."
Joyce will continue as CEO, focused on long-term strategic activities and direction, while Cavassa will handle day-to-day operations.
"I am absolutely thrilled to be joining the exceptional team at PrimaLoft," says Cavassa. "What drew me to this position is the brand's rich history of innovation, delivering outstanding performance and sustainable products. I look forward to the opportunity to work with some of the world's best brands, and I'm particularly excited about our next phase in building brand equity and forging a strong connection with consumers."
"Our company purpose is to balance the intersection of people, products and the planet," adds Joyce. "Anne embodies these beliefs and brings extensive leadership experience from renowned active lifestyle brands. This is an ideal opportunity to bring in a proven leader to help bring PrimaLoft forward to the next level, and, for me, she was the only choice."
2023 Polartec Apex Award Winners Announced
Polartec recently announced the winners of the 2023 Polartec Apex Awards, which celebrate the brands and designers who embody the company's ethos, Made To Go Beyond. The winning garments – selected from hundreds of entries designed to enhance the lives of those who wear them – exemplify the pinnacle of durability and functionality across sport, lifestyle, and performance categories. A number of running and outdoor brands were among the 2023 winners:
rabbit Fuel n' Fly 4 (in photo)

Indyeva Satu Polartec Isothermal Skirt

Santini Cycling Adapt Multi

Spoonflower Polartec Fleece

Nike ACG Wolf Lichen Caps

Trangoworld TRX2 Hybrid LT Pro Jacket

Millet Trilogy MXP Power Wool Suit

Senchi Designs Alpha 60 Hoodie

Acronym J117-HL hoodie

Mountain Martial Arts, MMA Polartec Power Grid Zip Hoodie 2

Ciesse Piumini Race Jacket

Arc'teryx Kyanite Crew Neck Pullover Women's
Tailwind Launches Seasonal Apple Cider Endurance Fuel
Tailwind Nutrition recently launched Apple Cider Endurance Fuel, a seasonal, limited edition flavor of Tailwind Endurance Fuel that benefits Bigger than the Trail (BTTT), a non-profit that uses trail running as a platform to advocate for mental health.
The Apple Cider-flavored sports nutrition drink mix offers nutrition with the combination of calories, electrolytes and hydration for athletes while providing a sweet but tangy flavor that evokes the memories of a warm cup of apple cider on a crisp fall day. With hints of cinnamon and cloves, it can be enjoyed both cold and hot. Ten percent of the proceeds of Tailwind Limited Edition Apple Cider flavor will be donated to Bigger than the Trail.
Altra Running Names Terral Director of Merchandising
Altra Running has hired Samantha Terral as director of merchandising. Most recently, Terral was the digital/e-commerce manager at Saucony and before that she was at JackRabbit for more than five years, starting as an associate buyer for accessories and promoted over time to VP–merchandising. Prior to JackRabbit she held buyer and training positions with Gilt.com, Neiman Marcus and Saks Fifth Avenue.
Jogology Win Runner's World Gear of the Year Award
After just having launched in run specialty stores in September, performance running sock brand Jogology is the winner of the Runner's World Gear of the Year Award for its new line of no show socks.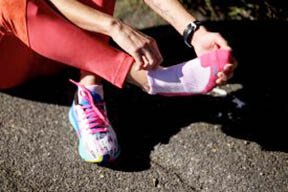 "We are so proud and honored to be recognized by the editors of Runner's World for our new premium running socks," says Tanya Pictor, co-founder of Jogology. "Created by runners and for runners, our Jogology socks are designed like running shoes. We lock in the heel, lock in the midfoot, and leave your toes to move naturally. The test of a premium running sock is wearing one without you even knowing that it is on your foot."
"After more than 100 miles, my test pair is a mainstay in my sock drawer," says one Runner's World tester. "They have a left-right specific fit, and a snug heel hold that doesn't get baggy after double-wears and multiple washes."
New Balance Appoints Butch as Director, Global Apparel Planning
New Balance has promoted Stephen Butch to director of global apparel planning. Butch has been with New Balance since 1995, starting as a sales associate in the brand's Boston factory outlet store.
After being promoted to store manager at various locations for NB, Butch moved to corporate as a catalog operations manager for its Retail DTC business in 2001. Since joining the corporate team, Butch has risen in position and responsibility working in the operations, inventory and planning side of the business to the position he today. Most recently, he was senior manager of global apparel planning for New Balance.
Fleet Feet Acquires Ultra Running Company
Fleet Feet has acquired Charlotte, NC-based run specialty store The Ultra Running Company from Nathan Leehman and rebranded the store as Fleet Feet Charlotte–Myers Park. Leehman opened URC in 2013 and it has earned a spot as one of the Best Running Stores in the U.S.
Several URC employees will become Fleet Feet employees as part of the buyout. The store will continue serving the local running and walking community with Hickory, NC, native Brett Albers as the operating partner for the store. He now leads the Fleet Feet Charlotte–Waverly Walk and Fleet Feet Fort Mill stores.
"Over the past decade, under Nathan's leadership, URC has become a home for running enthusiasts in and around Charlotte," says Albers. "Nathan's phenomenal dedication and passion for running and serving the running community has been nothing short of inspiring, and we're honored he's chosen to hand the baton to Fleet Feet."
"I've had an amazing run at the Ultra Running Company, and when it became time to think about what was next for the store and community, Fleet Feet was the obvious answer," adds Leehman.
Vimazi Unveils First-Ever Pace-tuned Trail Running Shoes
Vimazi, developer of the first pace-tuned running shoes, has released its pace-tuned trail running collection that continues its mission to provide runners with footwear engineered for their specific pace, promising to maximize cushioning and overall running efficiency while increasing stability during push off.
The Trail Z2 ( 8:00-12:00 min/mi) and Trail Z3 (10:00-16:00 min/m) feature an aggressive tread, external rear stabilizer, stump-ready toe protection and built-in forefoot control during push-off. Both models have a wide toe box, molded foam heel counters, rocker design, lively pace-tuned feel and breathable upper. The trail shoes come in men's and women's versions and will retail for $170 MSRP.
The launch of the pace-tuned trail running shoes builds on Vimazi's approach to running shoe design. Instead of one-shoe-fits-all-paces, each Vimazi model is designed and scientifically engineered with a specific pace zone in mind. This ensures each runner receives a personalized and optimized level of cushioning, efficiency, and stability. The Vimazi trail shoes will provide the same pace-tuned benefits, ensuring trail runners can enjoy a shoe engineered for their personal pace.
HydraPatch Launches Transdermal Product
The HydraPatch, formulated to allow electrolytes, vitamins and other nutrients to permeate the skin, was recently brought to market by Hydrapatch USA, a wellness-based minority-owned business with offices in North Brunswick, NJ. It works by bypassing the gastrointestinal tract and allowing essential ingredients to enter directly into the bloodstream.
"As a former athlete, I constantly suffered from muscle cramps that stemmed from dehydration and was never able to find a product that truly worked for me," explains Clifford Rowley, CEO of HydraPatch USA. "Then while working for many years in professional sports and collegiate athletics as an executive, I had the opportunity to work with high level athletes and witness what they did to stay healthy and perform at the highest level. One thing I had in common with all these athletes was that at some point they were affected negatively by dehydration and their performance suffered because of it.
"This intrigued me and I challenged myself to find a solution for everyone who suffered from dehydration like we do," he adds. "Like others, I first created a drink mix, but I knew there had to be a better and more efficient way to combat dehydration. After many years of development, the HydraPatch was born. My vision was to aid and assist not only athletes but anyone who suffers from symptoms of dehydration."
The HydraPatch was created by athletes for athletes and has been adopted by many runners, cyclists, soccer players, triathletes and wellness enthusiasts already, but is now available for everyone who battles symptoms of dehydration. This includes office workers, teachers, delivery people, first responders, construction workers, military and airline personnel and anyone who experiences the strenuous effects of everyday life. In addition, the HydraPatch can be worn during the day or overnight as a replenishment aid during sleep.
New Product: APEX 2 Dusty Pink from Coros
Coros Wearables, makers of GPS sports wearables and training software for multi-sport athletes, recently launched the APEX 2 Dusty Pink, a limited edition colorway of its award-winning outdoor GPS watch, which pays tribute to the enchanting hues that grace the sky across diverse sand, dirt and rock landscapes.
More than just a color, APEX 2 Dusty Pink embodies the spirit of adventure and encapsulates the magic in the fleeting transition between day and night. The elegant Pink hue pays homage to the delicate shades that grace the skies during dawn and dusk, reflecting a harmonious blend of toughness and grace that seamlessly transition from the rugged outdoors to refined urban environments.
Designed for outdoor enthusiasts, athletes, and adventurers who thrive in diverse landscapes, APEX 2 Dusty Pink caters to individuals who seek a perfect balance between rugged durability and refined elegance, offering the reliability and style they need to conquer any terrain confidently.
Holder Named RUSA Executive Director
Jay Holder has been named executive director of Running USA, becoming the fifth leader to helm the non-profit in its 24-year history.
Holder worked for the past seven years as VP–marketing and communications for the Atlanta Track Club, where he oversaw marketing, public relations, brand, membership, merchandise and key strategic partnerships. During his time at Atlanta Track Club, Holder was part of a team that produced more than 40 unique events and programs annually. During the pandemic, Holder was a key decision maker in strategies to continue to hold in-person events while ensuring the safety of participants and volunteers. With 33,000 members, Atlanta Track Club is the second largest running organization in the United States.
"Jay will take Running USA into its next chapter as the industry's preeminent trade organization," says Kathleen Titus, president of the Running USA Board of Directors. "The Board of Directors has great confidence that his ability to build membership and partnerships will usher in a bright future for Running USA's current and future members."
"This is an exciting time to be signing up for a race in the United States – whether it be a 5K or a marathon," adds Holder. "That means it's an exciting time to be involved with bringing those races to life. I am looking forward to working with current Running USA members and future members to grow, diversify and sustain participation in events across the country."
Holder will continue to serve as a media and broadcast consultant for some of the most prestigious events in the United States and around the world including the Olympic Games, World Athletics Championships, Bank of America Chicago Marathon, TCS New York City Marathon, Boston Marathon and the ASICS Falmouth Road Race. In the summer of 2024, he will be part of the media team in Paris's Olympic Stadium covering track and field and rugby.
A lifelong runner, Holder has run 14 marathons, including the Boston Marathon five times. This year, he completed the Rim to Rim to Rim run in the Grand Canyon. Jay and his wife Lauren, an Episcopal priest, have two children, Charles and Lucy Rae.
Timex x The James Brand Release New Collection
Following the successes from its two previous product partnerships, Timex and The James Brand honor the iconic legacy and retro spirit of the Timex Ironman watch in the latest capsule collaboration between the two brands. The Timex Ironman x James Brand Collection sports an amped-up colorway that stands out on the wrist and in the pocket, bringing a fun energy to everyday carry whether out for a run, hitting the trail, or heading into town. The three-piece collection includes the dynamic Timex Ironman performance watch in vibrant, neon hues harkening back to its mid-1980s debut and is accompanied by color coordinating ultra-lightweight Redstone Knife designed for the outdoors and paired with a retro canvas wallet with hook and loop closure, both designed by The James Brand.
This newest iteration of the timepiece is equipped with a durable yet lightweight electric yellow resin case, accented by bright red buttons and paired with a #Tide sustainable teal fabric slip-thru strap made from upcycled, ocean-bound plastic that made its journey from waste to wrist. Designed to track performance, additional watch features include countdown timer, 30 lap memory stopwatch, customizable alarm, and Indiglo display.