Hoka Launches First Global Ad Campaign
Under the alluring named of "Fly Human Fly", a new global marketing campaign from Hoka One One includes a 60-second youtube video titled Pursuit that features athletes running through a city, jumping over cars and running mid-air above the pavement. The tag line reads, "Move Until the World Can't Keep Up."
Hoka's first global ad campaign, "Fly Human Fly acts as a catalyst to encourage consumers to meet Hoka at the starting line and take flight to new heights – together."
The campaign debuted on June 15, timed with the launch of Hoka's Mach 5 road running shoe.
"Hoka has been championed by a strong community of endurance athletes from the very beginning. When a consumer tries a Hoka product, they fall in love with our product innovation that delivers an experience that is both easy on the body and world-class fast. Thus, the brand is growing primarily by word of mouth up until this point," says Norma Delaney, Hoka's VP–global brand marketing. "Those that know us are fans for life. The Fly Human Fly global campaign is an invitation for humans everywhere to experience Hoka and fly into a world of new possibility."
Naked Sports Expands With Trail Racing Shoe
In a major product extension for the brand, Naked Sports Innovations has launched its T/r trail racing shoe, joining its established line of endurance sports products that includes running bands and vests.
Rethinking how a high-performance trail race shoe should fit, feel and perform, Naked says it created a solution that combines the lateral stability of a soccer shoe with the lightness and comfort of a top-line road shoe. Developed in partnership with footwear designer, Danny Dance, and Vibram, the outsole developer, the T/r includes many performance enhancing features:
Laceless technology to reduce weight and unnecessary encumbrances
Asymmetric split plus curved forefoot carbon plate to store/rebound kinetic energy
Proprietary Linerloc stitched insoles to reduce slipping, reduce weight and hot spots
Knit cuff to keep out debris
Achilles bolsters to lock in the foot
A proprietary sole design using Vibram's Litebase and Traction Lug technologies combined with its Megagrip compound for traction and performance.
"Our design DNA is based on removing everything that does not enhance performance and comfort," explains Lindsay Petersen Dakota, co-Founder and president. "This approach is the reason we already have extremely loyal customers in 75 countries who are hungry for a trail racing shoe that does what others can't."
Available now for pre-order, the Naked T/r has the following specs:
Forefoot: 21mm
Heel: 26mm
Drop: 5mm
Weight: 255g
Sizes: Unisex US size 6-11 with half sizes
Suggested MRSP: $289.99

Saucony Unveils Two New Running Shoes
Gearing up for a busy late 2022, Saucony recently unveiled two new running shoes for run specialty — the Tempus and the Endorphin Pro 3.
The Tempus boasts superfoam bounce combined with an adaptive guidance system, along with a better fit with a deeper contour into the midsole so runners sit into the shoe rather than on top of it. Among its other features:
Max energy return: PWRRUN PB gives a lightweight and bouncy feel with max energy return.
An effortless stride: PWRRUN Frame supports the foot upon landing and its curved shape propels a snappy takeoff.
Better fit. With deeper contouring into the midsole, runners sit into the shoe, instead of on top of it, for a personalized and supportive fit. Full-length core of ultralight PWRRUN PB cushioning provides spring and energy return.
Contoured PWRRUN Frame starts above the midsole to support the foot upon landing and its curved shape and forefoot ground contact gives a snappy transition.
MSRP: $160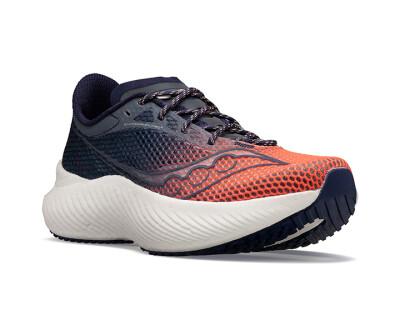 Endorphin Pro 3 bridges the gap between heritage and innovation, with a nod to fashion.​ For the first time ever in a major city — at Paris Fashion Week — Saucony's Originals and Performance lines came together to blur the lines of stylish and functional footwear, elevating Saucony's status in product innovation.
The Endorphin Pro 3 contains Saucony's signature carbon plate for a powerful race-ready shoe. Now with more foam, the Endorphin Pro 3 will provide critical cushioning without the extra weight.
With thoughtful updates to Saucony's best-performing line, the Endorphin Pro 3 is the first stage of the newest Endorphin Collection built for runners of every stage — creating more accessibility to the sport to help runners perform their best at any level of experience.​
MSRP: $225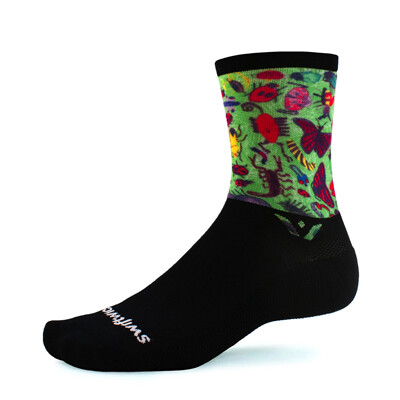 Swiftwick Partners with Friends of Warner Parks Urban Nature
Swiftwick has released a limited edition Vision Impression Bugs sock, featuring hand-drawn bug designs by the students of Friends of Warner Parks Urban Nature Program.
Each of the 40 students in the program had the opportunity to draw one bug inspired by their adventures outdoors, which the Swiftwick team digitized, including every child's drawing on their 360-degree printed Vision Impression Bugs socks. All sales of the Bugs socks will go back to the Urban Nature Program.
Swiftwick's partnership with the Friends of Warner Parks began in April, 2021. Swiftwick's mission is to empower people to be the best version of themselves through the pursuit of adventure and one way it does this is by partnering with organizations, like the Friends of Warner Parks Urban Nature Program, to encourage youth and underserved communities to explore outside.
"We knew almost immediately that having the kids get involved with a sock design was a goal of ours for 2022," explains Racheal Hubarth, brand marketing manager at Swiftwick. "The goal of the Urban Nature Program is to connect urban Middle Tennessee youth with the outdoors and together we worked with that team to come up with the best way to help achieve their goal while also allowing the kids to be part of a sock design that we could share with our customers."
The Friends of Warner Parks is a Nashville-based nonprofit organization that connects underserved youth with nature through hands-on activities and camps like hiking, kayaking and birding. They encourage students to listen, observe, and wonder. Swiftwick's Bugs sock was inspired by the desire to share the work of this organization with a much larger audience, highlight the discoveries and passion of the kids benefiting from the Urban Nature Program, and continue to give back in a big way.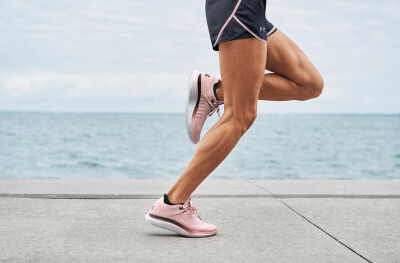 Under Armour Launches First Running Shoe Made on Women's Last
The recently released Under Armour Flow Synchronicity combines revolutionary UA Flow technology and consumer insights to create a shoe designed for her — her form, her speed, her rhythm, her Journey to Compete. It is the brand's first running shoe made on a women's last.
UA Flow Synchronicity was created for women, by women. Inspired by their female athletes, an all-female UA design team decided to change the narrative in the running footwear industry by building a women's-specific shoe from scratch. Integrating data and consumer insights from women who ran in a series of prototypes, the design team began with a new approach in addressing fit: holistic and multi-layered.
The team studied the nuances and differences between a man's and woman's foot, focusing on three key areas – the heel, the arch and the midfoot heights. They studied 3D scans for a scientific understanding of the anatomy, and performed wear-testing on athletes to help refine design and structure of the shoe. To improve fit and arch support, the designers utilized the UA Flow technology, specifically looking at how women's heels blend into the arch and into the forefront of the foot.  
"We are incredibly proud of how we are driving industry-leading change for female athletes," says Lisa Collier, chief product officer at Under Armour. "By providing consumer-centric innovations based on the science of the female form we are helping women everywhere focus on their performance and empowering them to strive for more."
Designed to fit, support and complement the natural shape of a woman's foot, the new UA Flow Synchronicity focuses on securing the heel and supporting the arch, where women's feet differ most from men's. With the flexible micro knit upper that is and moves with every stride. The heel-to-toe foot-conforming design is tailored for the cushioning women need and provides immediate comfort and support to enhance her running experience. UA Flow Synchronicity is lighter than traditional running shoes thanks to UA Flow technology that also provides traction without a heavy, traditional rubber outsole or adhesives.
Additional features include:
Rounded outsole geometry that smooths out landing and transitions
Lower heel-toe offset that promotes a quicker turnover and up-tempo feel
UA Flow cushioning that provides traction
Knit upper with minimal layers for close-to-foot containment with enough zonal stretch for long-run comfort free of irritation or hot spots  
Removal of extra seams to prevent irritation 
Weight: 8.3oz (235.3g) for a Women's Size 7
MSRP: $140
Heel: 23mm
Forefoot: 16mm
Offset: 7mm

ROLL Recovery Enters the Percussion Therapy Arena with the Compact R1
ROll Recovery has launched the R1 Percussion Massage Device, designed to prime the body pre-workout and accelerate recovery post-workout at an accessible price of $129.
With its small size compared to other percussive massage devices, the R1 features a quiet motor and long-lasting (seven-plus hours) battery.
"As we explored the percussion device market, we discovered the majority of percussion devices were loud, oversized and overpriced plastic bodies with pretty poor battery life," explains Jeremy Nelson, founder and CEO of Roll Recovery. "The goal behind designing the R1 was to create a product that is sleek and compact, powerful, exceptionally quiet and has a long battery life, with some pretty neat color options to add a little bling to our lives."
With four simple speeds ranging from 1800 RPM to 3200 RPM and interchangeable massage head attachments, the R1 is adjustable to workout needs. The R1 can be used pre workout, for increased range of motion and flexibility, improving muscular strength and enhancing neuromuscular performance; or post workout, for facilitating blood flow, loosening stiff muscles, reducing localized muscle.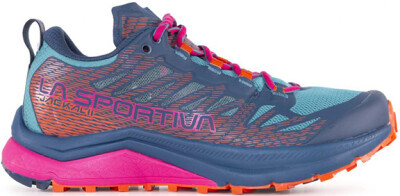 La Sportiva Introduces Jackal II, Other Footwear And Apparel For SS23
La Sportiva recently unveiled the Jackal II to lead its running and hiking products lineup for SS/23. The Italian brand is also releasing several running and hiking models for SS23 and an environmentally friendly apparel line.
"Ultra-running is growing rapidly and the new Jackal II is designed to meet the needs of novice and elite ultrarunners alike," says Jonathan Lantz, president of La Sportiva North America. "This version comes equipped with a new lightweight upper made from eco-friendly materials, allowing the shoe to be nearly an ounce lighter than its predecessor."
In addition, La Sportiva used an innovative midsole in the Jackal II that combines Infinitoo polyurethane inserts with compressed EVA to create a soft yet responsive ride that helps power trail runners over any terrain or distance.
Other features of the Jackal II include:
Eco-friendly upper with a thin and breathable recycled fabric is paired with a dynamic lacing system to accommodate a wide variety of foot shapes.
Frixion AT 2.0 rubber compound with impact brake system offers traction in a wide variety of terrain.
A redesigned heel allows for a more comfortable and secure fit.
The men's Jackal II weighs 9.7 ounces, women's version 8.6 ounces.
The Jackal II Boa shares the same midsole and outsole as the Jackall II but features Boa technology fit system. The Double Boa on this model allows for quick adjustments to the heel and forefoot. The Spiyralift tongue and collar cradle the ankle for increased proprioception and protection.

Wrightsock Introduces Run Luxe Line
Expanding out from its traditional two-layer sock focus, Wrightsock has developed its Run Luxe sock, which, it claims offers "uncompromising fit and comfort in a single layer, cushioned sock made from post-consumer recycled plastics." Each pair is made from approximately two plastic bottles.
Key features include a seamless toe, anatomical heel pocket, moisture management, cushion dense padding for more comfort, Wrightfit contoured design for fit and a ventilated mesh top for added breathability. MSRP: $15.

ASICS' Uplift Tour Debuts
ASICS, an Official Partner of World Athletics, recently kicked off what it is calling its first-ever ASICS Uplift Tour, a 20-plus stop coast-to-coast celebration of the upcoming World Athletics Championships Oregon22.
Starting on Global Running Day, June 1, ASICS began to traverse the United States in a customized ASICS-World Athletics Championships sprinter van, coined the ASICS Van, for special events and activations with key brand partners, ASICS Live Uplifted Ambassadors and ASICS Elite Athletes. The ASICS Van features interactive moments that include a brand storytelling area, a customization station and product showcases.
"We aim to generate excitement and awareness for the upcoming World Athletics Championships Oregon22 this summer," explains Richard Sullivan, president and CEO of ASICS North America. "The ASICS Uplift Tour will allow the brand to engage our brand partners, ambassadors and athletes across the country."
As the ASICS Uplift Tour reaches Eugene in time for WCH Oregon22, the ASICS Van will be featured at the Finish Line Festival for both the men's and women's marathon events. Announced in mid-April, ASICS will be hosting the Uplift Oregon 5K, a race within a race, during the men's marathon event. Approximately 2000 runners will have the opportunity to race in the footsteps of the WCH Oregon22 competitors for a 5K section of the same course on the same morning as the world's finest marathoners.
FootBalance Appoints Salomaa Its First Chief People Officer
FootBalance, the Nordic foot health brand, has moved to strengthen its executive leadership team with the appointment of Kukka Salomaa as its first chief people officer.

Based at the company's Helsinki headquarters, Salomaa joins with over 15 years of global HR directorial experience, working across the travel, distribution and retail industries. She will report to FootBalance CEO, Klaus Rauhansalo.
"I am hugely excited to have the opportunity to join FootBalance as chief people officer," says Salomaa. "There is so much about the company and its values that resonates with my passion for putting people first and my interest in health and wellbeing."