Mizuno Partners with Midnight Runners
Mizuno and Midnight Runners have entered into a joint agreement that paves the way for Mizuno to become the official sponsor from February 2023 through January 2026.
Midnight Runners is a social network founded in London in 2015 and has evolved into a global social network of runners that meet weekly after-hours for a "boot camp" group run, regardless of the background or athletic ability of participants. Currently, the club's activities have expanded to 15 major cities around the world. Volunteer "crew captains" are assigned at each location and are responsible for planning and executing each event. There are approximately 80,000 annual participants. The club's brand value is "We exist to connect people from diverse backgrounds and enrich lives through the shared joy of running together."
"Our goal at Midnight Runners has and always will be to bring accessible, fun fitness to as many people around the world as we can in a way that connects those people to each other and to their city," says Julie Hambleton, crew support, social media manager and community builder from Midnight Runners. :We're very excited to be working with Mizuno to continue to spread the joy and magic of running."
By supporting the Midnight Runners' activities, Mizuno aims to spread the joy of running and connect people around the world while putting into practice its corporate philosophy of "contributing to society through the advancement of sporting goods and the promotion of sports" and spreading the Mizuno Running slogan; "All runners. All runs."
Mizuno's global corporate and marketing office senior manager Kojiro Sampei explains: "Running is one of the most important categories for Mizuno's global business strategy. We are very pleased to announce this agreement with Midnight Runners, as it will not only increase Mizuno's brand presence in major cities around the world but will highlight Mizuno's commitment to celebrating diversity by bringing people together through the power of sport."
IRI and NPD Rebrand as Circana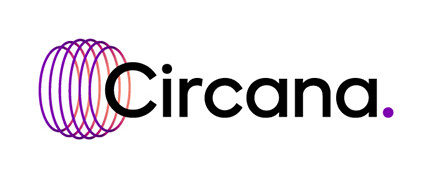 Following their merger in August 2022, Information Resources, Inc. (IRI) and The NPD Group (NPD) earlier this month unveiled a new combined company name and brand identity: Circana. Billed as "the leading advisor on the complexity of consumer behavior," Circana provides clarity that helps clients take action and unlock business growth.
"We are proud to begin this new chapter together as Circana, a name that conveys our 360-degree, full-circle understanding of the consumer and market, and our unique ability to bring clients a complete view of the consumer, store and wallet," explains Kirk Perry, president and chief executive officer, Circana. "In today's dynamic global retail and media environment, our value proposition has never been stronger. Circana is undeniably best positioned to advise the world's leading brands and retailers across almost every industry on how to identify opportunity, ignite innovation and grow well into the future."
Leveraging the vast data and expertise of its heritage firms, Circana tracks millions of products spanning 2,000+ categories across 500,000+ stores in 20 countries, with insights powered by the industry's most advanced technology platform, Liquid Data®. Today, Circana advises almost 7,000 brands and retailers worldwide.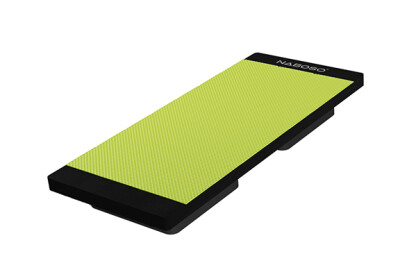 New Product: Naboso Kenesis Board
Sensory technology company, Naboso Technology, recently launched the Kinesis Board, billed as "the first balance board of its kind, featuring dual sensory stimulation and a micro wobble system."
Designed to strengthen single leg stability, the Kinesis Board is a way to activate the feet, build muscle and enhance body control. By increasing the signals the feet send to the brain every time we take a step, the stronger our feet become, allowing us to move better and feel our best.
New Product: Buff Spring-Summer 2023 Collection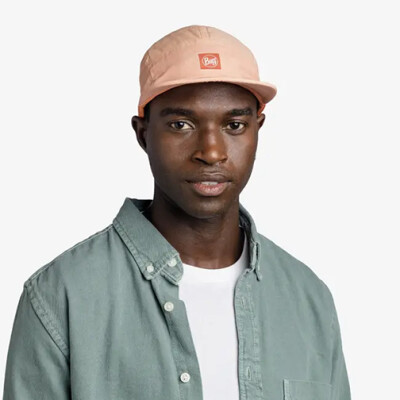 Buff, the maker of headwear and neckwear for runners and outdoor enthusiasts, recently releases its collection of sustainably made accessories designed for a range of spring and summer activities including running, hiking, angling, cycling and athleisure. Earning its B Corporation certification early this year, Buff's new collection utilizes more recycled and natural materials than ever before — 90 percent of the brand's products are produced locally at the Buff factory in Igualada, Barcelona, which is fully powered by renewable energy.
"Bringing our manufacturing back to our birthplace in Barcelona has been a primary goal for the brand and we're thrilled that in addition to our neckwear, a selection of our performance caps are now being made in-house too," says Buff CEO David Camps. "This allows us to further reduce our carbon footprint by cutting transport costs, lowering carbon emissions and ensuring the utmost quality-controlled products for our customers."
Built to endure the elements, these Buff products are engineered from sustainable materials such as Repreve polyester made from recycled plastic water bottles, recycled polyamide and 100-percent organic cotton. Key styles for spring and summer 2023 include:
• 5-Panel Explore Cap & GO Cap [in photo above]
Made for the explorer who works and plays in both nature and the city, the recycled ripstop fabric and trims add style to function when paired with an adjustable elastic cord closure, inspired by climbing ropes for a precise fit and all day comfort. The cap is also made from recycled polyester, featuring a moisture wicking sweatband and breathable UPF 50 material. MSRP: $35
• Speed Cap & Pack Speed Cap
The Speed Cap is an advanced UPF 50 sports cap designed for running and high output activities offering a soft yet snug fit. Made from ultralight recycled materials with a dark underbill to absorb the glare of the sun. MSRP: $32
• Bucket Hats
The new Adventure Bucket Hat has a classic silhouette with technical performance fabric. It offers protection from the sun and light rain while providing comfort, breathability, and a convenient self-storage pocket to pack it when not in use. MSRP: $35.
• CoolNet UV
Buff's CoolNet UV collection is made from recycled plastic bottles and is known for its innovative cooling technology, quick drying fabric and sweat-wicking properties. The headband line now includes a new Slim Headband in addition to the Wide and Ellipse Headbands, featuring a soft silicone grip hidden on the inside to keep it in place. For neckwear solutions, it is offered in a Coolnet UV Half that can double as a lightweight neck gaiter or headband, as well as a full-sized and extra-large CoolNetUV neck gaiter. Select styles are available with insect shield repellent and reflective hits for visibility.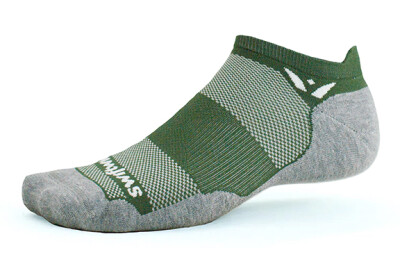 Swiftwick Launches Maxus Socks With Repreve
Swiftwick recently released its Maxus socks with a Repreve performance, recycled polyester footbed — achieving its 2023 goal to include recycled, renewable and/or responsible fibers in all of its products.
The Maxus footbed offers the same moisture-wicking properties as the brand's original Maxus, with each pair using one post-consumer water bottle.
"Sustainability across both our business practices and our finished goods is important to our company and top of mind for our customers, which is why we're excited to share the new Maxus made with Repreve," says Joanna Mariani, chief marketing officer at Swiftwick. "We continuously work to reduce our environmental impact across our manufacturing processes, and this new release helps to close the gap in our sustainable product offerings."
Swiftwick also committed to sourcing 80 percent of its Merino wool raw materials from Responsible Wool Standard-certified sources by the end of 2024, working towards 100 percent by 2027. The organization aims to improve the welfare of sheep and the land its grazes by independently certifying animal welfare and land management practices in wool production and tracking certified material from farms to final products. In 2019, the company removed single-use plastic from its consumer packaging and is working to increase the total percentage of sustainable fibers in its goods.
For more product information, go here.
Vimazi Pace-Tuned Running Shoes Now Available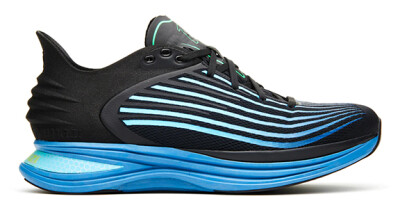 Following their introduction at The Running Event late last year, Vimazi shoes have now hit the run market. The innovative pace-tuned shoes are engineered to deliver peak performance tailored to a specific pace zone.
Vimazi is leveraging its patent-pending technology, developed from the complex physics of the running gait, to provide optimal cushioning on impact and maximum propulsion efficiency during push-off for each runner's pace.
"We're breaking with the old-school thinking that a mega-thick bouncy shoe helps you run faster," says Vimazi CEO Scott Tucker. "The idea that you can put energy into a shoe and it will make you faster by returning more energy violates the law of energy conservation.
"At Vimazi, we've tuned the densities of the heel versus the forefoot in each of our models, so they compress optimally to forces of the impact and propulsion phases of the stride, which vary according to the pace you run," he adds. "Doing this delivers more shock absorption at impact and minimizes energy loss at push-off. Over the long run, our shoes reduce cumulative strain on the body and maximize efficiency."
This initial collection this month includes the Z40 (6:15-7:45 min/mi), Z50 (7:15-8:45 min/mi), Z60 (8:30-10:30 mini/mi) and Z70 (10:00-12:30 mini/mi) models. The Z20 and Z30 are slated to arrive in early spring, with additional trail and walking shoes coming later in 2023.
"We're stoked to share our pace-tuned running shoes with the world," says Vimazi Chief Marketing Officer, John Zilly. "Vimazi has shoes that will give every runner the best performance and efficacy no matter if they are a casual weekly runner or an elite pro and we can't wait for everyone to try them out."
Vimazi is also excited to announce a number of special retailers that will carry the new collection. Shu's Idaho Running Company in Boise, Idaho, North Coast Runners Supply in Astoria, Ore., Seven Hills Running in Seattle, Wash., NW Tri & Bike in Kent, Wash. and Elephant's Perch, Ketchum, Idaho. The Vimazi team expects additional retailers within the next few months.
New Product: Injinji Run Series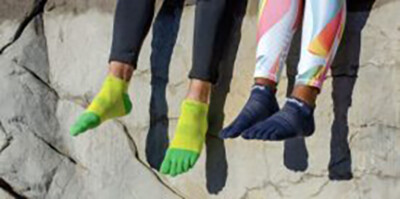 Injinji, the innovator of the patented five-toe Performance Toesock, is revamping its Run series with the launch of its Run Lightweight No-Show, Run Lightweight Mini-Crew, Run Original Weight No-Show and Run Original Weight Mini-Crew for Spring 2023. This collection is designed for a secure fit and comfortable wear when putting in mileage on the roads, tracks, treadmills and trails.
Carefully reconstructed, each pair from the Spring 2023 collection is crafted with a contoured fit that shapes and molds to the foot, including enhanced arch support, integrated form-fitting fibers, increased breathability and a durable interior to reduce snags. The collection will maintain the foundational qualities consumers and runners trust while incorporating innovative performance features for free and supportive movement.
"In 2023 we are building on our goals for innovation by re-working our signature pieces in a way that fits every lifestyle and physical fitness level, and exemplifying and enhancing what athletes love about the Injinji brand," explains Claire Kooperman, director, e-commerce and operations at Injinji,. "The new Run series is an evolution for our best-selling running socks and athletes can confidently lace up with these new designs for training sessions and race days without worrying about blisters, moisture, or discomfort."
The Run series, along with other pieces the Performance Toesock brand plans to launch this year, will feature moisture-wicking Coolmax EcoMade fibers; a sustainable alternative produced from 100 percent post-consumer recycled polyester.
U.S. Naval Academy To Offer Varsity Womens Triathlon
In a significant move for women's sports specifically and track and field in general, USA Triathlon and the United States Naval Academy recently announced the U.S. Naval Academy in Annapolis, MD, will become the 13th NCAA Division I program, and the first U.S. military academy, to offer women's triathlon at the varsity level. A member of the Patriot League, Navy will begin competing in Fall 2023 and be coached by Billy Edwards.
"As an NCAA nationally emerging sport for women, triathlon defines exactly who we are at the Naval Academy and the type of opportunity we should offer to our midshipmen," says Naval Academy Director of Athletics Chet Gladchuk. "The broad-based requirements through highly competitive swimming, running and cycling highlight the demanding physical characteristics that correlate with personal confidence and leadership development."
"The addition of women's triathlon at the U.S. Naval Academy represents a major milestone in the women's collegiate triathlon movement," adds Victoria Brumfield, USA Triathlon CEO. "One of the storied U.S. military academies, the U.S. Naval Academy prepares our future leaders and for years has had a thriving club triathlon team. We are thrilled to now see increased competitive opportunities for Navy's student-athletes at the DI level. More opportunities will help drive collegiate triathlon competition to the highest level."
Edwards currently leads the Naval Academy's club triathlon team, one of the strongest teams in the nation. The Naval Academy's club triathlon team won the overall team title at the 2018 USA Triathlon Collegiate Club National Championships.
The commitment by the Naval Academy continues the momentum women's collegiate triathlon has gathered toward becoming an NCAA Championship sport. With more than 40 schools now offering women's collegiate triathlon, the NCAA Emerging Sport for Women has met the 10-year window to demonstrate sustainability and success at the NCAA varsity level. Now, women's triathlon has a few more steps to take on its way to being fully managed by the NCAA as a championship event, including committee, council, divisional and budget approvals.
Women's triathlon is a fall sport, and the varsity season includes two National Qualifiers followed by the Women's Collegiate Triathlon National Championships held in November. The draft-legal races are sprint-distance, featuring a 750-meter open-water swim, draft-legal 20-kilometer bike and 5-kilometer run.
In the draft-legal format, athletes work together in packs on the bike and make multiple loops on a closed course. The exciting, spectator-friendly draft-legal format is the same format contested in the triathlon competition at the Olympic Games and on the World Triathlon Championship Series circuit.
Kane Footwear Launches Kids' Collection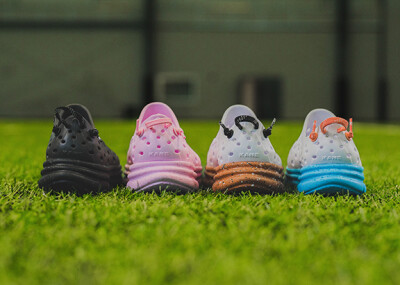 Kane Footwear, the maker of sustainable active recovery footwear, has expanded its collection with the recent launch of its first kids' collection. The Revive Kids collection will be available in sizes C11-13, J1-2, in the colorways Charcoal Black, White Pacific, White Caramel and Bubblegum Pink.
The Revive Kids line offers a renewable, plant-based foam that is fully waterproof and easy to clean. Thanks to the closed-toe design, they're perfect for school, and the pull tab above the heel makes it easy to slip on or pull off. For young student athletes playing multiple sports, the shoe offers recovery features that help you feel regenerated post-workout.
New Product: Oakley Running Eyewear

Making a move further into the running space, Oakley recently launched an eyewear line specific to running – Actuator and Corridor to meet the needs of different types of runners at every level. Oakley says the line was created for everyday running, bridging the gap between serious race day sunglasses and those they wear in their everyday life.
• The Actuator is available in seven different colors and was developed with the casual runner in mind. The style features a universal round shape with larger sized lenses for optimal coverage.
• The Corridor is designed to look as good as it functions and is meant for every type of runner and features a semi-rimless shield sunglass, a casual shape lens and brow design to provide a modern, yet retro feel.
Additionally, both styles are powered with Prizm Lens Technology to enhance color, contrast and detail in each specific environment.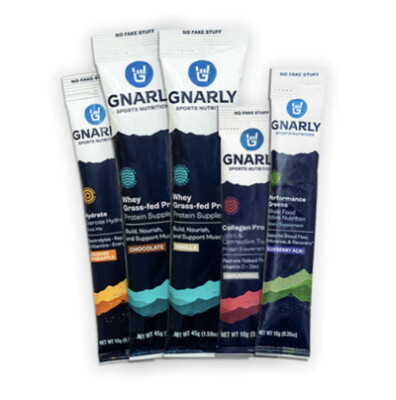 Gnarly Unveils Customized Sample Boxes
Gnarly Nutrition recently unveiled its new collection of customized sample boxes, with each of the four boxes geared towards a different type of adventurer. The new sample boxes provide options for any dietary restrictions and exercise disciplines. Each sample box will be $7 and contains four single-serve stick packs.
In conjunction with the new sample boxes, Gnarly also launched a quick (two-minute) quiz with questions about sport(s) of choice, frequency and type of workouts and fitness goals. Using the quiz results, Gnarly will provide a customized and curated box containing stick packs of Gnarly products.
The four sample boxes to choose from are:
• The Everyday Sample Box (in photo above): Performance Greens, Hydrate, Choice between BCAA's or Collagen, Vanilla and Chocolate (Whey or Vegan)
• The Strength Sample Box: Pre-Workout, BCAA's, Hydrate or Collagen, Vanilla and Chocolate (Whey or Vegan)
• The Endurance Sample Box: Fuel2O, Hydrate, Vanilla and Chocolate (Whey or Vegan), Choice between BCAA's or Collagen
• The Adventure Sample Box: Fuel2O, Hydrate, Performance Greens, Vanilla and Chocolate (Whey or Vegan)
USATF Foundation Adds Torrey James Ward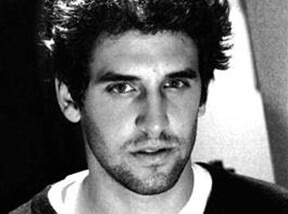 USA Track & Field Foundation CEO has added Torrey James Ward as a new director on the board of the USATF Foundation. Originating from California, Torrey has always been a visionary of lofty goals.
Starting at 19-years old while attending the University of California San Diego, Torrey founded his first corporation, Exclusive Entertainment, an Artist Management, Music Production, Music Publishing, Talent Agency and Record Label. He has since continued to spread his creativity and drive through projects such as a travel website, several Green Energy and Solar companies, creating a sugar-free liquor, starting his own fine jewelry line as well as producing numerous movies, music videos and comedy ventures. In his free time, he enjoys spending time with family, surfing, and playing baseball and tennis.
Torrey has contributed to many other foundations such as Make-A-Wish, St. Jude's Safety Harbor Kids, Challenged Athletes Foundation, City of Angels, Wounded Warrior and many more. It is thrilling to have him join the USATF Foundation's mission.
The USATF Foundation provides a means to attract and guide funds to new and innovative track and field programs with an emphasis on providing opportunities for youth athletes, emerging and experienced elite athletes, along with guidance on future career paths. The Foundation depends upon donations from its Board of Directors, major gifts, and from generous fans of track & field.
Keen Goes Walking With WK400

Pointing out that walking is the number one activity in the world, but that when people walk their foot travels in a constant arc while their shoes are mostly flat, Keen has unveiled the WK400 featuring Keen.Curve. It took three years, nearly 10,000 hours of design and development and 5000 miles of testing to develop the WK400, according to the product announcement.
It's the company's first shoe designed from the ground up to create a unique rolling feeling and forward momentum. The WK400 with Keen.Curve technology balances plate technology, curve geometry and last shape with a high-energy midsole to give the feeling of forward momentum.
Among its other highlights:
• Plate technology that helps maintain constant curve geometry for a smooth, rolling feeling.
• High-energy midsole with high-rebound cushioning that enhances comfort and the feeling of forward momentum.
• A multi-surface outsole all-terrain rubber that provides stability and traction from trail to asphalt to track.
• MSRP: $165
Adidas Terrex Launches Hiking Shoe For The Female Foot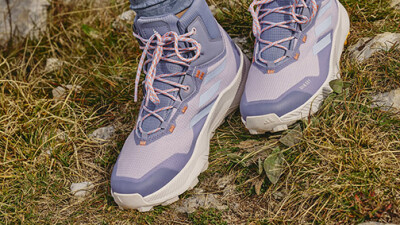 Adidas has launched the Terrex WMN Hiker Mid Rain.Rdy, a hiking shoe developed for the female anatomy. The design was "informed by women-specific insights and tested alongside one of Europe's largest women's-only hiking communities," according to the company.
"Our research shows that being outdoors in nature motivates 96 percent of women across countries to hike, as they look to connect with nature and escape the everyday," says Rebecca MacKay, product manager at Adidas Terrex. "Working alongside our internal last-specific team to gain insights from thousands of foot scans, we analyzed and designed a shoe that matches what our research showed women are looking for: hiking products that are comfortable, durable and, importantly, offer performance."
In designing the shoe Adidas turned to members of the Munich Mountain Girls, a community of more than 24,000 mountain-loving women, whose insight allowed the team to assess which placement of cushioning and support provided the most effective hiking experience, as well as tracking durability between prototypes.
Key features of the shoe include Waterproof, Continental Rubber outsole and the use of recycled materials.
In conjunction with the footwear launch, Adidas also unveils the Adidas Terrex apparel range made, in part, with recycled materials. Pieces include the XPLORIC Rain RDY jacket, the MT Full Zip Fleece, the MT Tee and MT all-over printed tights.