Brooks Launches ReStart Recommerce Program
Making a move into the growing "recommerce" market, Brooks Running has launched what it is calling ReStart, a new recommerce program that will refurbish and resell gently used Brooks footwear in the U.S.
Brooks has partnered with Trove, a leader in branded resale for more than a decade and a recommerce partner to many the world's leading brands, to power ReStart and ensure a seamless shopping experience, inviting new customers into the brand and providing accessibility and optionality to the Brooks community. Through its proprietary Recommerce Operating System, Trove is accelerating the shift toward more profitable and sustainable business models, processing more than one million items annually for brand partners and keeping already made items in use.
"I'm incredibly excited to share the news of Brooks' new recommerce program in partnership with Trove," says Melanie Allen, chief marketing officer at Brooks. "Through ReStart, we can create new pathways into the brand and reach a growing community of conscientious consumers."
ReStart extends the life of gently used Brooks gear and provides a revenue source for future sustainability initiatives. "Recommerce allows us to keep gear on the run while supporting our aim to take responsibility for the impact of our business," adds Dave Kemp, director of corporate responsibility at Brooks. "The launch of ReStart is an important step in the brand's long-term, science-backed approach to sustainability."
The ReStart program will incorporate three grade ranges – Like New, Great and Good – in a variety of Brooks' footwear styles, including favorites such as the Ghost and Glycerin and speed product such as the Hyperion franchise. Prices start at 35 percent off MSRP.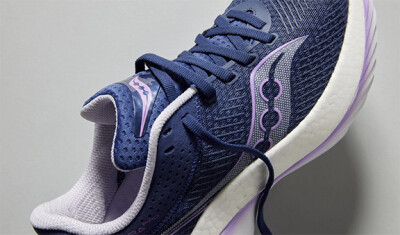 Saucony Launches Kinarva Pro
Carbon-plated shoes married with PEBA-powered midsoles first burst onto the scene in marathon racing products because the unique combination of the responsive foam and propulsive carbon plate allowed competitive athletes to go further, faster with less wear and tear on their legs. For that purpose, super shoes were largely engineered for race day with ultra-lightweight, minimal uppers and a full-length plate engineered for speed. But those same benefits can be found by engineering a PB-powered, carbon-fiber plate-equipped every day running shoe specifically to make running effortless. With the recent launch of the Kinvara Pro, Saucony does just that. The Kinvara Pro will be available August 1.
The Kinvara Pro, featuring Saucony's Speedroll technology, uses three of the brand's premium cushioning compounds: PWRRUN PB, strategically placed closest to the foot and delivering 90 percent energy return; a foundation of PWRRUN for more protection and durability at ground contact than what is found in a marathon racing shoe; and a PWRRUN+ sockliner to enhance comfort. Sandwiched in between the layered cushioning system is a three-quarter carbon-fiber plate delivering a gentle forward roll, while the S-curve midsole shape and flexible forefoot provide a lightweight and efficient feel accommodating daily training. A durable and supportive upper built for everyday use completes the Kinvara Pro package.
Among Kinvara Pro features
Speedroll technology provides gentle roll forward.

Dual cushioning with PWRRUN PB for supreme energy return and a stack of PWRRUN for durable daily comfort .

PWRRUN+ sockliner..

Wider platform accommodates a variety of foot strikes and provides secure and smooth transitions

PB-powered 3/4 carbon-fiber plate starts at midfoot for geometry that gradually rolls runner forward and accommodates for daily use.

Category: Neutral/Every Day

Heel-to-toe Offset: 8mm (42mm heel/34mm forefoot)

Weight: Men's 9.5oz. (269g), Women's 8.5oz (240g)

Sustainability: This style is vegan and contains recycled materials
The Kinvara Pro is available in men's sizes 7-13, and 14 and 15, and women's sizes 5-12 at an MSRP of $180.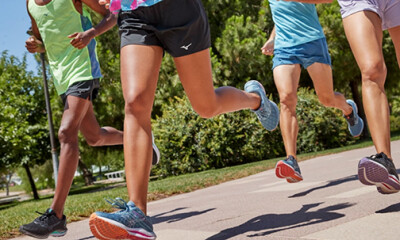 Mizuno Unveils Education Portal
Looking to create an educational experience where running retailers and their employees could garner more knowledge about Mizuno Running within a simple, easy-to-use format, the 117-year-old company has launched its first-ever brand education portal.
Fueled by established training platforms from Northpass, the Mizuno Running Learning Academy shares rich details on Mizuno's storied brand history alongside in-depth looks at Mizuno's key running products, from longtime footwear lineup staples like the Wave Rider to daring new offerings like the Wave Rebellion Pro. The educational portal, which went live on June 14, allows training from a desktop or mobile device.
"Employee education is paramount in the specialty landscape and ensuring our run specialty partners and their teams are up to speed on the Mizuno brand and our exciting product assortment helps all involved," says Mizuno national account manager Matt Baum.

For more: Mizunorunning.northpass.com
La Sportiva Introduces XFlow Trail Running Technology
La Sportiva recently introduced its trail running and hiking line for spring 2024. The centerpieces are the Levante and Prodigio trail running shoes, with the brand's latest responsive foam called XFlow that is integrated into the shoes to give runners cushioning without sacrificing dexterity.
La Sportiva is also rolling out a new hiking boot called the Aequilibrium Trek GTX, using advanced technology from the brand's mountaineering line.
Over the last few years, La Sportiva worked with top female athletes worldwide to develop a trail running shoe resulting in the Levante, a cushioned 8.9-ounce trail runner with a 6 mm drop that utilizes La Sportiva's XFlow technology that provides cushioning and energy return, designed to help runners navigate a wide variety of terrain. The female-specific last is paired with an exoskeleton harness for comfort and foothold. The Frixion White outsole with 4.5 mm lugs offers grip.
Another highlight of the spring line features XFlow midsole technology in the 9.5-ounce trail running shoe Prodigio, with a heel stack height of 34 mm and a drop of 4 mm. A bathtub construction is paired with a stability wrap to anchor the foot into the shoe, allowing for agility and precision on difficult trails. The dual compound Frixion Red rubber provides grip. Available for men and women.
The Aequilibrium Trek GTX is a new hiking boot blending the brand's mountaineering technology and is suitable for long treks and backpacking expeditions. The midsole is integrated with the outsole with a heel-to-toe transition, while the double-heel sole lug pattern offers security on technical trails. A 3D Flex System EVO allows for directional articulation of the ankle.
La Sportiva is also rolling out the third edition of the Bushido trail runner in a wide width. The redesigned upper provides more breathability and comfort, while the new recycled outsole offers increased traction.

ASICS Partners With Bandit for Marathon Training Program
With an eye on the Fall 2023 marathon season, ASICS has entered into a partnership with Bandit Running to provide a 16-week guided fall marathon training experience dubbed, The Program.
The Program is offered in two ways — New York City based in-person (paid) as well as virtually (free). Participants will have the opportunity to explore the most crucial aspects of long distance training — from strength and mobility, to recovery and nutrition, and everything in between. Featuring new themes each week and expert coaches who will guide participants every step of the way.
For more: https://banditrunning.com/pages/the-program
OrthoLite Taps Vikash Bajargyan as GM of OrthoLite India
OrthoLite recently named Vikash Bajargyan as general manager of Ortholite India (OIN). In his new position, Bajargyan will manage overall operations at OIN, which will include leading manufacturing and business development, as well as establishing and managing relationships with brands and Tier 1 factory partners.
Bajargyan joins OrthoLite with 18 years of experience in the footwear industry in India. Most recently, he worked at Coats Group as the sales and marketing director, leading the team and growing the Coats Footwear division across all of India and Bangladesh. Prior to Coats, Bajargyan spent six years working at Texon in Chennai where he served as the director of global business development. He has a proven track record as a supply chain expert and team leader.
OrthoLite India, located in Ambur, Tamil Nadu, is the most recent addition to OrthoLite's portfolio of vertically integrated, global facilities. OrthoLite India opened its doors in June 2021 and is now fully operational, ready to further expand local capacities to meet the needs of OrthoLite's brand partners. Located in the hub of Indian footwear manufacturing, OIN is positioned to increase speed to market and supply chain reliability for OrthoLite's partners.
Nike and Vibram Collaborate on New Trail Shoe
Vibram and Nike have partnered to use Vibram's exclusive sole design to Nike's trail footwear offering. The first product of this collaboration is the Nike Ultrafly Trail, a new trail racing innovation.

For the first time in Nike Trail, the Ultrafly incorporates a carbon Flyplate, positioned between the ZoomX foam and a fabric-wrapped midsole. The outsole of the Ultrafly debuts Vibram's Litebase technology in a Nike running shoe, offering trail runners a proprietary lightweight, agile outsole design with the Vibram Traction Lug technology and Vibram MegaGrip compound.
The Nike Ultrafly Trail will be available in limited quantities in Europe beginning July 27 and available for all runners globally starting in late January.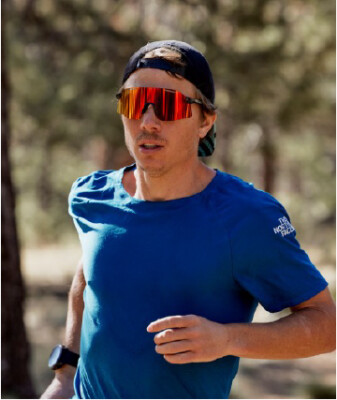 Smith Adds To Ultra Team, Sunglass Line
Smith is taking a major step in the performance running category with new eyewear, the Vert PivLock sunglass, along with the addition of several professional ultrarunners that expands the team of athletes and ambassadors for the active sports brand.
Following the signing of Anton Krupicka in late 2022, Smith most recently added Zach Miller (in photo), Kaytlyn Gerbin and Seth Ruhling to its athlete roster.
The new Vert PivLock sunglass, designed to withstand the demands of world-class athletes and the rigors of an active lifestyle, feature a rimless cylindrical shield lens design crafted within a high-impact resistant TR90 nylon frame to deliver a distraction-free experience and expansive field of view. The PivLock interchangeable lens system allows for lens swapping to adapt to changing light conditions.
Available in six ChromaPop lens tints to enhance contrast and natural color, each pair of Vert PivLock sunglasses also includes a secondary clear lens for low light and night conditions. All lenses feature laser cut venting near the brow line for airflow, plus smudge and moisture-resistant coatings for easy cleaning and clear optics.
The ultralight frames offer a low-profile fit and include two-position adjustable Megol nose pads and temples for a non-slip grip, ensuring the glasses stay in place for a comfortable fit during speed runs and across rough terrain.
The new Vert PivLock (MSRP $209-$219) includes a secondary clear lens, hard case, and microfiber bag).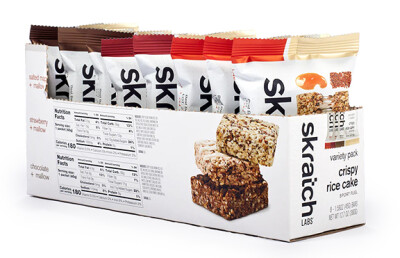 Skratch Labs Unveils Crispy Rice Cake Variety Pack
Skratch Labs, the maker of sports nutrition products, has released its Crispy Rice Cake Sport Fuel Variety Packs, now complete with a recently released flavor Salted Maple + Mallow. Designed with the athlete in mind, this new addition to the Skratch Labs product line offers a delicious and nutritious way to fuel workouts and maximize performance.
Skratch Labs' Crispy Rice Cake Sport Fuel is a new take on a classic favorite. Offering a simple, tasty and sustaining source of fuel on the go, each Crispy Rice Cake flavor is made with a blend of puffed rice and toasted grains, providing runners with 20g of energy-packed complex carbohydrates that feel light, digest easily, and are held together by fluffy, heavenly marshmallow. Like all Skratch Labs nutrition products, the Crispy Rice Cakes are made from scratch with allergen-friendly ingredients free of gluten, dairy, peanuts, and soy, and contain zero GMOs, gelatin, artificial colors or flavors.
Each variety pack contains eight individually wrapped rice cakes, which includes three Salted Maple + Mallow Crispies, three Chocolate + Mallow Crispies, and two Strawberry + Mallow Crispies. Crispy Rice Cake Sport Fuel Variety Packs retail for $17.95.
Running USA Elects New Board Members
Running USA recently elected seven new members to its board for three-year terms through June 30, 2026. They include Michael Clemons, owner, Louisville Running Co.; Donna Finney, director, Volunteer Operations, NYR; Michael Iser, VP, Associated Agencies; Chris Joffe, founder and CEO, Joffe Emergency Services; Tina Muir, founder and CEO, Running For Real; Meghan Najera, co-owner, RunFAR Racing Services (incumbent returning to serve on the board; and Matt Stone, product manager, TeamSnap.
The organization also thanked seven current board members for their service, including Matt West (president), Kyle McLaughlin (vice president), Tony Yamanaka (co-secretary), Heidi Swartz (co-secretary), Alex Bennett (director), Donna Grogan (co-director), Bryan Lively (co-director).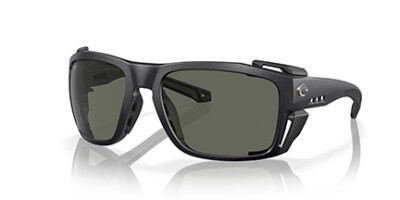 New Product: Costa
King Tide Sunglasses
Costa Sunglasses, manufacturer of the first color-enhancing all-polarized glass sunglass lens, celebrates its 40th anniversary with the introduction of its most advanced frame to date, King Tide. In nature, a king tide requires the perfect alignment of the Earth and moon to create an exceptionally high tide and once-in-a-lifetime views and opportunities on the water. Like its namesake, Costa's King Tide is designed to give the ultimate advantage on the water.
Available in two styles, King Tide 6 is a medium wrap six-base frame for those who require performance in all of their watery pursuits. King Tide is equipped with Costa's polarized 580 glass lens technology, providing clarity and color enhancement. King Tide 6 and 8 will be available at select VIP specialty retailers beginning July 7, 2023. Following the first wave, Costa is dropping a 40th Anniversary Limited Edition collectors frame in black gold and a never before seen 580G gold lens. With just 40 frames available each, Limited Edition King Tide 6 and Limited Edition King Tide 8, the frames will be available online at CostaSunglasses.com on July 11, 2023. Finally, September 15, 2023, marks the global release when King Tide will be available online and at retail partners worldwide. MSRP for King Tide 6 and King Tide 8 starts at $329.
Messick Retiring From Ironman Group
After 12 years of leadership, Andrew Messick will be retiring in 2023 from his position of president and CEO for The Ironman Group. Messick will remain a stakeholder and member of the Board of Directors following the recruitment and appointment of a new CEO.
"Being the CEO of The Ironman Group has been the professional honor of my life – the most meaningful and purposeful work experience I have had – and I am filled with gratitude for the support of my team members, our partners, and the athlete community over the past 12 years," says Messick. "I have given all I have to this job and my life has been enriched by the opportunity to build incredible events, meet athlete community members from all over the world, and lead an incredibly dedicated group of colleagues."
Messick joined The Ironman Group in 2011 and led the transition of the organization from a triathlon brand to the world's largest organizer of mass participation events with a portfolio of hundreds of events annually across more than 50 countries in triathlon, running, trail running, road cycling and mountain biking, while also adding digital training platforms and programs for athletes.
Key brands acquired or developed alongside the Ironman and Ironman 70.3 triathlon series include the UTMB World Series, Rock 'n' Roll Running Series, Epic Series of mountain biking events anchored by the Absa Cape Epic, the Standard Chartered Singapore Marathon, and FulGaz virtual cycling digital platform. Throughout his tenure, Messick has tasked his team with creating and delivering opportunities for individuals around the world to experience the life-changing benefits of endurance sports.