Runners Roost, with locations across the Front Range of Colorado in Boulder, Fort Collins, Colorado Springs and Denver, to name a few of its major store locations, has fostered a long-standing relationship with the Leadville running community through a partnership with the Leadville Race Series for more than six years officially — and approximately a dozen years unofficially. And that partnership has certainly worked out well for all parties involved for a number of reasons.
"A lot of our staff and customers have interest and have participated in various ways in the Leadville races over the years," explains Kent Wories, owner of Runners Roost. "These Leadville events are very near and dear to our hearts as so many staff members have been part of these lifechanging events."
As part of this retailer and race series partnership, Runners Roost has been the official retail sponsor for many years. The sponsorship has historically entailed selling products onsite at the major run events, including the Leadville Trail Marathon in June, the Silver Rush 50 in July and, of course, the esteemed Leadville Trail 100 Run in August, helping grow excitement for the events in the Front Range at in-store location events and by hosting aid stations at the races.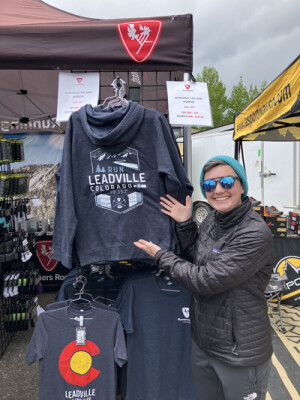 Additionally, for many years, a Runners Roost location in the Front Range would host a Leadville 100 lottery viewing party, in which people who entered the lottery would come together in January to find out if they were selected to race. Leadville Race Series event staff would join to talk about the race, show inspirational videos from past years, and hype up the famous "Race Across the Sky." Due to COVID, this has changed slightly and this year there was a Golden Ticket event in March, in which one person was given an entry for the 100 Run this August, which happens to be the race's 40th anniversary.

This year, a Runners Roost store manager at the Lone Tree location, Chris, was the lucky runner who won the Golden Ticket and will be toeing the start line on the 19th.

"Originally I started running to lose weight, falling in love with the process," Chris says. "Eventually, running completely changed my life, if not saved it. I'm running the Leadville 100 to prove to myself and everyone that anything is possible if you put your mind to it. I choose to run for those who can't, and in doing so it makes me a better human."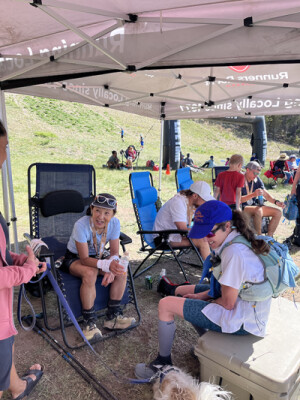 During the Leadville Trail 100 Run presented by La Sportiva the Runners Roost team can be found activating throughout the race weekend, August 18-20. First, at the Expo on Friday they will have items on sale that runners can purchase as they make their last-minute preparations for race day, such as Petzl headlamps, Darn Tough socks, La Sportiva shoes, GU Energy Labs nutrition, Body Glide, trekking poles and other various items from running apparel brands. The Runners Roost team will also be collaborating with Rabbit to make a special Leadville shirt, as well as have special edition Leadville socks on sale.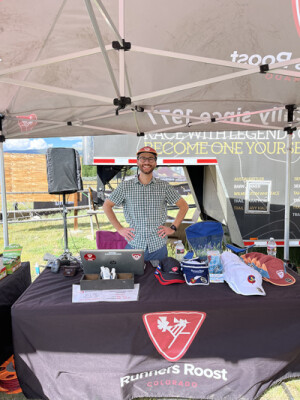 On Saturday, Race Day, the Runners Roost aid station will be at Twin Lakes, staffed by volunteers from the race team and store employees who will set up a prize wheel with giveaways for people to play and win, as well as refreshments and a Wifi booster.
Finally, on Sunday, during the Finish Festival, the Runners Roost team will be set up near the finisher chute with a hospitality tent, complete with breakfast burritos, fruit, refreshments, comfy chairs, cold towels, and recovery tools for athletes.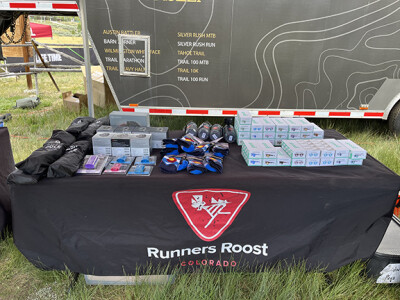 All in all, quite a weekend for Runners Roost and Leadville is planned.