As the run specialty business has adapted to the realities of social distancing and the cancellation of all in-person races since March, it turned to the novel concept of virtual events to successfully maintain contact with its community. Now Runhouse, the marketing and creative agency in Philadelphia that focuses on the run business, is taking that concept a unique step further by offering a series of events called Rundiscover that combine the virtual with – yes, believe it or not – actual running a set course.

Here's how it works:
In conjunction with Philadelphia Runner, this summer Runhouse created four unique running courses around Philadelphia that provided plenty of space, interesting landmarks and four to five miles worth of running per course. The courses were all selected for their interesting history or for being places most runners have not run before. The four-week window and the off-the-beaten-path courses allowed the organizers to mitigate crowding and give runners the opportunity to participate in something collectively, but at their own time and pace.
During the event, runners shared their experience via social media using the hashtag #rundiscover_philly and Runhouse kept runners engaged with weekly course highlight emails. With 700 paid participants, the support and enthusiasm for the event was significant and Runhouse received a lot social engagement during the four weeks. — https://www.instagram.com/explore/tags/rundiscover_philly/
For registering, runners received a hand-illustrated poster designed by the Runhouse creative team and commemorating the courses and unique sights along the route — https://www.instagram.com/p/CB5_muxjPNd/
Runners were also gifted with a $10 gift card to Philadelphia Runner in order to drive traffic into the store once the event concluded. Registered runners also received comprehensive course guides and turn-by-turn directions to help them navigate these unfamiliar areas.
The Philadelphia event raised $10,000 for two local nonprofits: Students Run Philly Style and Fairmount Park Conservancy. About $3000 of that was in the form of additional donations made during registration and the remaining $7000 was from the revenue split.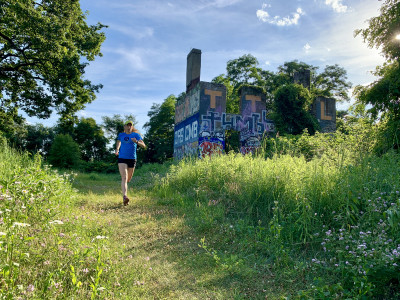 Looking to Go National
Now Runhouse is looking to expand nationally by offering the model to other local retailer partners in a handful of cities around the country. They are currently working with Pacers and Mill City on Rundiscover events in Washington, DC, and the Twin Cities, respectively, and are in discussions with a number of other retailers about doing Rundiscover events in their city this fall.
"We created Rundiscover because we wanted to provide a compelling virtual option that was still rooted in the local community and offered more value than the generic virtual run model," explains Runhouse president Ryan Callahan. "We wanted something that had to be done locally, but could also be run responsibly and in a safe manner.
"We are excited that this event generated the amount of engagement that it did in Philadelphia as well as strong revenue for both our local retailer partner and nonprofit partners," he adds. "We would love to explore this model in a few cities around the country as we think a lot of running communities are eager to participate in something right now that is unique, fun, and safe.
Callahan says the ideal run specialty partner is a retailer that has a strong community in place and can help develop unique courses for Runhouse to build the event around.
The local partner promotes and manages the course and Runhouse handles design, website, registration backend and promotional toolkit. Revenue is split evenly between Runhouse, the local retailer and the nonprofit partner(s).

For a closer look at the Runhouse concept: