On Introduces Active And Performance Sports Bras For Women
On has expanded its apparel line with a new Active Bra and Performance Bra.
The Active Bra is best for medium support for everyday multi-functional activities where extra support is needed.
The Performance Bra is intended for women needing more breast support for high-intensity activities, including running, HIIT and intense training.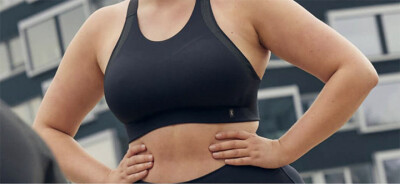 "We design, develop and innovate our shoes and apparel with the highest standards to give our customers the best possible running experience," explains Fiona King, On's apparel development lead. "After nearly two years of design and development, we feel proud to release our Active and Performance Sports Bras that go above and beyond the capabilities of other sports bras on the market."
Both bras offer 360-degree support from ergonomic construction and support padding for each breast. The straps are made of a responsive elastic that stretches for an unrestricted feel and ease of use. The high neckline offers medium support for the breasts without squeezing for higher-intensity workouts with a full mesh back panel for breathability.

Fleet Feet Chicago Acquires Fleet Feet Rockford
In another run specialty retail consolidation, Fleet Feet Chicago has acquired Fleet Feet Rockford.
"We are excited to transition ownership of Fleet Feet Rockford into the Fleet Feet Chicago family," says Feet Fleet Rockford's former owner Melissa Pratt. "We have seen the success and community Dave and Lisa built in the Chicago stores and are excited to have the opportunity to bring their industry knowledge and passion and build upon what we've already established here in Rockford."
Fleet Feet Chicago owners Dave and Lisa Zimmer, celebrating their 25th anniversary as Fleet Feet franchisees, opened their first store in Chicago's Old Town neighborhood, operating seven locations across Chicago, Deerfield and Elmhurst. Adding Fleet Feet Rockford brings the franchise in Illinois.
Brooks Expands Run Visible Collection
Originally launched in 2020, Brooks returns with its Fall 22 Run Visible Collection "for all the early bird and night owl runners." It has expanded the line to feature new styles in efforts to better serve runners in varying climates.
Brooks strategically combined the key element of fluorescence with retroreflectivity and contrast colors to make it easier for drivers to spot runners in no light or low light conditions. In fact, the apparel helps runners be identified as humans from up to 600 feet away – plenty of distance for a driver to react and stop going 35 mph.
The newest additions feature items such as layers for cooler weather runs (in-market later this year) and tanks/short sleeves launching this summer.
The line includes women's Run Visible ½ Zip, women's and men's Run Visible Short Sleeve, women's Run Visible Back-To-Front Tank (in photo), women's and men's Run Visible Tight, women's Run Visible six-inch Short Tight, men's Run Visible Tank and men's Run Visible five-inch 2-In-1 Short.
Inov-8 Launches First Hike Clothing Range
Making a major apparel expansion, inov-8 has launched its inaugural hike clothing range, designed for faster, lighter outdoor adventure. The brand from the English Lake District is already known for its hike footwear and now expands its hike offering with a full clothing collection called Venturelite.
With an ergonomic fit that works with the body's natural movements when hiking, the range includes comfortable mid-layers, hoodies, tees, trousers and shorts. A three-layer waterproof jacket boasting high levels of breathability will launch in time for winter.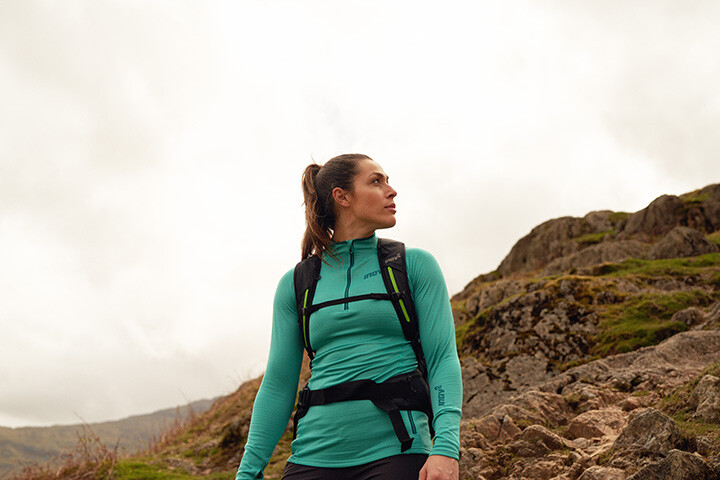 The collection was researched and designed in the Lake District, taking two years from original concept to launch. Across both inov-8's hike and run clothing ranges there are 36 styles, of which 24 (66 percent) contain recycled yarn content. All the recycled yarns are certified by the Global Recycled Standard, which verifies recycled content and ensures responsible production.
All main fabrics also carry the Standard 100 by Oeko-Tex guaranteeing the absence of substances that are harmful or may present a risk to health. Packaging comes in the form of new polybags featuring biodegradable organic technology.
"We've seen the continued growth in popularity of faster paced hiking and want to give these outdoor lovers the same speedy-feel that trail runners enjoy from their clothing but with the necessary hiking twists," says Helen Stuart, inov-8's head of clothing and equipment. ""We've kept all the garments super-lightweight by removing unnecessary features and instead sharply focused on the things which hikers really need to safely go faster on trails and chase down mountain summits."
Stuart, whose team also launched the brand's first gym clothing range earlier this year, adds: "The hike collection has been designed with layering in mind, with each style working in sync with the other. This mirrors our trail running range, but with the overall feel being less athletic and more relaxed.
"And while it is all light and fast, no compromise has been made on protection or durability either, with each garment designed for multi-day use and materials carefully chosen to enhance a longer lifespan."
Inov-8 Names Snell New CEO
inov-8 has named Mike Snell as its new CEO, taking effect in October. Snell will leave his current role as commercial director for supermarket chain Asda in September before joining the British-born-and-based sports brand.
Prior to Asda, Snell was chief commercial officer at Wiggle, building both the commercial teams and industry relationships that underpinned the sports company's growth during his tenure.
For the last two years inov-8 has been led by its founder and interim CEO Wayne Edy who, after selling the business to Descente in 2015, bought it back again in 2020.
"Landing Mike as our new CEO is a real coup," says Edy. "He comes with a wealth of sports industry experience, a world class understanding of both physical and online retail, and he possesses a passion for running and sports.
Tifosi Optics' Unveils Sizzle Series
Tifosi Optics, the sport and lifestyle sunglasses brand, recently unveiled its Sizzle series of sunglasses, the first Tifosi sunglass to feature a shielded lens design embedded within the body of a lifestyle frame.
Single-shield lens sunglasses offer superior eye coverage for runners and cyclists, but their oversized appearance can make them awkward to wear in casual settings. The Sizzle offers a casual frame featuring a low-profile, shatterproof and scratch-resistant polycarbonate shield for active pursuits.
"We recognize that our customers take full advantage of summer weather. This could mean a bike ride in the morning followed by an afternoon barbecue," says Tifosi Optics CEO Joe Earley. "The Sizzle is meant to be a lightweight, all-day eyewear companion that can provide protection for active pursuits, yet blends in when it's time to relax with friends and family."
The Sizzle's Grilamid TR-90 frame complements its shielded lens. This includes Tifosi Glide, a treatment applied to the Sizzle's arms that allows the sunglass to comfortably slide onto the face and stay in place during movement.
Each of four frame and lens options, including the Blackout frame and Smoke lens combination, retails for $34.95 and includes a microfiber cleaning bag.
Industry Leaders Elected to Running USA Board of Directors
Running USA has elected of a slate of five board members to three-year director terms that began July 1 and will conclude June 30, 2025. Two of those elected are incumbents returning to the board, which provides consistent leadership and oversight to the organization on a year-round basis.
The new board members are:
Brandon Hough, Director, Air Force Marathon
Michael Nishi, COO, Chicago Event Management
Kathleen Titus, Owner/Race Director, All Fitness Events
Continuing their service to the board for an additional three years are:
Tanner Bell, CEO, Ragnar
Jeff Matlow, CEO, By Title Only
Running USA's Stone Moves To Abbott World Marathon Majors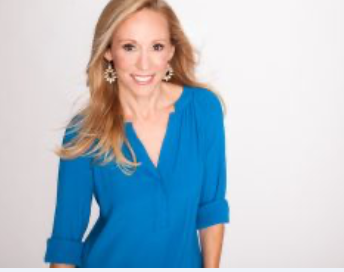 Dawna Stone has been appointed as CEO of the Abbott World Marathon Majors (AbbottWMM). Stone, who most recently was CEO at Running USA, joins the organization to spearhead the delivery of AbbottWMM's vision to inspire the world through marathons, with a program of growth not only with new events, but also through a deeper engagement of the hundreds of thousands of runners who are beginning their journey with the 'Grand Slams' of participatory sport.
Town Hall Outdoor Co Launches Youth Apparel to Inspire Kids to Love Outdoors
A new outdoor brand for kids has launched in Steamboat Springs, CO. Town Hall Outdoor Co offers a collection of sustainable, durable outdoor apparel built for kids and created by outdoor industry veterans Robin Hall, Jay Lambert and Joe Solomon.
Made of recycled materials and designed to keep kids warm, dry and comfortable in the outdoors, the co-founders are adamant that the gear they create contributes to raising planet-positive kids and endures through multiple hand-me-ups.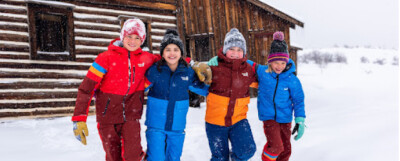 Town Hall's inaugural collection for Fall 2021/Winter 2022 includes four styles described as "packed with smart features for active kids." The look is current, clean and fun, not juvenile. Common features include recycled fabrics and insulations, grow seams that are easily removed to extend length, pockets and details sized for ease for small hands and quality materials and construction built to endure through multiple hand-me-ups.
Current Styles:
Mountain Town Winter Jacket: Full-featured ski and snowboard jacket that keeps kids warm, comfortable and ready for another run. MSRP: $180
Around Town Cold Weather Jacket: Easily transitions from the school trek to the terrain park. MSRP: $145
Down Town Puffy: 100 percent recycled down technical layer that does double duty as a sole insulator or a midlayer. MSRP: $150
Mountain Town Winter Pants: Warm and waterproof snow pants. MSRP: $135
Coming in Summer 2022 and next fall will be fleece layers and insulated bibs.