Balega Goes Big With New Products At TRE
One of the more active brands at the recent Running Event in Austin, TX, was certainly Balega, which every year at TRE gleans valuable feedback from the run community and then actions it into the brand's latest innovations. This valued feedback allows Balega to take a focused approach towards its sustainability efforts, partner charitable organizations, and product design and materials.
"Balega owes much of its success to the support of run specialty retailers and TRE provides the perfect opportunity to reconnect with, and celebrate, this passionate group of individuals," according to a company spokesperson. The three-day event culminated with the Best Running Stores in America event, where Balega annually presented its signature "Ubuntu Award" to one standout retail store that goes above and beyond to support their local community. This year's recipient was Charm City Run.
Last year, Balega identified an opportunity to make greater strides towards reducing its carbon footprint by lowering the amount of virgin material contents in its proprietary Drynamix yarn by 30 percent, replacing it with yarns made with post-consumer plastic waste. Balega has also updated its packaging to utilize 26 percent less carboard pulp, removed any harmful lacquer coating and switched to less harmful ink.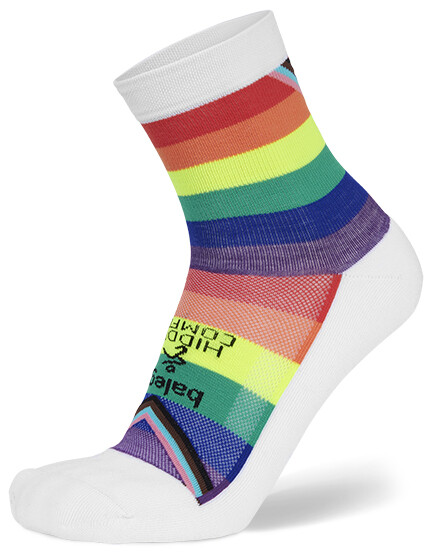 Come Spring 2023, all Balega socks will be knit with recycled yarns and placed in its new, more sustainable packaging. Also launching in Spring 2023 will be Balega's first-ever PRIDE run sock. The PRIDE run sock will be available in two versions, including the Hidden Comfort featuring its signature 200-Needle, cloud-like cushioning and Balega's proprietary Drynamix moisture-wicking yarn to prevent blisters, as well as in a new mini-crew silhouette. The PRIDE sock proudly displays the running community's support for the LGBTQ+ community and encourages runners everywhere to stride in PRIDE.
Balega not only supports the run community by taking better care of the planet and giving back to organizations that align with its values, but also by pioneering new technical designs and materials that help solve the unique problems of real runners. An example of this is Balega's UltraGlide run sock. This lightweight, ultra-technical sock prevents hot spots and blisters by utilizing friction-reducing yarns along with Balega's Drynamix moisture-wicking yarns, as well as zonal protective cushioning in the heel, toe, and a unique metatarsal pad. This sock is constructed with an anatomical and contoured design for a custom-like fit that will stay put no matter the distance or pace. Balega UltraGlide is the go-to sock for race day.Looking to the future, in Fall 2023 Balega plans to attack yet another problem that plagues a lot of runners: ankle instability. Long distance runners' gait typically breaks down over time. Balega has developed a sock that provides extra ankle support to those who need it most. Traditional solutions like taping can be cumbersome and still requires wearing a sock. Balega's upcoming SUPPORT sock will provide all the features and benefits you can expect from a Balega premium run sock, along with compressive elasticated bands that wrap around the ankle for extra support. The sock also includes special grip yarns on the ball of the foot to prevent any movement within the shoe when making lateral movements or running on unstable terrain. The SUPPORT sock comes in a protective quarter height and is perfect for trail runners, long-distance runners, and anyone with ankle ailments.
New Product: Coros Introduces PACE 2 – Molly Seidel Edition
Coros Wearables, makers of endurance sports wearables and training software, has released a limited edition Coros Pace 2 Molly Seidel Edition. The design of this special edition watch was a collaborative process with Seidel and her team.
Every aspect of the Pace 2 Molly Seidel Edition (MSRP: $249), from the watch's colors to the packaging to the broader campaign, is created to represent Seidel, according to the company. The watch features two shades of green, a more vibrant green to match her race kit and a more earthy green as a 'nod' to Seidel's 4Runner.
Included with the Coros Pace 2 Molly Seidel Edition:
Unique colored/designed Pace 2 watch model with matching silicone band.
Extra nylon watch band with Seidel's "Full Send" catchphrase.
Exclusive, seamless headband, designed with seidel, featuring her "Full Send' catch phrase.
Scannable QR code to a custom 12-week marathon training plan created by Coros with the assistance of Seidel's coach Jon Green of Verde Track Club.
Seidel began using Coros long before she became an official athlete partner for the brand, using the Coros Apex 42mm during her Bronze Medal performance at the Tokyo Olympics. Officially signed as a Coros Pro Athlete in November 2021, she set an American Best at the NYC Marathon and added the lighter-weight Coros PACE 2 into her training arsenal.
Pressio Launches In The U.S.
Pressio, a technical apparel company, has officially launched its business in the U.S. The U.K.-based sustainable performance sportswear company was founded in 2021 by Jamie Hunt, a textile engineer and fabric designer. Between 2005 and 2018, Hunt co-founded, built and sold the 2XU athletic clothing brand.
As a former top-ranked triathlete, Hunt aims to leverage his industry relationships to set new standards for Pressio that "minimize, control and reduce the impacts of the garments he engineers and brings to market."
"What makes Pressio so unique is our ability to create sustainable products without sacrificing technical performance," explains Todd Schoelen, managing director, Pressio USA. "The U.S. consumer is asking apparel brands for more transparency when it comes to sustainability, and they are diving into what it really means. They not only want recycled materials but also look at the entire production process and a garment's end-of-life impact on the planet. Pressio is addressing it all and delivering on its promise."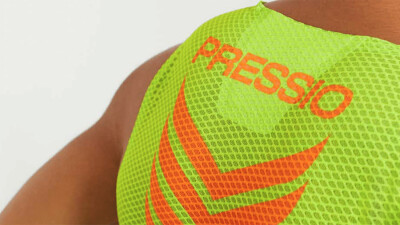 Garments in the company's 2023 line use sustainable materials and technologies, but "not at the expense of real-world athletic performance." The founder's top priorities are anatomic fit, next-to-skin comfort, moisture management, compression, and ventilation.
Features of its Elite and Bio Collections for 2023 include end-of-life biodegradable garment solutions, compression, insulation for optimal recovery and, thermal performance properties for winter running and training.
Feetures Announces CEO Transition
Feetures, the family-owned and operated sock manufacturer, recently announced that John Gaither, who has been the company's COO, would succeed his father, Hugh Gaither, founder and CEO, effective January 1, 2023. Hugh Gaither will evolve his role as chairman of Feetures' executive committee.
John Gaither has worked for the family business since 2002, responsible for strategic decisions that fueled the company's growth. He has led product innovation and is responsible for operations and the supply chain.
"It's been my pleasure and honor to lead Feetures for these last 21 years and I am very confident in John's ability to step into the important role of CEO for Feetures," says Hugh Gaither. "I will be involved in business decisions at the highest level and will advise both my sons, John and Joe, and maintain relationships with our key customers."
"To my dad's credit, he had the foresight and vision to create a brand that would allow him to impact lives across the globe," adds John Gaither. "Through long-established partnerships with extraordinary retailers, we have inspired many people in their journey to live healthy, active lifestyles. In this next era of our company's history, we will maintain our roots as we grow by continuing to value our personal relationships and the communities we serve.
"Our goal is to become the most recognized performance sock brand in the world and, to do that, we must continue to evolve to remain relevant," he adds. "I'm excited to lead our company in this next chapter."

On Adds Apparel To Resale Program
On has added men's and women's apparel to its resale program. The move follows the September launch of Onward resale site and online trade-in program initially focused on footwear.
The brand is working with Trove's Recommerce Operating System to facilitate its resale business.
In a statement, On says it has seen an "overwhelming, positive response" from its September launch and the expansion will include tops, pants, running tights, jackets and other essentials.
"At On, we're committed to improving our environmental and social impact," says On's co-founder Caspar Coppetti. "Our goal is to inspire people to move in high-performance gear with the lowest possible footprint. Bringing Onward to our U.S. community was a major milestone, but as a sportswear brand, we wanted to go further.
"We've seen great interest for shopping and trading-in gently used gear and are delighted to reach more people's needs with this expansion," he adds.
On said the program will help its work towards sustainability goals to increase circularity and usage of recycled fabrics, as well as to decrease carbon emissions
Lowa Enters Trail Running Category
Lowa has entered the trail running category with its All Terrain Running (ATR) collection. Officially launched at Switchback at The Running Event in Austin, TX, last month, the line offers three silhouettes: Citux, designed for competitive fast trail running; Amplux, for runners that want to go further and faster; and Fortux, for long-distance runs. The collection will be sold at specialty retailers starting June 2023.
"ATR is our answer to the growing trend of trail running that is continuing to increase steadily around the world," explains Peter Sachs, general manager. "Every design feature was carefully considered resulting in a shoe that not only embodies our performance heritage but also honors our design prowess from experts that participate in the sport. In addition, this line enables Lowa to introduce younger consumers to the brand who are looking for fresh options that meet their unique needs."
Key technologies include:
Lowa's proprietary Trac Sole system (a sticky rubber compound with traction in wet or dry conditions).
Carbon-reinforced rebound plate (a reinforced plate under the forefoot, giving runners energy return and protection from sharp objects or uneven trails).
Heel stabilizer (an anatomically shaped, molded heel counter "guaranteed" to stabilize function in all directions.
Lowa's Dyvena (a polymer compound with cushioning that absorbs the forces during heel strike.
Anatomical ankle lines (supported through an asymmetrically shaped upper edge that "precisely reflects" the ankle's anatomy.
Citux, for men and women, is a lightweight shoe with dual-density Dyneva high rebound cushioning, carbon-reinforced rebound plate, full-length EVA shell, proprietary Lowa Trac speed sticky rubber outsoles, and 4mm heel drop.
Amplux, for men and women, for the everyday trail runner, offers a 6mm heel drop with full-length triple density Dyneva high rebound cushioning midsole, carbon-reinforced rebound plate, a fore-midfoot EVA midsole shell, a rearfoot EVA midsole shell, and Lowa's Trac agility sticky rubber outsole. The padding in the collar and heel balances comfort and agility, enabling the user to get the most out of their experience. The shoe comes in three colors.
Fortux, for men and women, is for long-distance runners, with a 6mm heel drop, rocker-shaped high-rebound Dyneva cushioning and Lowa's Trac ultra sticky rubber outsole. The one-piece shaft prevents pressure points. It comes in three colors.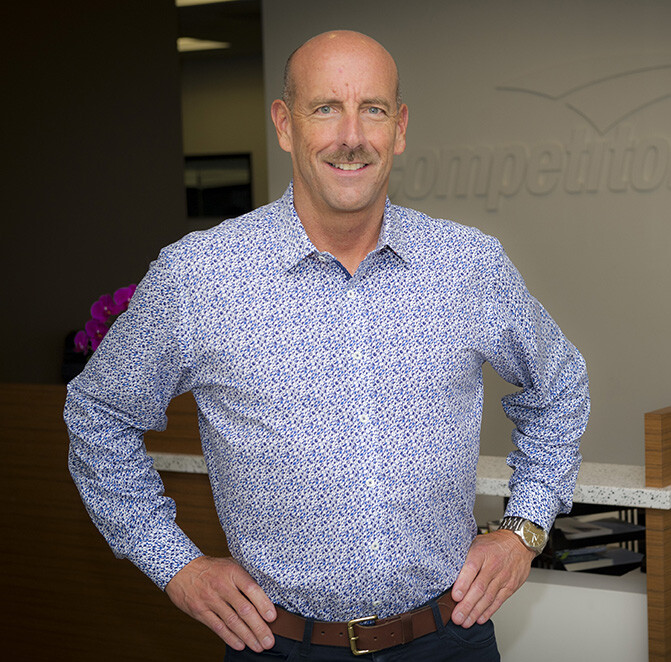 Motiv Names Smith SVP
Race production company Motiv Group has added running industry veteran John Smith as senior VP–strategy and partnerships. In his career spanning more than three decades in the industry, Smith has worked with dozens of brands and businesses of all sizes, including Toyota, Humana, Garmin, Brooks, Cliff Bar and Gatorade, utilizing event partnerships to connect them with passionate athletes.
Motiv owns and operates 12 events, including the Long Beach Marathon, Shamrock Run Portland, Surf City Marathon, Philadelphia Love Run Half Marathon and Golden Gate Half Marathon in San Francisco. Smith will help drive new partnerships while expanding the organization's event platform and overall offerings.
"Coming out of the pandemic, there are thousands of new runners participating in our sport and I am energized about the opportunity for our events and partners to create unique experiences for these runners," says Smith. "This is an exciting time for the industry and Motiv is a company poised for significant growth. Running was one of the few sports people were able to participate in during the pandemic and has emerged as a clear factor in supporting positive physical and mental health."
Previously Smith served as VP–partnerships for Gannett Media's event portfolio Ventures Endurance. During the pandemic, he launched a number of successful virtual runs raising over $1 million for St. Jude Children's Research Hospital. He was SVP at Competitor Group, Inc. (CGI) and helped them grow into one of the world's biggest media & event companies to inspire a healthy, active lifestyle under one platform. Post Ironman's acquisition of CGI in 2017, Smith was responsible for driving partnerships for all of Ironman Group's event properties in running, triathlon and mountain biking.
"Running has proven to be a versatile, dependable and recession-proof activity and I couldn't be more excited to launch new platforms like the Golden State Run Series and expand our portfolio over the next 4 - 6 years," adds Smith.
New Product: Inov-8 Unveils Hike-Run Hybrid Shoe
Bringing the worlds of hiking and trail running together, invo-8 last month launched a waterproof shoe for winter called the Roclite G 315 GTX V2. It is designed for both hiking and running, as well as adventure sports.
The new shoe features a sticky rubber outsole enhanced with Graphene – the world's strongest material – for longer-lasting tough grip and Gore-Tex waterproofing to keep feet dry and comfortable.
An evolution of the popular Roclite G 315 GTX, the version two also boasts a flexible rock plate and toe-bumper for extra protection, an improved secure fit, stronger upper materials for greater durability and a more cushioned midsole foam with added bounce.
"This is a shoe that does it all," says Wayne Edy, founder of inov-8. "From hiking to trail running to multi-day adventures on land and water, it offers supreme versatility to tackle all types of challenges.
"Our Roclite footwear franchise is one of the longest serving in the range and has a loyal global following who trust in its performance," he adds.
Dynafit Partners With ITRA
The International Trail Running Association (ITRA) and Dynafit are partnering to serves a mutual goal of promoting trail running at an international level, to develop this new sport and to support athletes globally.
Since its founding in July 2013, ITRA, with headquarters in Lausanne, Switzerland, has focused on the professionalization and continued development of trail running. Race safety, the health of runners, as well as the promotion of the diversity and strong value of the sport are at the heart. To this end, the partners-hip between Dynafit and ITRA effective immediately for a period of two years will also work to expand on this focus.
"We see trail running as an adventure, as an opportunity to test your personal limits and to connect with like-minded people," says Janet Ng, ITRA´s president. "So many athletes all over the world these days take part in this sport with such great passion. And it is precisely this diverse and inclusive community that makes trail running so unique.
"ITRA aims to give a voice to these runners and to create the conditions needed for them to give their best on the trails," Ng adds. "Dynafit represents the same goals and values and that's why we are thrilled to have this aspiring brand as a partner at our side starting immediately."
New Product: Kahtoola Redesigns NANOspikes Footwear Traction
Kahtoola, the manufacturer of footwear traction and performance gaiters, has redesigned its ultra-low profile footwear traction, NANOspikes, for fall 2023. Designed for running and walking on snowy, icy roads and sidewalks, the updated spikes improve comfort, fit and traction.
Features of the new shoe include:
Improved Fit – A broader size range now fits U.S. W 5 to U.S. M 15 and a wider range of shoe styles. The elastomer geometry improves fit and security, and a larger ergonomic heel tab provides an "effortless" on/off experience.
Improved Comfort – An updated toe bail insert improves comfort over a wider range of footwear while low-profile rivet connections minimize pressure points.
Improved Traction – New concave tungsten carbide spikes give instant traction on ice, while a directionally optimized lug design improves grip on ascents and descents in soft snow. The new center ridges on traction plates deflect uneven ice, allowing spikes to engage faster.
ASICS Acquires Race Registration Platform
ASICS recently acquired Njuko SAS, a race registration platform for running events in Europe. The acquisition follows the 2019 registration of Race Roster. ASICS plans to offer runners access to adaptive training plans through the ASICS Runkeeper app, ASICS-sponsored events and other benefits through the OneAsics loyalty program. Njuko will continue to serve its existing clients.