Making a dual investment into improving the health of America's youth, Road Runner Sports and PHIT America, a non-profit dedicated to getting kids more active, are partnering to get thousands of children more active for improved physical and mental health. Road Runner Sports will significantly expand PHIT America's programs in U.S. schools by becoming the Presenting Sponsor of PHIT America's AMPED running/walking fitness program.
Mike Gotfredson, founder and CEO of Road Runner Sports, explains why this partnership makes so much sense: "Road Runner Sports has always been supportive of kids' charities and PHIT America's mission parallels our mission to improve kids' physical and mental health. By creating more runners and walkers, we can help these new participants get active … and stay active for life. These kids will be receiving new awards and certificates, encouraging them throughout their fitness journey."
Jim Baugh, Founder of PHIT America, is excited as well. "Mike and I hit it off immediately. Our partnership will allow us to expand our impact in more schools with our four lifetime sport programs, AMPED, Play Tennis, Play PIckleball and Play Golf. Mike has even committed to reaching out to key vendors to 'join our movement' and support more schools and kids."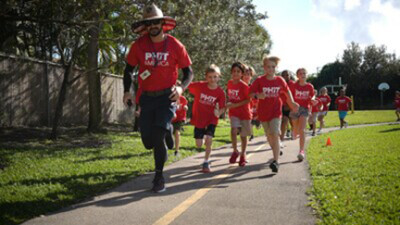 "Too many kids are sedentary and unhealthy," adds Gotfredson. "We must do something. So, we are investing in PHIT America to expand new physical activity and fitness programs in schools throughout the U.S. My goal is to support school-based programs in every major city where we have Road Runner Sports locations."
PHIT America is a 501c3 national charity that has already helped more than 850,000 children in 1500 schools throughout the U.S.
"We make sure we get a great ROI for all sponsors. Our cost per child is between $10 and $16. I will match that against any charity in America," says Baugh. "
Companies interested in supporting PHIT America should contact Baugh at [email protected]