The Running Industry Association (RIA) will be hosting its fourth annual member summit, Runchella, in Chicago, IL, from May 8-11, 2023. The event brings 200-plus specialty run retailers from across the county together to connect with the top brands in the channel, business partners and each other.
The members-only event started as the KICK Show the summer of 2019 in Denver, transitioned to a digital show in response to the pandemic in 2020, and then re-branded as Runchella in Denver in September of 2021. Last year the summit moved to Chicago, where it will be hosted again this year.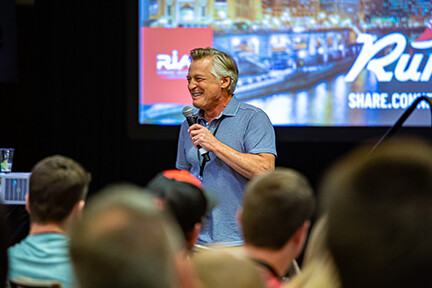 "Over the past four years we have continued to evolve our event to meet the changing needs of our members," explains Terry Schalow, RIA executive director. "This year the theme is 'Your Show, Your Way.' Retailers will be able to customize their schedules to create the show experience benefits them most – whether it's line reviews, tech sessions, top-to-top meetings with brand executives, hands-on training with digital marketing partners, peer sharing sessions…or all of the above.
"We know that each of our member stores have unique challenges, and we're going to help them solve those challenges at Runchella," Schalow adds.
Brand attendees are by invitation-only and will feature brands such as Brooks, Hoka, ASICS, On and Vuori, as well as the top brands within each accessory category. The leading point-of-sale, e-commerce and digital marketing providers will be available, and Runchella will also reprise last year's Emerging Brand Showcase to expose retailers to new products.
The event begins on May 8 with an opening night event. For the following two days retailer attendees will fill out their schedules and meet with brands and business partners and participate in peer discussions on pertinent channel topics.
In addition, Runchella will feature social gatherings like daily group runs, evening socials, and an industry party.
The 411
Dates: May 8-11, 2023
Venue: Westin Michigan Avenue – Chicago, IL
Attendees: Retail store owners, buyers, key staff and brand personnel
More information: Runchella Website
Registration opens January 16, 2023
About the RIA:
The Running Industry Association (RIA) is a non-profit organization that supports brick and mortar specialty running retail throughout the United States and Canada. The organization provides a forum to achieve excellence and increase sales through education, communication, research, advocacy and member discount programs. www.RunningIndustry.org.