The official press release on The Running Event 2022 in Austin, TX, has been sent out – 3200 total attendees, 279 exhibiting companies, 66,340-square feet of exhibit space, all records for the most important three days on the run specialty calendar each year – but here are the REAL insights from the editors of Running Insight who spent three days (literally) running around the Austin Convention Center.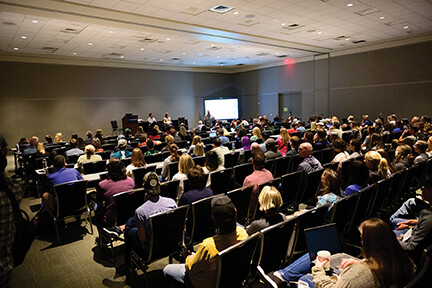 Any concerns that people would show up early on Tuesday morning, the day before the exhibits opened, for the full day of Education sessions were put to rest right away. The education sessions saw packed rooms all day and even some SRO for sessions such as Charm City's "The Art of Intangibles;" the "How-To Series for Sales Associates: How to Get to the Next Level in Your Store and Your Career," featuring Toni Reese and Ken Larscheid from Running Lab; and Big Peach's Heather Trainor's session on "Finding New Customers Without Spending A Lot of Money." Of course, RI editors think the best session was the one moderated by senior writer Danny Smith with Dick Pond's Glen Kamps going over "All I've Learned in 37 Years on the Sales Floor." But we are biased.
It was telling that the education session on "The Art of Selling Sports Bras" attracted a mostly female audience, with a few intrepid males in the audience as well. Tish Tily, of She Science, came all the way from Australia to spread the word on how she moves 900 sports bras a month in one little store by appointment-selling only. It is a concept that will work in America and we met more than a few retailers who are going to try it out.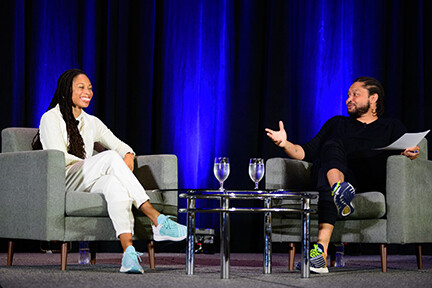 Kudos go out to keynote speaker, Olympian and Saysh founder Allyson Felix and her brother, Wes, who made the best of a sick situation by carrying on a podcast-like conversation rather than a prepared speech. It seems Allyson's four-year-old daughter spread a few germs along to her mother, so Allyson would not have been able to give her prepared comments. The packed audience appreciated the effort and learned a lot about perseverance and commitment, both to her running career and to her TRE appearance.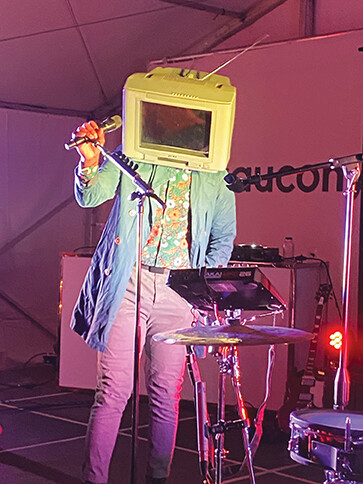 Of course Running Insight editors made it to all of the big parties, especially Saucony's Wednesday night celebration featuring Mobley, a local talent who performed the first part of his performance with a television on his head. We're not cool enough to understand why, but it did make for a good show. And then the annual packed Brooks Running party rocked on Thursday night with great music in an open venue with a light mist falling. It made for a special night and a great way to close out the show.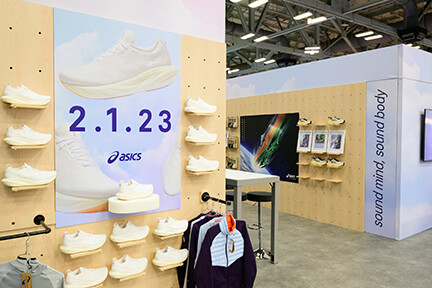 You think you were busy. In between the Tuesday education day and the Brooks party, RI editors met with these footwear brands: ASICS, Brooks, 361, Craft, Puma, Adidas, Hoka, Skechers, Salomon, Topo, VJ Shoes, Saucony, Keen, Vimazi, Mizuno (Wave Rebellion pro, shoe of the show?), Scarpa, Asolo, Naked, Lowa, Lightfeet, Vionic, Oofos, Archies, La Sportiva, Merrell and Veja. Did we miss anyone? And after hearing all of the tech stories from the brands, it was refreshing to wrap it up with our final meeting of the week with Xero to hear their minimalist story. It just shows the diversity of the products now available at run specialty.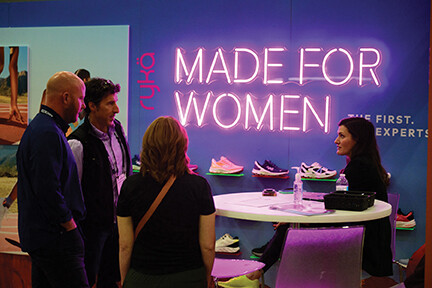 One other footwear brand it was good to see making its TRE debut was Ryka, a shoe made by women, for women. We have been covering Ryka since the days it was founded by Sheri Poe and it is good to see the brand making an impact in run specialty now with their female-only shoes.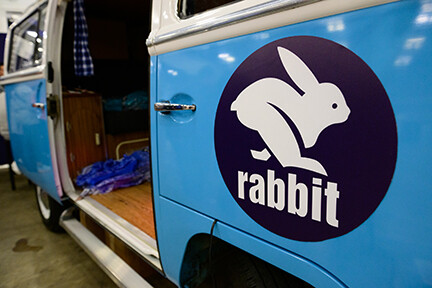 There were enough vehicles on the show floor this year to take a trip around Austin and back — the Nike Winnebago, the Repreve trailer, Rabbit's van, Keen's VW bus that doubled as a bar. They all made for a quick getaway after the show closed.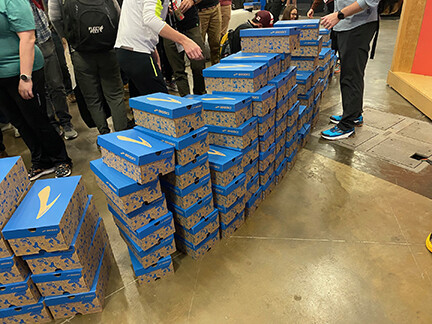 Had to love the return of the Brooks shoe giveaway that opened the show. After a one-year hiatus due to COVID concerns in 2021, its pyramid of running shoes in its booth disappeared under the onslaught of those first in line at the opening. RI editors didn't join the rush, though.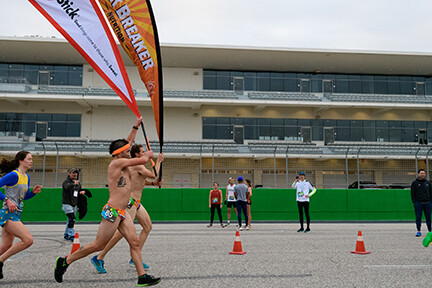 We had early meetings with vendors – and a late night before with everyone – so we didn't make it out to the Indie 5K at the really cool Circuit of the Americas, but we were told there were over 400 runners at this truly unique racing venue – including some dogs, a squirrel (from Squirrel's Nut Butter, of course) and some half-naked guys from Bonk Breaker.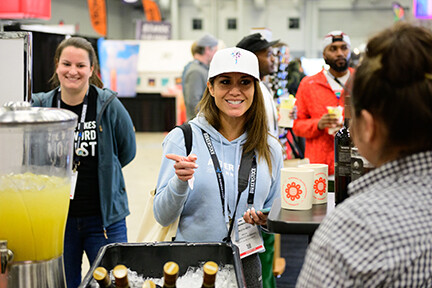 Returning again this year bigger and better were the Wednesday afternoon Happy Hours at a dozen or so booths. We didn't get to sample the drinks at all of them (thank goodness) but we did notice a more relaxed vibe on the show floor as the libations flowed. A great way to wrap up what was a very busy first day of TRE.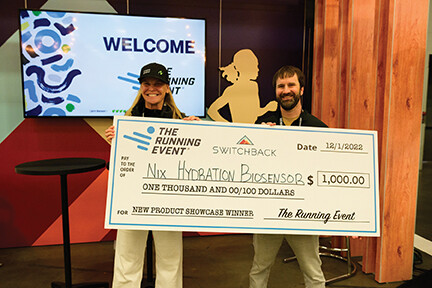 Congratulations go out to Nix Hydration, whose Nix Biosensor was voted the Best New Product in the New Product Showcase area and won a big check (literally) to donate to a charity of its choice. This truly amazing product actually analyzes sweat and provides endurance athletes with personal hydration data – scientifically validated, and delivered in real time. Technology is certainly changing the running game.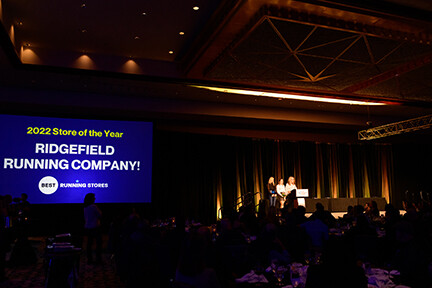 Congrats also go out to a most deserving Store of the Year, Ridgefield Running and owner Megan Searfoss. And to the other three finalists — Palmetto Running, Shu's Idaho Running Company and Fleet Feet Louisville.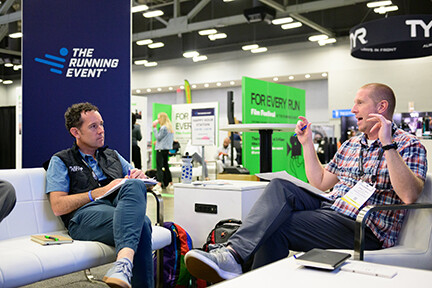 Running Insight senior editor Daniel P. Smith had what is becoming our annual sit down with Fleet Feet CEO Joey Pointer and after much discussion with Joey he decided to finally change his byline to a more casual Danny Smith, which is how everyone knows him anyway. Pointer was, as usual, direct and honest in his answers to our probing questions on Fleet Feet's plans and how they are going to reach their stated goal of doubling in size to become a $1 billion company. The full interview will appear in the Year-End Issue of Running Insight, so keep an eye out for it if you have any interest in what Fleet Feet is up to.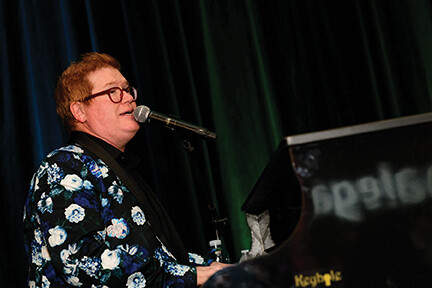 Did anyone notice that it was Elton John playing the piano at the Opening Night reception? We thought he was done touring, but it was nice that he made a final appearance at TRE. Or was that an impersonator? We couldn't be sure.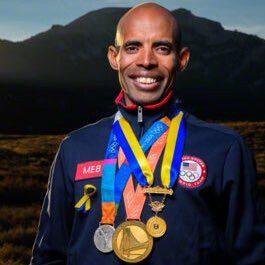 We got our annual photo with the always-approachable Meb Keflezighi, who always looks to us for tips on how to run a marathon and we search him out to confirm how to spell his last name.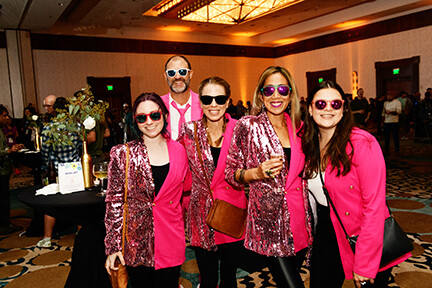 As usual, the Best Dressed at Show Award goes to the crew at Goodr, who seemingly have a different outfit for every day and every event. Always colorful and we loved the name of one of their new sunglasses designed for "smaller" people: The "Never The Big Spoon."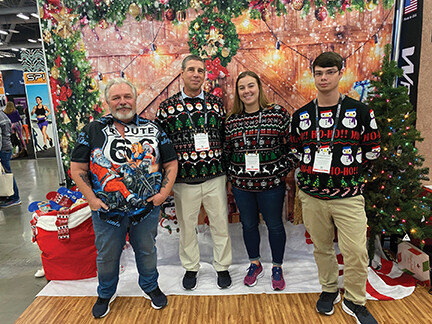 Second place goes to Christmas-themed folks at Wrightsock, who reminded everyone that as soon as they returned home from Austin they had better get their Christmas shopping done.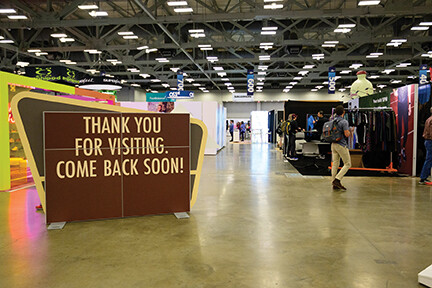 And we will sign off with congratulations and thanks to the staff at Diversified Communications, the owners of The Running Event and Running Insight, and Event Director Christina Henderson. They made these three days in Austin seamless, hassle-free and, in a word, successful. See y'all in Austin next year, Nov. 28-30 – same timeframe, same place.