Under Armour's Project Rock Unveils Black Adam Collection
"Black Adam was Born to Disrupt. The Project Rock Black Adam Collection Helps Athletes do Just That." That's the intriguing sales pitch from Under Armour hyping its connection with Dwayne "The Rock" Johnson and his training for his demanding role in Warner Bros's Black Adam movie, which premieres in theaters on October 21. The UA Project Rock Black Adam collection launched on October 6.
On behalf of Under Armour, I am writing to share the official launch of the Project Rock Black Adam Collection that was developed in partnership with Dwayne Johnson as he prepared for this upcoming role in Warner Bro's Black Adam movie (premiering in theaters on Oct. 21).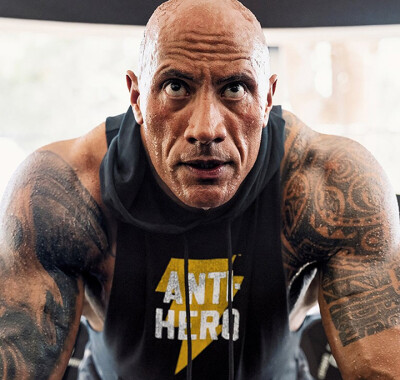 To become Black Adam, Dwayne Johnson had to disrupt his routine. He vowed to come into this role in the best shape of his entire life, and his physical journey in football, wrestling and everyday training prepared him to do just that. It took putting in the work, day in and day out, for over two years throughout the pandemic to achieve the transformation he desired.
The Project Rock Black Adam Training Collection is inspired by Dwayne's dedication and relentless passion for his craft. Like Black Adam himself, the collection represents grit, determination, hard work and most importantly, disruption; and aims to inspire athletes to disrupt the status quo in their own lives, in and outside of the gym.
"The film has without question some of the biggest action sequences I have ever been a part of. The training we did for this movie was the most arduous I've ever done in my life," says Johnson.
It all began with Johnson's decision that instead of wearing a muscle suit, he would morph into Black Adam's unrivaled physique his own way. Dwayne and his team, including trusted strength and conditioning coach and Chief Health and Fitness Brand Officer Dave Rienzi, built an exhaustive training program that incorporated a new philosophy and methodology to his typical training routine—all while making sure he could achieve his goal in the most healthy and productive way.
To achieve his fitness goals for the role of Black Adam, Dwayne needed a training shoe — something comfortable, responsive and breathable that could still support even his toughest levels of training; a shoe that would stand the test of time and hold its own in his wear testing process. This led to the development of the Project Rock 5 (PR5).
"Every time I get out my PR5s and lace up, by that last tie I become very inspired and I am ready to run through a wall," says Johnson.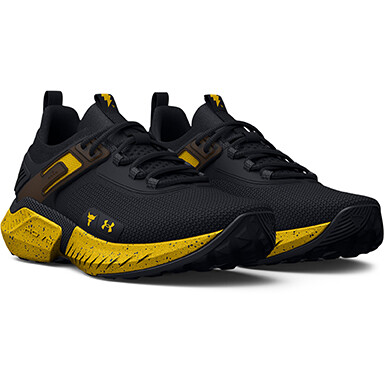 The combination of HOVR and TriBase underfoot provides stability and support, while offering comfort via HOVR foam to get through the toughest workouts. The upper engineered mesh delivers a balance of breathability and durability without extra layers. And rounding it up with an external heel to midfoot TPU strap that is integrated into the lacing and provides an additional layer of support and stability to the medial and lateral sides. The shoe comes with a bonus: the medial side TPU has Dwayne's signature on it - the first ever shoe to incorporate it.
Beyond the footwear there is a full Black Adam apparel collection for men, women and youth. The development and incorporation of technologies such as UA Iso-Chill into the Black Adam Training apparel collection was paramount. Iso-Chill is Johnson's go-to base layer as it is cool to the touch and cool on the body, providing breathability and moisture management in hot and humid environments. Other similar tech and design considerations were considered when designing Johnson's performance gear.
The collection offers a variety of options – from Johnson's signature sleeveless hoodie to baselayers and tanks – for athletes to layer in and peel back when things get heated. The women's collection leads with the HeatGear Sports Bra and ankle leggings, among other styles.
Aetrex Albert 2 Pro 3D Foot Scanner In Use By U.S. Military
Aetrex, the manufacturer of foot scanning technology, orthotics and comfort and wellness footwear, recently reported that the U.S. Army Combat Capabilities Development Command Soldier Center (DEVCOM SC) has rented its Albert 2 Pro 3D foot scanner to use during its deep dive into the need for, and potential impact of, combat and safety footwear designed for women.
Aetrex says the research is "a cross-service effort between DEVCOM SC, the Navy Exchange Service Command's Navy Clothing and Textile Research Facility (NCTRF) and the Life Cycle Management Center (AFLCMC) to improve the design and fit of footwear worn by U.S. women during combat. Following the rental period, the NCTRF purchased and used the scanner for the last test location."
The Army's combat boot improvement and cross-service female fit and size efforts aim to "bring the issue of fit to the forefront, as well as determine whether the current combat and safety footwear adequately accommodate female warfighters," according to the company. The footwear fit effort aims to "improve the fit of combat boots for female service members, ultimately improving soldier performance, enhancing comfort and preventing injuries.
In using the Albert 2 Pro, DEVCOM SC, NCTRF, and AFLCMC teams will be able to gain a better understanding of the unique requirements of female Warfighters' feet. The effort will help to determine if there is a need for female-specific footwear lasts and which design and fit improvements are key.
"The Albert 2 Pro provides a streamlined process for accurately collecting scientific data, including 3D foot measurements, static pressure underfoot and the dynamic pressure for gait analysis, in a matter of seconds," explains Aetrex CEO Larry Schwartz. "For the past 20 years, our scanners have performed over 40 million foot scans that have helped inform our footwear and orthotics designs. With the innovative capabilities of our premium scanner, we are confident that researchers will find the information needed to determine the best approach for their cross-service female fit and size efforts."
ASICS Introduces Repreve's Sustainable Fiber Into Apparel Line
Last week ASICS North America unveiled five apparel items made using Repreve, the world's leading sustainable performance fiber, made from recycled plastic bottles. All five items will be available in the United States with select items also available in Mexico and Canada.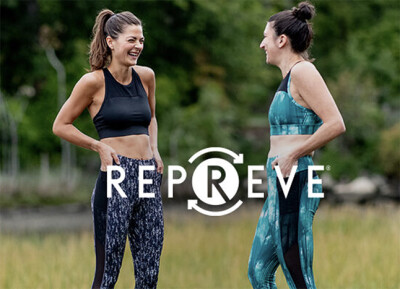 ASICS' sustainability journey through apparel is in the testing phase, a three-plus year process that has focused on introducing recycled polyester into ASICS apparel. ASICS is working alongside Unifi to incorporate Repreve's recycled performance fiber into its apparel that has contributed to diverting 200,000 plastic water bottles from landfills.
The five items in the ASICS line:
Kate Strappy Bra – Approximately six recycled plastic bottles
Kate Pocket Capri – Approximately 13 recycled plastic bottles
Kate Pocket Tight – Approximately 16 recycled plastic bottles
2In Training Short – Approximately six plastic bottles
Performance Tight – Approximately 16 recycled plastic bottles
In 2019, ASICS announced new science-based emissions reduction targets with a goal of reaching net-zero emissions by 2050. The Repreve partnership and apparel release is another milestone for the brand in 2022, joining a recent announcement from earlier this year where ASICS unveiled a new sportstyle shoe, the Gel-Lyte III CM 1.95, which is ASICS' lightest CO2 emissions sneaker, targeting just 1.95kg of carbon emissions per pair.
New Product: oHHo CBD
Aimed at marathon trainees, cannabis and botanical wellness company oHHo has unveiled a range of full-spectrum products to treat inflammation and pain following a long day of training. Created in Bedford, NY, oHHo products are sustainability grown using ethical sourcing and harvested from small farms to help support growing local communities. Gently farmed and cleanly extracted from pharmaceutical-grade bottles, all oHHo products are sustainably packaged and deeply researched to deliver plants with benefits.
The Dream Cream (in photo) is a soothing hand and body cream containing a rich concentration of full spectrum CBD, fragrant with bergamot, neroli, citrus fruits, and lavender, truly comforting the body following a strenuous day.
oHHo's Recovery Balm is a full spectrum cannabis extract balm containing beneficial minor cannabinoids, and terpenes complemented with an all-natural blend of soothing and nourishing ingredients. This product is perfect for soothing pain in joints and tackling irritable skin.
The Repair Balm provides a powerful combination of anti-inflammatory, antioxidant and antimicrobial properties. Containing moisturizing shea butter, cypress oil, black pepper, camphor and cedar wood, this product is great for after a long workout.
Inov-8 Unveils Trailfly Ultra G 280 Trail Shoe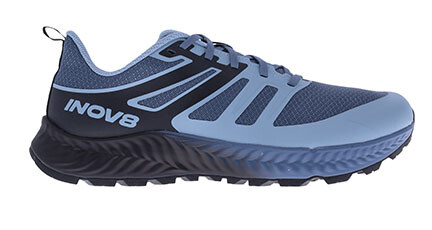 Taking its technology to the next level, inov-8 is launching its first-ever trail running shoes to include the use of nitrogen gas, which the company claims will give runners more underfoot bounce.
The new shoes also boast rubber enhanced by Graphene – which is 200 times stronger than steel – for the tough grip and underfoot flexing technology that allows runners to feel more connected to the trail.
"The nitrogen foam we've created gives an amazingly lighter, softer ride for those runners looking for that," says inov-8 founder Wayne Edy. "Given what our testers said about it, we decided to call the foam Flyspeed, which debuts on our new Trailfly Ultra G 280 shoes that we can't wait to get on the feet of trail and ultramarathon runners. It has great levels cushioning while at the same time delivering incredible bounce and a feeling of being connected to the trail."
Inov-8 carried out testing that showed that Flyspeed foam gives back 65-68 percent of the energy put in. (A standard foam midsole gives back 45-48 percent.)
Superfeet Rolls Out Data-Driven Insole Recommendations Nationwide
Superfeet has expanded its Personalized Fit Experience to include data-driven insole recommendations. Using lab-quality tools and biomechanic analytic software, Superfeet-trained fit professionals, working in U.S. specialty retail stores, guide customers through the insole fit process and recommend custom-tailored insoles when the process is complete.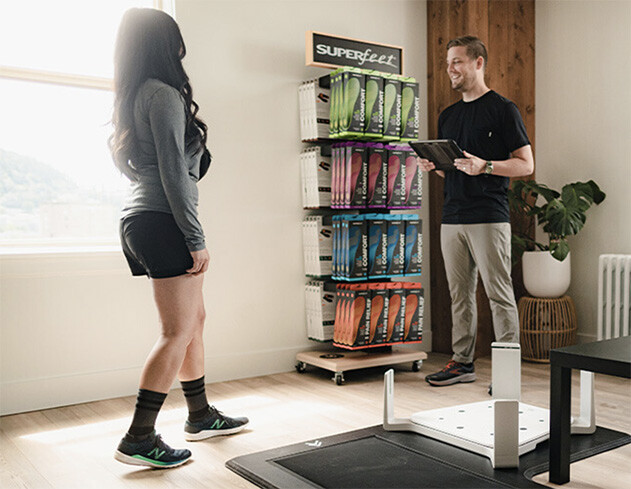 Developed in collaboration with fit-technology manufacturer Volumental, the insole fitting process includes three steps:
A 3D scan is made of the feet with a 360-degree view of each foot, including length, width, instep height and arch height.
The customer walks across a dynamic pressure mat, which captures hundreds of high-resolution data points for in-depth insights into how pressure and forces impact the feet and body while in motion.
The Superfeet associate analyzes the data and uses interactive tablet-based images to show the customer the similarities and differences between each foot and how the data influences which Superfeet insoles are the optimal choice for their feet measurements.
"The structure of a human foot is as unique as a fingerprint and the insole recommendation tool is our way to simplify the complexity of finding the right insole for each person's foot," explains John Rauvola, Superfeet president and CEO. "Not only does the new system analyze foot biomechanics, dimensions and personal needs to recommend Superfeet insoles, it also takes customization to the next level with the option to create individually personalized insoles, 3D-printed at our headquarters in Washington."
The data-driven insole recommendation device reviews a catalog of more than 30 Superfeet insole shapes and feels to match customers with the best insole match, including running-specific insoles, Green Insoles and women-specific Berry Insoles. The data from the fitting can be translated into Superfeet ME3D 3D-printed insoles designed to match the geometry of the foot and unique movement patterns.
Superfeet's Personalized Fit Experience is available in 42 specialty retail stores nationwide, with plans for expansion.
New York Road Runners Appoints CEO

New York Road Runners (NYRR) has hired Rob Simmelkjaer, a former NBC Sports Ventures and ESPN executive, as chief executive officer. Simmelkjaer will oversee all personnel and operations at the running organization, effective November 15.
Kerin Hempel will step down as CEO after leading the organization through her second TCS New York City Marathon.
During his nine-year tenure at ESPN, Simmelkjaer worked in various positions, including vice president, International Development, vice president and assistant to the president, and director of NBA programming. In 2011, he was named senior vice president of NBC Sports Ventures, where he led new business development and created and oversaw NBC sports properties. Simmelkjaer has also worked as an on-air contributor for ABC News, ESPN, NBC Sports, NBC News, MSNBC, CNBC, and the Tennis Channel. He anchored MSNBC's coverage of the 2012 and 2016 Summer Olympics. Most recently, Simmelkjaer founded Persona Media, Inc. In 2020, Connecticut Governor Ned Lamont appointed Simmelkjaer for a volunteer role as chairman of the Board of Directors for the Connecticut Lottery.
Saucony Releases Endorphin Shift 3
Earlier this month Saucony released the Endorphin Shift 3 (MSRP: $150), an everyday runner built for performance and comfort. Deeper Formfit design hugs every part of the foot for a personalized fit and feel and a new torsional heel groove provides a smoother transition from heel to forefoot.
Among other highlights:
Stacked with PWRRUN cushioning for comfort, it uses enough foam to help runners transition effortlessly from week to weekend.
The softer side of SpeedRoll Technology offers an extra 2mm of PWRRUN foam cushioning and a focus on comfort.
Durable and lightweight mesh pairs with a streamlined heel clip for support that doesn't weigh runners down.
With a new groove in the heel, runners can touch down and roll forward more easily than before.
The style is vegan and contains recycled materials.

USATF Foundation Supports Bras for Girls with Gear Donation

The USATF Foundation has donated more than 3900 tee shirts to the non-profit Bras for Girls, an organization designed to help keep girls in sport.

The mission of Bras For Girls is to donate sports bras and exercise gear to girls, targeting late elementary to middle school girls — an age at which some girls choose to stop participating in sport due to discomfort with their changing bodies. In addition to bra donations, Bras For Girls shares educational content with a wide spectrum of girls and women about breast development and body changes and how to accurately choose and fit a sports bra. Since 2017, Bras for Girls has donated more than 23,000 bras to middle school girls in need.

"We are gratified by the USATF Foundation's support of the Bras for Girls mission; a lack of a sports bra or exercise apparel should never be a barrier for girls' participation in sport," says Sarah Lesko, Bras for Girls Executive Director. "Once girls feel empowered, there's no limit to what they can do."

Outdoor Research, Oboz, Osprey and 52 Hike Challenge Launch Second Year of Over 50 Outside

Over 50 Outside, a program created by Outdoor Research, Oboz, and Osprey in collaboration with 52 Hike Challenge and In Solidarity, has launched its second annual program. Over 50 Outside was launched last year to inspire women over the age of 50 to take to the trails and build their health, fitness, confidence and well-being.

"We opened enrollment with 150 spots in August 2021, hoping we would attract enough women to participate and fill all the slots. To our delight, we had more than 2500 women apply," reports Liz Wilson, one of the founders of the effort and Senior VP–Global Product Creation at Outdoor Research. "That tells us that the desire and the need is there, and we're looking forward to continuing to increase participation, engagement and miles hiked in the second year of Over 50 Outside."

A survey of 65 people who responded after the past year's event found that those participants:

Hiked in 46 states around the U.S.
Hiked more than 22,331 miles.
Completed more than 3,707 hikes.
92 percent plan to continue hiking regularly.

Most importantly, the women increased their skills and confidence. Before starting the program, 23 percent of respondents identified as beginners, 28 percent intermediates, 34 percent seasoned, and 15 percent advanced. After the challenge, 12 percent identified as intermediates, 33 percent seasoned, and 53 percent advanced.

The year-long program launched in September 2021 with a virtual kick-off followed by monthly check-ins covering topics such as hiking gear for the different seasons and recreating responsibly, as well as sessions on safety, conditioning, nutrition, and more.

Hi-Tec Sponsoring Run Catalina Series

Heritage outdoor footwear, apparel, and accessories brand Hi-Tec is Hi-Tec has been named the new title sponsor of the Run Catalina race series, which will now be called the Hi-Tec Run Catalina Series. Through this three-year partnership, Hi-Tec will have a presence on-site and within the marketing efforts of Run Catalina's portfolio of races, including the Catalina Island Half Marathon, the Avalon 50K/50M Benefit Run, and the Catalina Island Marathon.

With the Run Catalina partnership, Hi-Tec returns to its legacy in the hiking and running categories. The brand's current Trail Destroyer family of footwear offers trail-capable technologies at an accessible price point. The brand also plans to introduce a collection of footwear designed for trail running in 2023.