Sometimes the story of a running shoe company is about much more than the shoes it makes. In the case of an innovative new specialty shoe brand, O2 Running Shoes, that story extends beyond its product, its retail distribution, and its marketing plans to something very unique that it calls its Purchase One-Donate One effort, something that fits into its motto, The Disruptive Running Shoe Project.
The concept, according to O2 co-founder Marc Chapman and his wife and co-owner, Bonnie, is exactly as it sounds: In cooperation with its run specialty partners, the company will donate one shoe for each one it sells. When O2 approaches stores it is looking for those that share its mission to help those in need.

The story actually began back in 2003 at Kilometers Running Store in Connecticut, that Chapman and Bonnie ran for 18 years. With a focus on smaller, upcoming brands – they were one of the first retailers to carry On, Hoka and others – Kilometers was a true run specialty shop. But they eventually became disillusioned with many of the brands they were carrying and looked for an alternative.
"When those companies need you, they tell the stores how loyal they will be and how they will keep quality high, but when they grow and take in investors they open every door and produce too many SKU's — small stores can't keep up," Chapman laments. The final straw for was the Internet, and they found themselves carrying shoes from companies that were selling directly to their customers, using Google Analytics and Facebook Pixels to find their customers. And when many of those same brands began opening their own retail stores to compete, "we just couldn't take it anymore," he says.
So The Disruptive Running Shoe Project is born: "We had an idea for better shoes."
A little over three years ago Chapman started to design a shoe with a dual midsole that used sustainable materials. The first layer is a stable EVA midsole and the second is its proprietary Oxygen Impact Midsole — basically thousands of tiny air chambers surrounded by rubber. They partnered with a large cushioning manufacturer to develop the initial prototypes.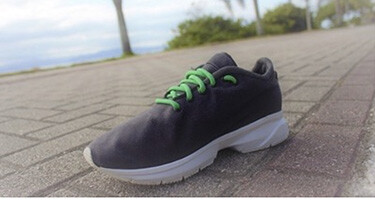 Fast forward to the Spring of 2022 when they launched their first shoe on Kickstarter, the O2 Explorer Multi-Use Runner (photo above). The campaign was a success and led to a second running shoe called the O2 Breeze Lightweight Trainer – a super lightweight shoe built for the gym, workouts, racing or just walking around town (photo below). The company is now working on two additional shoes — the O2 Street Runner and O2 Trail Monster.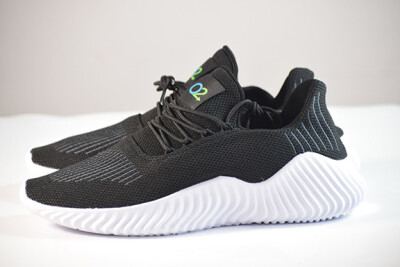 Which brings it all back to its ambitious donation program.
"We have always been involved in supporting charities and in the store we did many charity events," Chapman explains, stressing that they would donate every penny to the group they did the race with, even paying for the expenses of the races themselves. While some manufacturers did donate product for these races, it became difficult to count on them and he always promised himself that if he ever manufactured his own running shoes his mission would be to give back.
That gave birth to its Purchase One-Donate One effort. While running through New York City streets during COVID he noticed just how many folks were sleeping on those streets. As part of a group called the Sleeping Bag Project NYC, which purchases sleeping bags for the homeless, he began asking these homeless men and women what they do for shoes and how they got them. "Most folks are wearing the wrong size, no laces, shoes so old they are falling apart, some folks with no shoes," he recalls.

"So I decided that if we got this shoe company off the ground, this would be our mission, to donate one shoe for each one purchased — no exceptions. Now when I approach stores I am looking for stores that share our mission to help."
The plan is to donate these shoes once a quarter and to not only give the shoes, but with the help of local stores to actually go to shelters and fit the folks." The goal is one million shoes in five years and they hope to add socks to the program as well.

Now O2 Running Shoes has a marketing and distribution focus solely on independent run specialty stores. A six-point plan defines its marketing and sales strategy:
1. Limited Distribution — only three to five retailers in any state.
2. Profit margins that are above the normal.
3. No direct selling — any online order is sent to the local retail partner to fill.
4. Profit sharing with partners at the end of each year.
5. Pop-ups at gyms and other places in conjunction with the local retailer.
6. Social media marketing featuring its shoes and the local retail partner.
Chapman is looking to expand organically for the near future and currently is carried in 10 stores in 10 stores Connecticut, New York and New Jersey, with a goal of 150 stores – perhaps five in the larger states and three in the smaller ones. He expects to be adding stores in South Carolina, Colorado and Los Angeles in the near future.
Adding these stores has two elements to it — they must fit their customers correctly by sizing them, gate analysis and clinics, and they must be charity oriented. Also, there needs to be a homeless shelter in the area.
"Unfortunately at this time, there are so many shelters," Chapman says. "So we need to train volunteers to fit shoes so that when we donate shoes we want these folks to have the same experience as if they were going to a store."

In another sign of its growth, Chapman reports that O2 recently partnered with a Western European distributor, ATS Nordic, a move that was not planned for at least three more years in the company's expansion.
"They approached us — they had seen our Instagram site and loved what we were doing," Chapman says. "They have worked with other large running specialty brands before and we have a long-term partnership with ATS. We are super excited about this. It gives us real credibility."