Brooks Reports Double Digit Growth In Second Quarter
For the second consecutive quarter, Brooks Running held the top spot in the U.S. adult performance running footwear market with 21 percent market share based on revenue* and continued its momentum with record global revenueup 11 percent compared to the second quarter of 2021.
In the face of ongoing economic and supply chain stressors, Brooks began to meet strong demand in May, keeping the company on track for projected double-digit revenue growth in 2022.
Brooks captured five of the top 25 adult performance running footwear shoes at U.S. retail in the first half of 2022: the Ghost 14, Adrenaline GTS 22, Adrenaline GTS 21, Revel 5 and Glycerin 19. The Ghost and Adrenaline maintained their positions as the top two selling franchise lines in the U.S. market, with a combined 14 percent of sales revenue.
Manufacturing recovery allowed Brooks to fully meet demand beginning in May and launch the Glycerin 20 franchise in June, both key factors in achieving 12 percent revenue growth in the U.S.
This month Brooks launched a global brand campaign, "It's Your Run." The campaign is a celebration of the creative ways all types of runners get to their personal finish lines. Built on the insight that running can be hard for even for the most committed runners, the campaign focuses on the creative ways that runners achieve their best run.
TC Running Acquires St. Paul-based Run n Fun
Run n Fun, a run specialty store located in St. Paul, MN, has become part of TC Running Company, keeping the shops independent and locally owned.
Run n Fun has been serving the running community in the Twin Cities and surrounding area for more than 30 years. Their mission has been to support everyone from the casual walker and high school athlete, to the college runner and beyond. In fact, according to an online post, TC Running was born out of Run n Fun's rich history.
"I purchased my first pair of running shoes from Run n Fun in 1992," says TCRC owner Adam Lindahl. "In 1997, my first job was at Run n Fun and it fueled my love for the business. The TCRC team is proud to continue the legacy of Run N Fun as locally owned specialty run shops focused on runners."
"It was very important to us to sell the business to someone we knew would continue our legacy and keep our deeply planted roots within not only the running community but the community itself," adds Run n Fun founder and owner Kari Bach.
Joining TC Running's management and ownership is long-time Run n Fun manager Nick Wareham.
The stores will transition the naming next year, but for now, TCRC/RNF locations will include the following Eden Prairie, St. Paul, Maple Grove, Burnsville and Woodbury.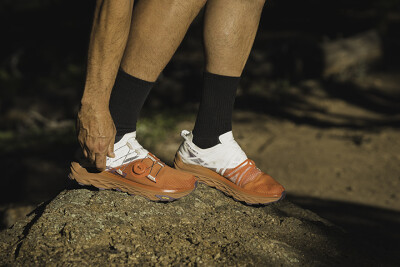 Altra Debuts Its First Shoe Featuring the Boa Fit System
Altra recently launched the Mont Blanc Boa trail runner, the first Altra shoe to feature a Boa Fit System for a secure, personalized fit. The shoe is designed for technical trail runners seeking a way to dial in their best fit, engineered with Altra's Balanced Cushioning platform and Footshape Toe Box, Altra's plushest midsole foam Ego Max, the Boa Fit System and the Vibram LiteBase outsole.
The result is a micro-adjustable, breathable and traction-ready shoe.

Highlighting the technology story around the Mont Blanc Boa trail runner is the PerformFit Wrap powered by the Boa Fit System, which delivers dialed in performance and micro-adjustable, precision fit. With customization in two distinct zones, runners gain a closer connection to the trail and superior stability on dynamic terrain. Within seconds, runners can adjust for an all-day personalized fit, no matter the conditions.

"With the Mont Blanc being designed as our premium trail product, we wanted to push the on-foot experience even more by working with Boa to provide an elevated dynamic fit," explains Alex Lind, senior product line manager at Altra. "The dual dial system allows runners to tune their fit in two areas, and provide a confident fit in variable terrain. It also allows for on-the-fly adjustments."

The Mont Blanc Boa is available in a sleek Maroon Bells colorway with a retail price of $210.
Injinji Launches Merino Wool Collection For Fall 2022
Injinji, the maker of the patented five-toe Performance Toesock, has launched Merino wool styles in their its Run, Liner and Outdoor collections for Fall 2022, allowing runners to continue towards their goals in a way that is sustainable, long-lasting, and eco-friendly.
Crafted from premium Merino wool that is certified mulesing free, the Injinji collection adds another level of performance for runners by repelling dirt and water, resisting odor, wicking moisture and blocking UV rays. The socks are knitted to provide extra ventilation on the top of the foot with breathable mesh, while the five-toe design helps to prevent blisters and hotspots.
"We are committed to producing premium performance toesocks that give wearers the best protective layer between foot and shoe, no matter their activity," says Injinji director, e-commerce and operations Claire Kooperman. "To continue fulfilling this promise to all Injinji customers, it was necessary to go back to the drawing board and research how to comprehensively improve wool offerings — from fiber to design and fit. The result of this multi-year testing process is a new wool offering in the Run, Liner and Outdoor series."
Injinji has continued its improvements within the overall brand lineup by transitioning from Coolmax to a Coolmax EcoMade fiber in 2022 for its polyester styles. Coolmax EcoMade is a more sustainable alternative that is produced from 100% post-consumer recycled polyester. This change will maintain the expectations and product performance of the Injinji brand while helping to limit the carbon footprint.
Maggie Montoya Joins Salomon Athlete Team
Salomon has expanded its roster of U.S. road running athletes with the addition of professional road and track runner Maggie Montoya. Montoya joins the Salomon team with a resume of running accomplishments, including her debut marathon time of 2:29:08 from the Chevron Houston Marathon in January 2022.
Montoya has her sights set on a marathon this fall, where she will wear a full Salomon kit and race in Salomon S/lab Phantasm shoes.
"I'm excited to join the Salomon team and be a part of the next stages of the brand's growing road running presence in North America," says Montoya. "I've enjoyed racing in the S/Lab Phantasm in my last several road races and look forward to continuing my training in Salomon as I prepare for my fall marathon. I'm grateful for this opportunity to represent Salomon alongside my teammate Noah Droddy."
Montoya ran Division I track while attending Baylor University leading the college to the NCAA Championships in her final season placing second and earning the All-Region honors at NCAA South Central Regional in a season-best 6,000-meter time of 20:21:7. Following college, Montoya moved to Boulder, CO to join the Roots Running Project, training with fellow Salomon athlete Noah Droddy. Within five years of training with the group, she has hit several personal records, including a 32:06:87 10K that earned her a spot in the 2021 U.S. Olympic Trials and a recent 15:19 5K at the MT SAC Relays in April 2022.
New Product: Blackstrap Sun Protection Apparel
Runners can protect their skin against the sun and heat with a new line of sun protection apparel from Blackstrap that boasts technical benefits in a stylish package. The new apparel line features sun shirts for men, women and children that focus on performance with third party-verified UPF-50+ certifications. All Blackstrap fabrics and products are developed in-house and are milled, cut and sewn in the USA.
Brackish Sunshirt Tops
Highlighting the line of the Brackish Sunshirt tops (in photo) available in both hooded and crew styles for men, women and children. Among the benefits:
UPF 50+
Four-way stretch
Lightweight
Quick drying and wicking
Matted and brushed on skin
Chlorine & salt resistant
Lesko Named to USATF Foundation Board of Directors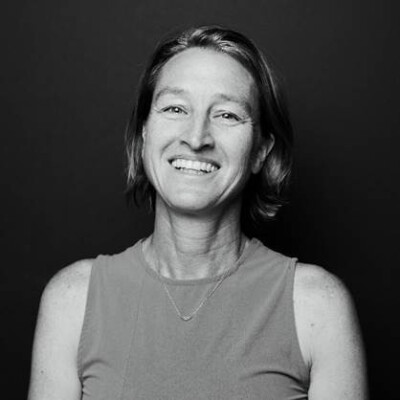 Sarah Lesko has been named a Director of the USA Track & Field Foundation Board. Lesko is the executive director of the non-profit Bras for Girls, based in Seattle, WA. After running collegiately at Yale and practicing as a family doctor in the Community Health Center setting, she served as director of corporate development at Oiselle, where she helped start a sports bra donation program called Bras for Girls in 2017. Sarah has also coached middle school track and cross-country and continues to coach at the elite level with the Littlewing Athletics team.
"I'm thrilled to contribute to the important work of the USA Track and Field Foundation, which serves such a vital role in supporting US track and field athletes," says Lesko.
The USATF Foundation provides a means to attract and guide funds to new and innovative track and field programs with an emphasis on providing opportunities for youth athletes, emerging and experienced elite athletes, along with guidance on future career paths. The Foundation depends upon donations from its Board of Directors, major gifts, and from generous fans of track & field.
In other USATF Foundation news, directors Scott Tonn and Dan McClory organized and presented at a unique fundraising opportunity by raising awareness of the USATF Foundation to business associates, friends and family that were traveling as an invitation-only group to the 2022 Indianapolis 500. At a black-tie dinner on the eve of the race, the group was able to raise over $125,000 for the Foundation's Elite Grant Fund.
"We were blessed and thrilled to be able to return to the Indy 500 this year and to be joined by over 180 extraordinary individuals," says Tonn, shown in the photo above with Arie Luyendyk (guest speaker and two-time Indy 500 winner) and McClory. "This year's group went above and beyond supporting our Extravaganza Gala philanthropy, the USATF Foundation. I am grateful and humbled by the meaningful support of these very special people."
361° Named Presenting Sponsor of the Surf City Marathon
Performance footwear brand 361°has entered into a partnership as the presenting sponsor of the Surf City Marathon. The 27th running of the Surf City Marathon and Half Marathon presented by 361° will take place in Huntington Beach on Sunday, February 5, 2023.
"As a performance footwear brand, 361° represents the ideal of going one degree beyond. We are always thinking of ways to support the running community and to provide enhanced venues for all athletes to achieve their goals; be it to run faster, farther or simply enjoy a day with family and friends," says brand manager Phil Anthony. "With our offices located in nearby Irvine, we greatly appreciate the opportunity to partner with the Surf City Marathon because it's more than just a race, it's a community tradition in Huntington Beach known by runners across the country."
Not only will 361° have a team of employees, athletes and ambassadors participating in the race, the company will create an interactive exhibit at the two-day Active Lifestyle Expo at the main Huntington Beach Parking Lot. The free wellness expo is open to the public featuring the latest in running gear, nutrition and fitness apparel as runners pick up their race number and t-shirt.
Boa Nutrition In Brand Partnership with Ironman
Boa Nutrition, inventor of the Boa Endure rapid sodium replenishment product, has been selected as Official Endurance Salt of Ironman in the North America region as well as the Ironman World Championship and Ironman 70.3® World Championship.
Boa Endure made its Ironman debut in May at the 2021 Intermountain Healthcare Ironman World Championship presented by Utah Sports Commission in St. George, UT, where the oral aerosol was provided to more than 3000 athletes to aid with hydration. The Boa brand will be on site again, Oct. 6 and 8, at Ironman's pinnacle event, the 2022 VinFast Ironman World Championship taking place in Kailua-Kona, Hawaii. Each participant will receive a canister of Endure in their athlete bag prior to the competition.
"This multi-year partnership with Ironman positions Boa as the preferred sodium replenishment product for triathletes," says Jon Pritchett, CEO of Boa Nutrition. "We can't think of a better organization or group of athletes through which to showcase the groundbreaking benefits of Endure."
In addition to having brand presence, Boa will be featured as the title sponsor of the Ironman 70.3 Santa Cruz on September 11, 2022. Earlier this year, BOA signed an endorsement deal with top American triathlete and Ironman champion Sam Long.
In other news at Boa Nutrition, the company has partnered with with distance runner, marathon champion and 50K world record holder, Des Linden. The two-time U.S. Olympian and 2018 Boston Marathon winner will serve as a brand ambassador for Endure, which she will continue to utilize throughout her training and competition schedule.
Linden is one of the most accomplished American distance runners of all time, with multiple top-five performances at four of the six World Marathon Majors. In 2011, her near-win in a thrilling 1-2 finish at the Boston Marathon set a new American women's record. She was the top American woman at the 2014 New York City Marathon and again in Boston in 2015. After representing Team USA at the 2012 London Summer Olympics and four years later in Rio, she braved rain and wind in 2018 to become the first American woman in 33 years to win the Boston Marathon. In 2021, Linden set the 50K (31.06 miles) world record at 2:59:54, making history as the first woman to run the distance in under three hours.
New Product: Chaco Canyonland Sneaker
Chaco Footwear recently launched its latest footwear style, Canyonland, offering consumers two types of traction, non-marking ChacoGrip rubber compound, for a land-to-water sneaker option.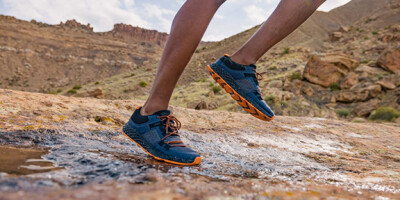 Canyonland dries quickly with a breathable mesh, multiple drainage points and a padded heel and tongue made with non-absorbent foam. The footbed features Chaco's Luvseat arch support that is removable to dry quickly when wet.
"We are known for our iconic Z sandals and we've brought the all-day Chaco comfort and support people love to a sneaker style that is water capable," explains Adam Garrett, VP—product at Chaco. "Canyonland is the perfect blend of lightweight, breathable and comfortable — it's ready for all types of adventures."
Canyonland is available in men's and women's sizing.
Tailwind Launches Active Hydration Drink Mix
Tailwind Nutrition, the provider of simple and complete sports nutrition products for athletes, is launching Active Hydration, a drink mix containing electrolytes, collagen and vitamin C. Active Hydration mixes clear with water, has a light, fruity taste, and is a refreshing way to keep a runner's body well balanced.
"For 10 years, Tailwind has fueled adventures with Endurance Fuel and helped athletes recover quickly with Recovery Mix. Customers asked us for a way to hydrate for shorter or less intense workouts when they don't need the full energy boost of Endurance Fuel," says Jeff Vierling, co-founder of Tailwind. "We are thrilled to introduce Active Hydration after two years of development and testing on the trails here in Durango, CO. The initial feedback from testers has been amazing, and we can't wait to share it."
Lightly sweetened with cane sugar, Active Hydration has a clean, refreshing taste, without the overly strong flavors and funky aftertaste typically found in electrolyte drinks. It is available in four flavors – Cherry Acai, Tangerine Grapefruit, Tropical Orange, and Strawberry Lemonade – and is packaged as individual serving packets in 12-pack boxes. One 9-gram packet has 35 calories when mixed with 12-ounces of water with an MSRP of $21.
Delphry Transitions Athlete's Foot Stores To The Dahir Group
Joe Delphry, a The Athlete's Foot franchise owner since 1999, is transitioning his seven stores to The Dahir Group. Dahir took over the reins of the Atlanta, GA, Charleston, SC, Winston-Salem, NC, Portsmouth, Newport News, and Suffolk, VA stores as of July 1, 2022, bringing the store count to 20 locations.
"We thank Joe Delphy for letting TAF be a part of his life and his family for 23 years," says Matthew LaFone, president and GM of Americas (TAF),. "We wish him all the best in his next endeavor and look forward to working with Shady Dahir on his new locations."
The Athlete's Foot has 550 stores and e-commerce shops in more than 30 countries. Its global headquarters is located in Stans, Switzerland and Atlanta, GA.
*The NPD Group/Retail Tracking Service, Total Measured Market, U.S. dollar sales, January-March 2022 (Q1) and April-June 2022 (Q2)