Saucony Celebrates 125th Anniversary With Endorphin Elite
In celebration of its 125th anniversary, Saucony has launched the Endorphin Elite, which it bills as "the lightest, fastest and most energy efficient shoe the brand has ever made." Combining PWRRUN HG, its newest and highest rebound foam, with a new articulated, fork-shaped carbon plate, the Endorphin Elite is engineered to propel runners toward their next personal best. The upper combines knitted and mesh materials for next-to-skin, weightless performance, while a midfoot webbing system ensures a secure fit. The Endorphin Elite launches today, February 21 with an MSRP of $275.
Among the product features:
• New PWRRUN HG foam cushioning is brand's most energy efficient foam to date.
• New heel-to-toe fork-shaped carbon plate is more flexible and adaptive, maximizing energy return.
• The upper combines knitted and mesh materials for next-to-skin, weightless performance
• Highly perforated tongue for protection and breathability.
• Midfoot mesh webbing helps secure the perfect race-ready fit.
• PWRRUN PB sockliner delivers an extra layer of responsive cushioning.
• XT-900 premium carbon rubber outsole offers exceptional traction and durability.
• This style is vegan and contains recycled materials..
• Heel-to-toe Offset: 8mm (40 mm heel/32 mm forefoot).
• Weight: Men's 7.2 oz., Women's 6.5 oz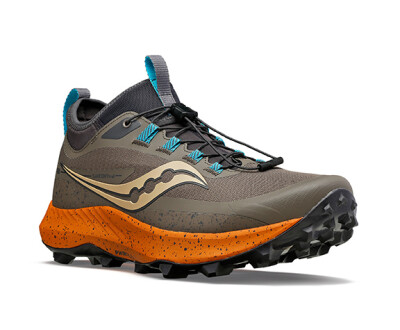 Saucony Comes Out Big With Peregrine 13 Collection
Also at Saucony this month is the launch of the Peregrine 13 Collection, the latest version of the brand's franchise. Named for the fastest bird on earth, the Peregrine 13 Collection offers a triad of off-road options: Peregrine 13 for speedy trail efforts; Peregrine 13 ST for soft, sloppy and muddy terrain; and Peregrine 13 GTX for waterproof protection. The Peregrine 13 Collection became available February 7.
"There are more opportunities than ever for runners to hit the dirt and when they do, we want them to have the best experience possible," explains Katie Pyle, senior product line manager for Saucony Trail. "Every journey takes courage, but you can take the first step with confidence in our trail running lineup. Wherever you go the Peregrine 13 Collection holds nothing back for the ultimate off-road experience. With this update, we've made every detail even better: speed, comfort, agility, protection and responsiveness."
In addition to the Peregrine 13, Saucony's 2023 line of new trail footwear includes the brand's first-ever performance hiking boot, the Ultra Ridge GTX (3/28/23), featuring a waterproof, mid-cut Gore-Tex upper and PWRRUN PB foam cushioning; the Xodus Ultra 2 (4/11/23), made to go the distance with more room and comfort for the extra miles; the Blaze TR (5/2/23), offering a PWRRUN foam midsole and grippy lugs for all-day exploring; and the Endorphin Rift (7/18/23), powered by the brand's signature Speedroll technology and PWRRUN PB cushioning.
The Peregrine 13 Collection is available in men's sizes 7-13 and 14, and women's sizes 5-11 and 12. MSRP: Peregrine 13 ($140); Peregrine 13 ST ( $150); Peregrine 13 GTX ($160).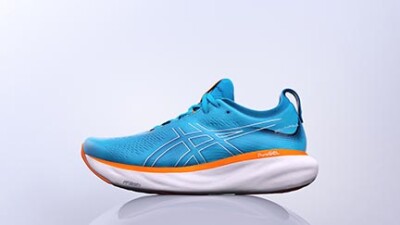 ASICS Launches Gel-Nimbus 25
ASICS has launched the Gel-Nimbus 25, billed as "the most comfortable running shoe, designed to help runners experience the uplifting power of running on the body and mind." Rated by runners as the best in comfort in an independent test by The Biomechanics Lab in South Australia, the Gel-Nimbus 25 offers cushioning and soft landings.
The Gel-Nimbus 25 features new PureGel technology, which is softer than previous Gel technology, creating soft landings. The PureGel technology, which is not visible from the outside, is strategically integrated in the midsole to deliver enhanced shock absorption and smoother transitions.
Also designed to provide improved underfoot comfort, the shoe comes with new lightweight and energetic FF Blast Plus Eco cushioning, featuring 20 percent more foam compared to previous iterations. The foam is made from at least 20 percent bio-based material from renewable sources such as leftover waste from sugarcane processing.
A new soft, yet breathable and stretchy knit tongue and collar construction deliver an easier step-in and a more adaptive fit, helping the shoe to feel like an extension of the foot and make each stride more comfortable and smooth.
"Following ASICS design philosophy, we use athlete wear testing, biomechanical research, sustainable methods and decades of craftmanship to create products that feel best for both body and mind," explains Laura Bolgen, senior manager global product line, Performance Running Footwear. "For the development of the Gel-Nimbus 25 we set the bar very high. We knew that our ambitious goal of 'creating the most comfortable running shoe' was one that would require even more design and development work as well as internal and external testing and consumer validation.
"As a team, we're incredibly proud of what we've been able to accomplish throughout the 18-plus months of tireless development work and we hope that every runner will feel the difference that this uniquely comfortable Gel-Nimbus 25 model has to offer."
The Gel-Nimbus 25 is available for men and women for $160.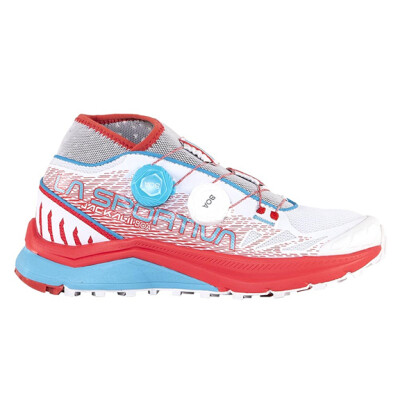 La Sportiva Launches Revamped Jackal II
Featuring a wide toe-box and a well-cushioned midsole and designed to meet the needs of novice and elite ultrarunners alike, the revamped Jackal II from La Sportiva is described as "the perfect companion for every run, no matter the distance or terrain."
This version comes equipped with a new lightweight upper made from eco-friendly materials that allow the shoe to be nearly an ounce lighter than its predecessor. In addition, La Sportiva uses a midsole that combines Infinitoo polyurethane inserts with compressed EVA to create a soft yet responsive ride. MSRP is $165.
Among its other features:
• An eco-friendly upper with a thin and highly breathable recycled fabric is paired with a dynamic lacing system to allow the shoe to accommodate a wide variety of foot shapes.
• Frixion at 2.0 rubber compound with impact brake system offers excellent traction in a wide variety of terrain, from muddy singletrack to rocky alpine terrain.
• A redesigned heel allows for a more comfortable and secure fit.
• The men's weighs just 9.7 ounces and the women's version comes in at 8.6 ounces.
In addition, the Jackal II Boa shares the same midsole and outsole as the Jackall II, but features technology from Boa to create a dynamic fit system. A super sticky outsole provides grip, while the double Boa on this model allows for quick adjustments to the heel and forefoot so that runners can ensure that they have a secure connection to the shoe when entering technical terrain. The Spiyralift tongue and collar cradle the ankle, providing increased proprioception and protection in demanding terrain.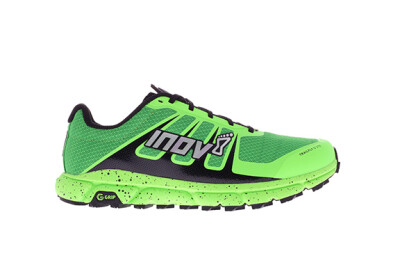 Inov-8 Launches Trailfly G 270 V2Trail Shoe
Inov-8 is heating things up with the launch of a trail running shoe called the Trailfly G 270 V2, the successor to the Trailfly G 270, which in 2020 won four major Trail Running Shoe of the Year awards. Now equipped with a better fit, greater comfort and longer-lasting durability, the new shoe is for trail runners wanting fast-feel footwear for longer distances.
"Some people said it was impossible to improve upon the first version, but our talented design team simply saw that as a challenge," says Wayne Edy, who founded the English Lake District-based brand in 2003. "A series of clever updates to the shoe's upper, combined with the retention of the magic in the outsole and midsole, means we have a new offering that will excite the hearts – and legs – of trail runners all over the world."
Among the changes is a repositioning of materials to allow more stretch and breathability in the toe box, the introduction of a more comfortably padded slimline tongue and the use of a new mesh material covering the upper that is 25 percent more durable. MSRP: $170.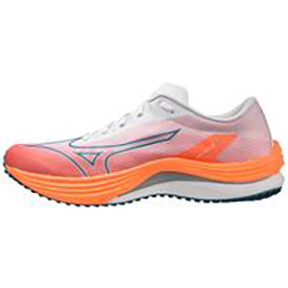 Mizuno Launches Wave Rebellion Flash
Mizuno has launched the Wave Rebellion Flash, a shoe designed for distance runners and "anyone looking to feel fast." Runners can feel the cushion of the Mizuno Enerzy Lite, combined with Mizuno Enerzy foam and a glass fiber-reinforced wave plate. The glass fiber-reinforced wave plate is significantly more responsive than Mizuno's standard Pebax wave plate.

Priced at $160, the Wave Rebellion Flash offers all the perks of a distance shoe without the higher price. It also focuses on sustainability by including a plant-based wave plate, more than 90 percent recycled content on the upper body lining textile and more than 90 percent recycled content on the sockliner lining.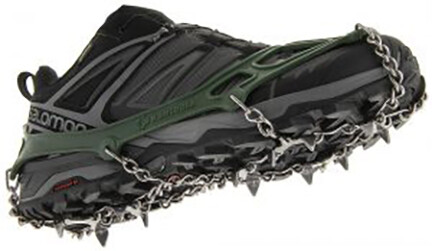 Kahtoola Supports 1% For the Planet
Kahtoola recently launched a Forest Green version of its MICROspikes footwear traction designed for hiking in snow, ice and muddy conditions. Twelve stainless steel spikes per foot bite into ice and snow, providing a stable walking platform. An ergonomically shaped harness features a raised heel tab to pull over shoes and boots while retaining its elasticity down to -22°F. Lightweight and packable, Kahtoola MICROspikes allow users to safely navigate mountainous terrain.
For every Forest Green pair sold, Kahtoola will donate two percent of sales to the 1% for the Planet Impact Fund at National Philanthropic Trust.
"Our goal is to create products that make outdoor adventures more accessible and rewarding and underlying that is the responsibility we have as a company to address the climate crisis to the best of our ability by minimizing our environmental impact," explains Danny Giovale, Kahtoola owner and founder. "This product-specific initiative is one important way we can increase our efforts by doubling our usual 1% for the Planet commitment to support the efforts of this proven environmental organization."