New Product: Saucony Launches Saucony X Cycora Apparel Collection
Further advancing its commitment to sustainability and waste reduction, Saucony recently launched the Saucony x Cycora collection, a line of performance running tops made partially using Cycora material, a regenerated polyester sourced from textile waste that would otherwise have ended up in landfills.
The men's and women's collection consists of a fitted tank, crop top, short sleeve and singlet, with each piece using a component that is made of up to 23% Cycora material. Saucony is the first running brand to collaborate with Cycora by Ambercycle, creating a performance apparel line. The Saucony x Cycora collection is available exclusively at saucony.com.
"Our journey toward a more sustainable future continues with this collection," explains Brian Moore, senior VP–global product for Saucony. "Advancing our commitment to protect our planet, we continue to seek out responsibly sourced materials and environmentally sustainable business practices to minimize the adverse effects on our community, environment and natural resources.
"To support the runner, we look for high-performing materials with characteristics that include wicking, drying and breathability," he adds. "Our collaboration with Cycora allows us to simultaneously reduce the materials going into landfills while producing a premium collection of products that are ready to perform. We are so pleased to partner with Cycora and know that runners will appreciate helping to offset the end-of-life clothing cycle with this collection."
"We are excited to team up with Saucony, a brand that is eager to lead the running industry in helping to bring a vision for circularity to life," adds Ambercycle CEO Shay Sethi. "Not just a material, Cycora is a movement, a vision for the future and a community. With this collaboration, we are inviting the global running community to help build a circularity ecosystem, where performance apparel is removed from the cycle of waste and reused over and over. This collection demonstrates the intersection of performance and sustainability through a range of technical tops that are highly breathable, sweat wicking and stylish."
New Product: Under Armour HOVR Phantom 3
Earlier this month Under Armour unveiled the UA HOVR Phantom 3, a neutral, responsive running shoe designed for specialty athletes training to compete — those who would do anything to improve in the offseason so they may perform at their best in season. The UA HOVR Phantom 3 maintains the Phantom's reputation as UA's most versatile running shoe while it delivers the speed and propulsion that athletes demand from a performance running shoe while maintaining the comfort and stability needed from a training shoe.
"We created the UA HOVR Phantom 3 for those striving to put in the work every season, especially offseason, in order to feel confident in their fitness and perform at their best when it is time for the ultimate test: game day," explains Katie Lau, Global Product Director, Train & Recover Footwear at Under Armour.
The UA HOVR Phantom 3 is the latest evolution of the Phantom franchise since the Phantom 2 launched most recently in July 2020.
The UA HOVR Phantom 3 offers move HOVR, more breathability and improved fit when compared to its predecessor. The implementation of the latest evolution of HOVR midsole technology now runs the full length of the midsole in the Phantom 3, meaning a plush feeling underfoot without compromising on propulsion thanks to the now full-length HOVR midsole technology. The soft, high-performance and highly textured UA Intelliknit upper improves breathability through its unbelievable stretch and targeted flex. A new, secure heel counter combined with pillowy but firm panels delivers sturdy, foot hugging support. Finally, molded detailing in the midfoot and lower contour around the ankle not only improve fit, but offer stability and ease of entry benefits. MSRP: $140
The Men's and Women's UA HOVR Phantom 3 launched on September 7 in North America and will be available in multiple colorways on UA.com, at UA Brand Houses, and select sporting goods accounts.
New Product: Altra Outroad
Altra's new Outroad is billed as the brand's "first trail-to-road hybrid shoe."
The Outroad was built for road and also equipped for trail excursions, featuring Slim FootShape fit that offers a snug fit, as well as a grippy MaxTrac outsole and Altra EGO midsole foam. This road-to-trail shoe is designed for the road runner looking to explore what the trails have to offer. MSRP: $140
New Product: Article One Sunglasses
A brand called Article One recently launched its Active collection of running sunglasses. The brand's founder is an avid runner and he designed the Active collection to have the aesthetics of fashion brands with all the technical performance elements of running glasses. The brand says it is intentionally pushing against performance aesthetics of the inventory by creating handmade Italian frames with style and sport specs:
New hexetate material allows for improved flexibility, enhanced shape memory even when exposed to high temperatures, a lighter weight and added durability
CR39 polarized lenses with backside anti-reflective coating that blocks 100 percent of UVA/UVB rays and prevents road glare
Signature adjustable nose pads
Rubber temple tips
Spring hinges
Lightweight
New Product: Tactical Pens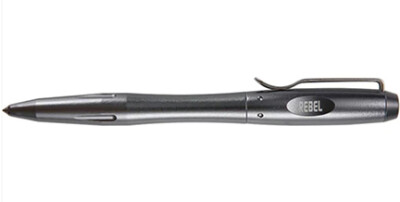 Part of what helps every runner is the confidence to run anywhere — cities, along a nature trail or even around their own neighborhood. It is a comforting knowing they are able to defend themselves in any situation and now making that possible is the Tactical Pen from Atomic Bear. Two products in the collection:
The Rebel tactical pen by Atomic Bear features a tungsten carbide tip that helps keep peace of mind and is easily available for self-defense, even on those nature walks.
The MTP6 Multi-Tool Tactical Pen with Flashlight is not only the tactical pen everyone can write with, but also the survival gear you'll need when you are in a bind.
New Product: Headpeace
A new headwear company called HeadPeace offers stylish, ethically made headwear, designed to fit an active lifestyle. Its mission is to provide quality headwear that is ethically made and, according to founder and owner Lindsay Theken, "helps to make the world a better place, one piece at a time."
The HeadPeace manufacturer is located in Nepal and Theken describes them as "a socially ethical, fair trade company that helps women coming out of slavery and trafficking situations get back on their feet." Theken created the headbands from design elements from a few of her favorites to produce one that is comfortable, stylish and functional. Since then the product line has expanded to include lightweight hats, neck gaiters, tie bands and kids' bands.
HeadPeace are currently found in about 500 clothing climbing gyms, boutique stores, fitness centers, yoga/pilates studios, outdoor equipment, mountaineering and natural grocery stores around the country, including CorePower Yoga studios, Olympia Sports and Natural Grocers. Outside Magazine recently recommended HeadPeace, and Katy Perry has even been seen wearing its bands!
For more: www.headpeaceheadbands.com
On Partners With Trove to Launch 'Onward' Resale Site
As an extension of its existing ESG initiatives that focus on driving sustainability through innovation and elevating circularity across its product portfolio, On this month has launched Onward, a resale site and online trade-in program powered by Trove, the Recommerce Operating System. As part of the program, consumers will be able to shop and trade in pre-owned On footwear, with the program expanding to include apparel in the near future.
Since inception, On has been aware of its global environmental footprint, working toward ambitious sustainability goals to increase circularity and usage of recycled fabrics and to decrease carbon emissions. Onward is the newest venture that will help the brand take responsibility for every product and its afterlife. Through Onward, customers can send back their gently used On gear and receive a $35 credit to spend on their next purchase at Onward or On-running.com.
Trove's Recommerce Operating System has the ability to process millions of items and offers end-to-end item intelligence to deliver profitable and sustainable growth at scale for brands like On. Unlike marketplaces and peer-to-peer sites, Trove powers trade-in and resale within a brand's unique ecosystem, giving each brand partner an opportunity to own the experience and engage with new and existing customers.
"On is revolutionizing the running experience with its sustainability-focused, high-performance designs, and as a global leader with a highly engaged worldwide community, the brand is uniquely positioned to help tackle environmental challenges," says Gayle Tait, CEO of Trove. "We are proud to power the Onward program to offer a convenient way for customers to trade in and shop for preloved On gear and to support the brand's efforts to build a fully circular product lifecycle."
"We remain dedicated to making high-quality products that push the bounds of innovation, challenging limits that previously existed in the footwear industry. With the launch of Onward, we are giving our customers more access to groundbreaking products, while giving our products an extended lifespan at the same standard of quality," adds Caspar Coppetti, co-founder of On. "Reducing environmental impact is one of our biggest priorities at On. Exploring innovative partnerships with companies like Trove is a key step in becoming a more circular company by the end of the decade."