Backed by physics and research data, Vimazi introduced its first collection of pace-tuned shoes during The Running Event in Austin, TX, last month. Each of the company's 10 shoe models are engineered to perform best within specific pace zones, giving runners a more personalized shoe with better performance and shock protection.
Vimazi's pace-tuned approach is the first of its kind. The company uses patent pending technology, backed by physics, to deliver optimized cushioning on impact and maximized propulsion efficiency during push-off for every runner. Vimazi pace-tuned shoes will be available online and in select retailers in early 2023.
Based in Portland, OR, Vimazi was founded by running industry veterans and life-long marathon runners, Scott Tucker and John Zilly. The pace-tuned concept came from Tucker's prediction that running shoes tuned by pace would be much more efficient because vastly different forces are generated at different paces and shoes needed to react accordingly. After working for two years on the math and physics involved in their technology, Vimazi pulled a team of researchers together to test the theory of pace-tuned shoe tech. Results from their study aligned exactly with the physics-based predictions about cushioning and performance in running shoes.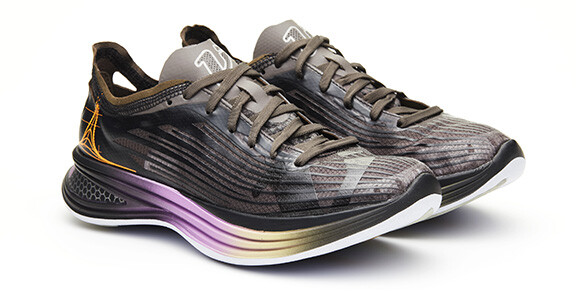 According to the research, running forces differ by pace and, importantly, between heel and forefoot. Knowing that impact forces are much different than propulsion forces, Vimazi specifically tunes each midsole with a proprietary midsole tech, a FastPod. The forefoot FastPod in each shoe has been engineered to respond to the propulsion phase of a runner's stride. In the heel, Vimazi midsoles have been tuned to respond to the specific impact force runners generate within the designated pace zone. Vimazi found that tuning shoes by pace zone and between heel and forefoot results in ideal cushioning while simultaneously maximizing propulsion efficiency.
"We were ecstatic to introduce Vimazi to the running industry during TRE. This has been years in the making, and we were blown away by the response at the show," says Tucker, Vimazi co-founder and CEO. "Our shoes change the paradigm from the one-size-fits-all super shoe to specific pace-tuned models that work best for each individual. We can't wait to get more shoes on runners' feet."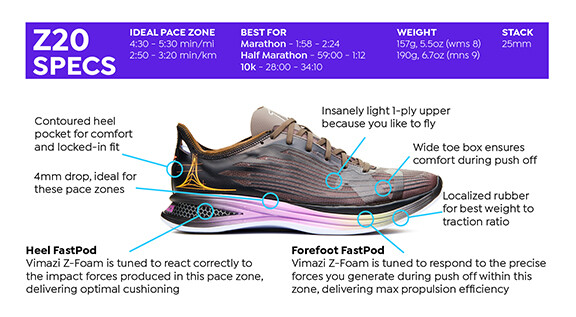 The first six models, from the Z20 (4:30-5:30 min/mile) to the Z70 (10-12:30 min/mile), will be available in early 2023. Vimazi also introduced an additional road model, two new trail running shoes, and a walking shoe during TRE. These shoes will be available later in 2023.