If there is one "hot" category in the world of running – indeed, in all sports these days – it is face masks. The need for personal protection expands well beyond trips to the grocery store or other times when social distancing is not possible, and runners are increasingly looking to add the accessory to their run routine to keep themselves, their running partners and even passers-by safe during the COVID-19 pandemic.
Brands across the sports spectrum have responded to this new category with innovative and technical products that answer the call for safe, effective and, yes, stylish offerings.
The ASICS Innovation
Leading the way in the run category is the new ASICS Runners Face Cover, designed by the ASICS Institute of Sport Science (ISS) specifically for runners with performance, comfort and protection in mind. The design includes air vents that give runners the room to breathe comfortably, while minimizing the spread of droplets. The face cover's quick-drying material helps cool the air that reaches its interior.
According to the company, tests show that the ASICS Runners Face Cover "significantly improves breathability and comfort, with runners feeling little to almost no difference from wearing no mask." Importantly, it adds, this is maintained even when running at higher speeds where conventional masks may inhibit performance.
"We know how important it is for runners to protect themselves and others when running, but also that many find face covers uncomfortable and restrictive," says Kenichi Harano, executive officer and senior GM at the ISS. "So, we created the ASICS Runners Face Cover."
The ASICS Runners Face Cover will be available globally in mid-September at a retail price of $40.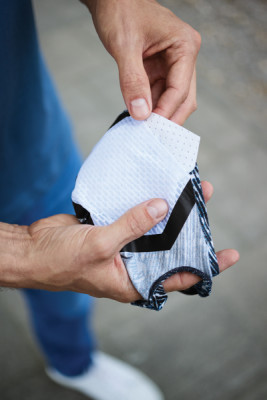 Buff Enters The Race
A headwear brand also making inroads with runners is the new Buff Filter Mask, described as an all-day mask built for performance so runners can wear it from running errands to running on the trail.
The Buff mask includes a three-layer filter with 98 percent bacterial filtration efficiency and waterproof properties. But it remains lightweight and breathable using Buff's recycled CoolNetUV+ fabric, which creates an articulated shape and adjustable design with performance features such as HeiQ cooling technology, breathability and UPF 50 sun protection. The lightweight mask covers the mouth, nose and chin with an ergonomic construction that eliminates back-of-ear pressure point discomfort with two back-of-head adjustable straps.
A thin mesh interior pocket treated with HeiQ V-Block antimicrobial treatment and bonded by silicon tape around the mouth area holds a three-layer recyclable filter inserted by the user. Each individual Buff Replacement Filter offers up to 24 hours of use with 98 percent of airborne particles filtered.
"The safety of our communities depends on a shared sense of responsibility, as well as the effectiveness of facemasks," explains Buff marketing manager Kevin Walker. "Although unanticipated, developing a product to meet the safety needs of our consumers is a natural evolution for us. Our brand mission has always been to protect consumers from harmful natural elements and we see this filter mask as an extension of that goal."
The new mask is part of an alliance Buff has entered into with UNICEF, where two percent of global revenues, including all sales from the new Buff Filter Masks, will be donated to UNICEF next year.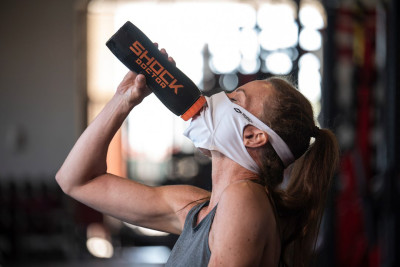 The Shock Doctor Athlete-Centric Mask
Coming at the demand from a slightly different angle, sports brand Shock Doctor has released its Play Safe Face Masks and Gaiters, sport-specific face coverings that help protect runners and other athletes against airborne droplets.
Shock Doctor took what it calls an "athlete-centric approach" to designing its Play Safe Face Masks and Gaiters. The products include features such as the patent-pending Quick-Flip, a multi-layer split design that ensures easy access to hydration without having to touch the face or remove the mask. To eliminate ear irritation and reduce pressure points during runs, the mask includes dual head straps that wrap around the back of the head.
Additionally, the Face Mask and Gaiter are made of lightweight, moisture-wicking elastic material that ensures a secure fit while maintaining breathability during performance. The material is also machine washable, making them reusable.
"Taking an innovative approach to protection is in our DNA," says Michael Magerman, president and CEO of United Sports Brands, the parent company of Shock Doctor. "As a community, this is a uniquely challenging time we are facing. We take pride in providing athletes with protective solutions that enable performance at the highest level while keeping the rest of the community safe too."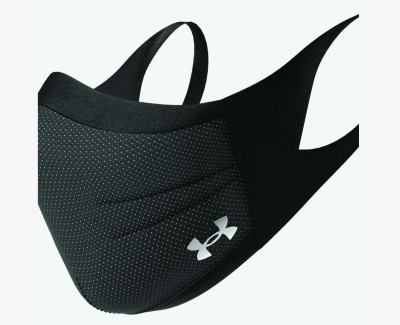 Under Armour Masks Up
Of course, leading run and sports brand Under Armour got involved in designing face masks for runners and athletes this summer, introducing the UA Sportsmask (shipping by September 4, 2020), made with high-performance UA materials, designed to be worn all day and when running or playing sports.
The UA product features a structured design that sits up off the face and lips for comfort and breathability. The water-resistant outer shell features smooth, breathable spacer fabric and antimicrobial treatment on the inside layer helps keep the mask fresh.
Other features include a polyurethane open-cell foam that lets air through but makes it hard for moisture and sweat to pass, the UA Iso-Chill fabric on interior lining and ear loops that feels cool to the touch, a soft and smooth fabric for next-to-face comfort and a lining fabric that extends up and is strategically shaped to lay flat across the bridge of the nose.
Kitsbow, Outdoor Research Join the Game
Coming from the cycling side of the business, Kitsbow has developed two face masks that elevate both protection and fit for athletes, frontline workers and, of course, runners, and they have taken their attention to detail in cycling apparel manufacturing and translated it into mask design.

Designed in conjunction with Wake Forest, the Wake ProTech by iQ Healthtech Reusable Face Mask adds long-wearing comfort where protection is essential. It features easily adjustable straps that help to achieve a high-quality fit, especially across the cheekbones, which is important to minimize fogging of glasses. The mask is offered in six sizes ranging from XS-XXL to help ensure a comfortable and more uniform fit around the face without gaping.

Additionally, the Kitsbow Face Mask began shipping in March as one of the first commercially produced reusable fabric face masks in the U.S. The Kitsbow Face Mask utilizes a replaceable HEPA-type filter inserted into a pocket of the two-fabric layer mask. Like the Wake ProTech by iQ Healthtech Reusable Face Mask, the original Kitsbow Face Mask is also reusable, reducing unnecessary waste and reducing the aggregate cost of protection compared to disposable filters. Replacement filter media for this face mask are available for purchase as well.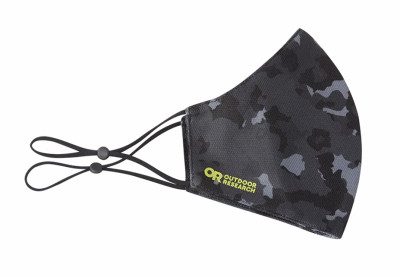 Another brand, Outdoor Research, has produced its Essential Face Mask Kit designed around a proprietary and replaceable filter integrated in a form-fitting, fully customizable fabric face mask. Designed with outdoor activities, including running, and everyday use in mind, components of the Essential Face Mask system include:
A Made in the USA filter provides basic bacterial filtration and sub-micron particulate protection, paired with superb breathability. A three-pack of filters come with the Essential Face Mask Kit.
The mask is treated with HeiQ NPJ03 to provide resistance to microbes and germs, it can be laundered up to 30 times while maintaining 100 percent effectiveness.
The mask offers a fully customizable fit. Adjustable ear loops and a nose wire provide comfort with a tight seal.