With sustainability and eco-initiatives on everyone's minds these days – and certainly a focus at the upcoming Running Event 2023 in Austin this month – one brand is standing out in its efforts to make the earth a better, cleaner place to live, work and play.
Recover Brands has been a pioneer in the development and manufacturing of sustainable apparel since its founding in 2010. In fact, every single Recover shirt, hoodie, hat or sock is made from 100 percent recycled materials (post-consumer plastic, post-industrial cotton, and post-consumer cotton) or USDA Certified Organic Cotton. The brand planted its roots in the outdoor, music, craft beer, coffee, and running event industries and has experienced growth into new markets along with an expanded list of product offerings.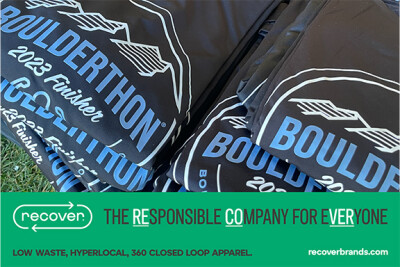 Recently, the eco-friendly apparel company worked with New York City-based creative agency Graj + Gustavsen to refresh the 13-year-old brand to reflect a bigger, bolder and more impactful brand position. The refresh includes updated mission, brand statement, logo, new brand colors and topography that was teased at the Boulderthon Marathon (Recover was the Official Apparel Partner) and digitally unveiled with a brand new website launched in mid-October.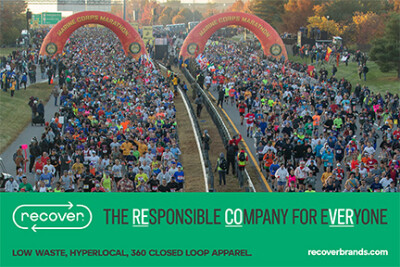 Recover just concluded a multi-channel brand activation throughout the iconic Marine Corps Marathon weekend as the Proud Apparel Partner of the prestigious "People's Marathon". Looking forward to The Running Event in Austin, "THE RESPONSIBLE COMPANY FOR EVERYONE" is providing all Indie 5K participants a fully recycled and recyclable event shirt along with an interactive booth highlighting all that it has to offer the run specialty retail and event business.
"As we continue to evolve as a brand and inspire consumers to make more intentional decisions, the Recover brand continues to be well positioned as the leader in the sustainable apparel space," explains Recover founder and president, Bill Johnston. "This brand refresh fully supports that vision and our commitment to sustainability, and we are excited to enter into this chapter."
The recent brand refresh aims to further reinforce Recover's commitment as a leader in the sustainable apparel space and supports two other major initiatives that the brand recently launched.
Recover has been laser focused on minimizing its environmental impact throughout the entire manufacturing process as displayed in its HyperLocalTM and completely vertical Supply Chains. All of Recover's USA-made products are manufactured entirely within a 250-mile radius of its North Carolina headquarters, while its Central American supply chain boasts a minimized supply chain of only 10 miles from raw material to finished goods. These manufacturing processes both conserve more than 10 times the amount of water and energy of a conventional shirt and significantly reduce the carbon emissions associated with unnecessary transpiration.
In Spring 2023, Recover launched a nationwide "360' Closed Loop Tour" at festivals, races, trade shows and community events to promote its Closed Loop Program, where they take back old shirts to keep them out of the landfill and put them back into the supply chain. This program is available to the general public 24/7 through the Closed Loop Mailer program as well as to approved retail accounts that want to tell their sustainability story in their own retail spaces.
Learn more by watching this video.