It has been featured in Running Insight in past issues and the proof was in the pudding – or actually, on the streets of New York City – earlier this month when Sharon Lokedi, of UA Mission Run Dark Sky Distance won the 2022 New York City Marathon wearing a World Athletics-approved prototype of the next iteration of the UA Flow Velociti Elite, with a time of 2:23:23.
In addition to her UA Flow Velociti Elite footwear, Lokedi was outfitted head to toe in a UA Mission Run apparel kit featuring UA RUSH technology, serving as a top apparel innovation at UA that was put to the test on a warmer-than-usual race day.
Traditionally specializing in the 5k, 10k, and half marathon distances, the NYC Marathon was Lokedi's marathon debut and a celebration of a long journey to compete.
"It's an honor to be Under Armour's first pro-run athlete to win a major marathon," Lokedi says. "I am beyond grateful to be a part of a brand that supports and builds athletes to be the best they can.
"Since I signed with UA in 2019, there has been a lot of progress with footwear development and this win was a culmination of all the work we have been putting in both as an athlete and as a brand," she adds.
Originally from Eldoret, Kenya, Lokedi attended the University of Kansas, where she saw steady improvement in her performance which would ultimately propel her future as a professional distance runner. After a successful career in Kansas, including a NCAA 10000m championship, Sharon joined Under Armour in 2019, and has been a pivotal team member in the launch and development of Dark Sky Distance run team and UA Mission Run.
Today, Lokedi trains in Flagstaff, AZ with UA Mission Run Dark Sky Distance under the direction of coaches Stephen Haas and Pat Casey.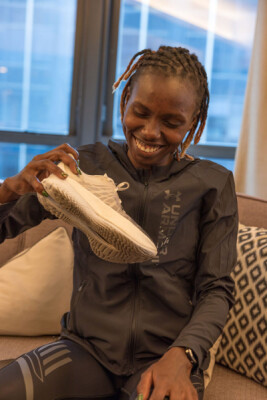 "In order to be competitive in major races and major marathons, it is paramount to have competitive footwear," points out Haas. "I am grateful that Under Armour recognized this crucial athlete problem and got behind what we were trying to do with an innovation the market needed."
Lokedi achieved victory at the New York City Marathon in a World Athletics-approved prototype of the next generation of UA's first-ever super shoe, the UA Flow Velociti Elite, after achieving PRs in the shoe at various distances leading up to the big race. The shoe first debuted on UA Mission Run athletes ahead of the World Championships in Eugene, OR, this past summer and Lokedi was next to debut the prototype of a future iteration on the streets of NYC as part of UA's athlete wear-testing process.
UA Mission Run has seen other recent notable achievements by UA athletes wearing the UA Flow Velociti Elite, such as Weini Kelati's 5k unchallenged consecutive title win this past weekend at the 2022 USATF 5k Championships. Kelati ran a winning time of 15:16 to break her own course and championships record which was set just last year. Such milestone moments have demonstrated the impact these footwear innovations have on athlete performance and that UA has nailed the intent of delivering a propulsive race-day solution for its pro distance runners.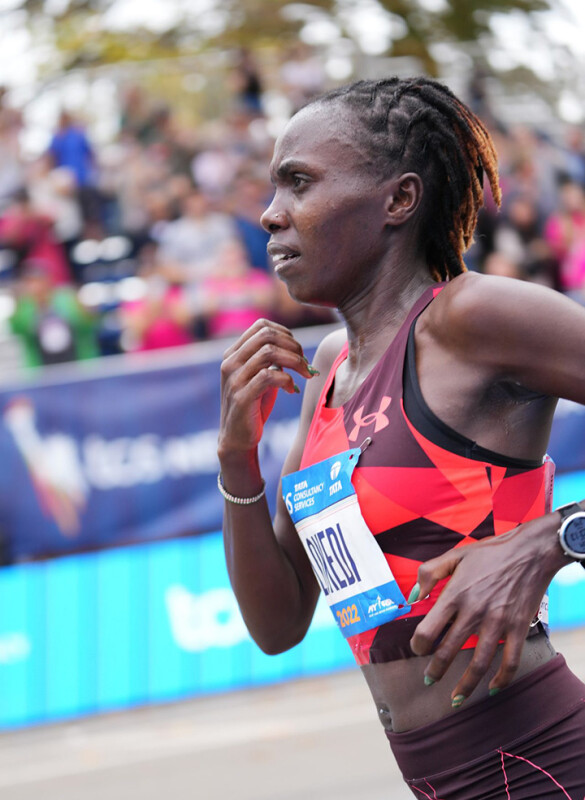 "From concept to creation, UA athletes are an integral part of identifying the problems that our footwear creation team sets out to solve," says Doug Smiley, Director of Performance Run Footwear at Under Armour. "In this case, we've learned that the race-day ready level of responsive cushion, propulsion and lightweight breathability make a fundamental difference in their performance."