It began with a rather simple phone call.
Last year, Kathy Gates, owner of the Kansas City-based The Running Well Store, phoned KC Running Company owner Troy Fitzgerald with a request: Might Fitzgerald, whose race timing business was involved with some 100 running events each year, consider hosting a few packet-pickup events at one of Gates' three local running shops?
With a retail store himself in south Kansas City's Martin City neighborhood, Fitzgerald didn't see a compelling reason to send race participants to a competitor. He did, however, suggest an alternative to Gates.
"Would you be interested in taking over our space?" Fitzgerald asked.
An offer too good to refuse
Over the last decade, Fitzgerald says operating a retail store and race timing business proved too challenging and he struggled to give his Martin City retail store the care and attention it deserved.
Gates, meanwhile, was flourishing in retail, taking The Running Well Store from one Kansas City location to three storefronts in five years and earning numerous Best Running Store in America nods in the process. Yet more, Gates could empathize with Fitzgerald's balancing act. Five years prior, she sold her events company to focus her full attention on retail.
"I didn't have enough energy to give two growing businesses my everything," says Gates, who purchased Sports Medicine Metro Walk and Run in 2013 and rebranded it to The Running Well Store soon thereafter.
Fitzgerald's offer seemed a win-win: Fitzgerald could exit retail and focus on races, particularly his own event properties, such as Rock the Parkway and the Plaza 10k, while Gates could grab a retail presence in south Kansas City to complement her existing stores in central, north and east Kansas City while also tapping into KC Running Company's thriving race operation.
"It was too good of an opportunity, too good of a partnership, to pass up," Gates says.
From competitors to allies
This fall, Gates and Fitzgerald made it official. Gates assumed the lease on the KC Running Company store on 135th Street and rebranded the retail space in The Running Well Store image, including refreshing the space with new furniture, imagery and display merchandising. After a soft opening in late September, the store just celebrated its grand opening on Oct. 14.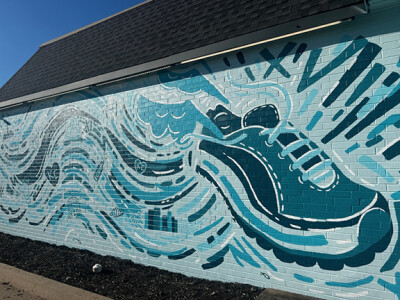 "The KC Running Company guys are really good at what they do on the race side and we believe in what we do on the retail side," Gates says. "Now, we can each focus on what we do well."
The deal also moves The Running Well Store and KC Running Company from competitors to allies pursuing a shared goal: to grow, impact and enliven Kansas City's running and fitness scene while building their respective businesses.
"The ultimate goal is that each of us feed off one another," Fitzgerald says. "The Running Well Store gets packet pickups at its stores and we at the KC Running Company get greater exposure for our races because of The Running Well Store's reach across four retail locations."
Gates, meanwhile, calls the deal between two established entities a win for the Kansas City running community as well, as it promises to unlock creativity and spur opportunities that didn't exist before. To that point, The Running Well Store and the KC Running Company will be partnering on a Newbie Run Club in January to ready participants for the Rock the Parkway 5k race on April 6.
"The creative possibilities because of this synergy are immense," says Gates, happy to have more packet pickups in her store as well as a retail presence in south Kansas City. "We're both bringing something unique to the table to promote and support the other."