Furthering its position in the recovery footwear niche, Kane Footwear recently entered into a marketing partnership with Olympic athlete Hilary Knight and then introduced a line of collegiate licensed recovery shoes aimed at an entirely different market.
The Kane x Knight Shoe Unveiled
In a high-profile partnership, Kane last month released the Kane x Knight shoe, designed by hockey star Hilary Knight in honor of her journey in women's sports. The Antique White/Blue colors remind Knight of her childhood and how much she's overcome to get to where she is today, while the back hang loop features Knight's mantra: "Dare to Be."
As an Olympic athlete, Knight skated in the 2022 Olympics to help USA Hockey secure the silver medal in Beijing and previously won eight World Champion titles. On top of playing high-level hockey, Knight has also been on a mission to empower women breaking into hockey and other competitive sports.
"Hockey is a great game," Knight explains. "I wanted to break through ice ceilings in hockey so other young girls don't have to and so those girls will forever have a place to play the sport they love."
Together, Kane and Knight are helping athletes overcome all types of obstacles — from physical recovery to mental hurdles.
Kane brought Hilary onto its athlete team last February, impressed that she continues to pursue her sport even after a lifetime's worth of successes.
"Hilary embodies our 'Come Back Better,' motto," says John Gagliardi, CEO and founder of Kane Footwear. "After years of performing at the highest level that an athlete can, she continues to shatter records and shatter expectations of what women are doing in sports."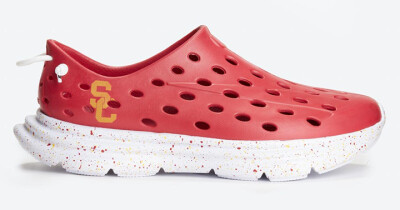 Welcome to College

In another move in the recovery space, Kane in mid-September unveiled a limited edition licensed collegiate recovery shoe collection.
Inspired by a commitment to providing recovery options to athletes of all levels, the collection of recovery footwear features designs inspired by Clemson University, University of Florida, LSU, USC and the University of Alabama.
Student athletes and fans can sport their pride while gaining the recovery benefits of a podiatrist-designed recovery slip-on.
Designed in collaboration with sports podiatrist Dr. Dan Geller, the Revive slip-on facilitates active athletic recovery through three key ways: 10mm heel-to-toe drop reduces strain on the Achilles, raised nodes on the sole stimulate feet and a spacious fit allows for expansion of the foot.