For Keri Straughn and her brother, Christian Fyfe, partners in the family-run, two-store Palmetto Running Company operation in South Carolina, protecting the environment is an important personal cause. The siblings are both parents of young children and interested in activities that support a healthy planet well into the future.

"We need to take care of the ground we walk and run on and to create that happy, healthy future, we need to make changes now," Straughn says.
While many environmentally conscious decisions weave into Straughn and Fyfe's personal lives, it is their role at Palmetto Running where they believe they can have the greatest impact.
Over the last two years, Straughn and Fyfe have assembled Palmetto Running's ever-evolving array of environmental activities into a formal program. The company's multi-pronged Eco-Initiative promotes environmental stewardship through a mix of strategic business choices and community outreach.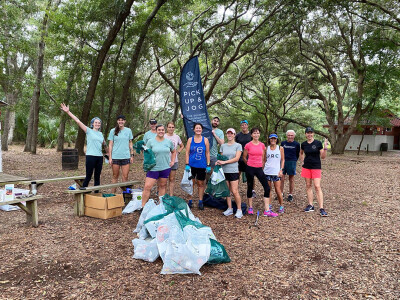 Palmetto Running has committed itself to purchasing products made with more sustainable, recycled and eco-friendly materials and directs a slice of every transaction to the Coastal Conservation League, a South Carolina-based nonprofit that works to protect local landscapes, wildlife and clean water. Inspired by the Swedish trend of litter pickup while jogging, or plogging, Palmetto Running also hosts Pick Up and Jog events on the second Saturday of each month.
"As business owners, we want to use our platform for good and to do something for our community and the planet," Straughn says.
Palmetto Running will take another step in that direction later this month when it hosts a family-oriented affair on April 24 in Hilton Head, SC. The event will pair sunrise yoga and a fun run with organizations introducing their environmental efforts and detailing ways individuals can have a positive impact on the Earth.
"We hope we can inspire others to be more involved in environmental matters and also set an example on how to run a sustainable business," Straughn says.