It's a new day at inov-8, one of the globe's premier outdoor footwear brands and one eager to make deeper inroads into the increasingly competitive U.S. trail running marketplace.
After leaving day-to-day operations of inov-8 in 2012, ceding control first to private equity and then to Japan-based Descente, Wayne Edy has returned to lead the company he founded in 2003 and bootstrapped to international acclaim.
With Edy back at the helm, the U.K.-based brand has captured quite a few headlines of late. The Terraultra G 270 claimed trail running shoe of the year awards from the likes of Runner's World UK, Women's Running and Road Trail Run in 2020, while the Trailfly Ultra G 300 Max, the world's first shoe featuring a graphene-enhanced midsole and two other patent-pending technologies, earned Trail Running magazine's Innovation of the Year award.
Fueled by Nobel Prize-winning scientific efforts at the nearby University of Manchester, graphene has become a particularly notable piece of inov-8's innovation story. Though among the thinnest materials known to man, graphene is nevertheless 200 times stronger than steel.
In an alternative to the carbon fiber-infused super shoes capturing the market's attention, the graphene-rich G-Fly foam present in the Trailfly Ultra delivers 25 percent greater energy return and retains its optimum levels of underfoot rebound and comfort over greater distances. A graphene-infused outsole on models like the Terraultra G 270 and Trailfly Ultra, meanwhile, provides intense strength and grip on trails.
Edy recently sat with Running Insight senior writer Daniel P. Smith to discuss his return to inov-8 and his plans for the brand.
What brought you back to inov-8?
It's a brand I founded and I, of course, want the best for it. When I was the 100 percent shareholder, I could influence it and make all the key decisions with myself and my team. As soon as I sold some of the shareholding, though, I was no longer in position to do that. The brand's got a fantastic team, really good positioning in the marketplace and I just thought under my guidance and ownership again, it would have that best chance longer term to really scale to its full potential.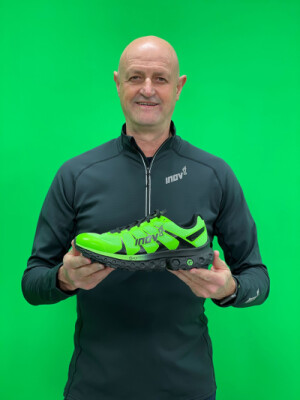 How important is trail running to inov-8 and its future?
Our main focus is off road. If we look at the road category, it's just very competitive with major brands in there. We have specifically targeted ultrarunning as a new category that we really want to get some traction on … and we feel we're well positioned to take a leap in that category.

How does inov-8 execute on that trail running focus?
We've got great DNA within the product, and one of the most important bits of technology is that we're the only company in the world making graphene outsoles and midsoles for running shoes. Rubber has been around for over 100 years and there have been incremental improvements over the years, but we've managed to achieve 50 percent improvement in grip over standard rubbers, 50 percent improvement in durability and in excess of 50 percent additional stretch by blending rubber with graphene in a very particular way. We're the first company to be able to achieve this and we're one of the first companies to really commercialize graphene in a consumable product. That's going to be one of the key cornerstones of our uniqueness going forward and a story we want to share.
And there's a sustainability element to graphene as well, right?
Absolutely. We get performance enhancements with graphene and that's so important for us – the grip and the interaction between the athlete and the terrain they run on whilst not inhibiting one's natural biomechanics. But there's also a sustainability position, which has been important to us from the earliest days of the brand. Rather than focusing on shoe recycling, we're putting our effort into longevity.
Can you explain that a bit more?
If we can get a shoe to last twice as long with a high-quality, innovative outsole and midsole, then we reduce the impact a product can have on the environment because it's lasted twice the life. So, it's about delivering performance and longevity, giving that runner the best experience, the best grip, the best comfort, the best breathability and a product that lasts as long as possible.
How important are run specialty retailers to inov-8's goals?
In the lifecycle of the brand, we lost some momentum on specialist retail and I'm keen to get that back. We see specialist run as critical to our goals and we want to grow our specialist retailer distribution, particularly in North America. Consumers want to be able to go and try on product and get good advice, and you can get the best of this through specialist retail.
What's the sales pitch for run retailers?
As a brand that's not over distributed and one that's got a unique story – one that isn't just about marketing, but is actually backed up by products and independent reviews – we feel we're attractive to specialist retailers, and we want to work with them. And if you look at how the marketplace is changing, specialists tend to be looking for brands that are more exclusive and have a good story, so I think we're ideally placed for that market.
While inov-8 enjoys a strong, loyal following in the U.K. and elsewhere in the world, it has struggled to gain traction in the U.S. What do you think has hindered the brand's growth in the U.S. and how do you plan on attacking that?
It's about spreading the word. The more people that try our product will realize what a great experience it is and they'll spread the word. We've already developed the product and, of course, we have ongoing developments. Now, it's getting the team out there to speak to the retailers. A lot of specialist retailers are now contacting us again because they've read up and seen the good reviews we've been getting. We've got a lot of key athletes wearing our product. We're getting more media exposure. We're working our way up the ranks.
What has you most excited about where inov-8 is headed?
It's building on the technology we have, growing the team and the brand to its full potential. I believe inov-8 can very easily be a $200 million turnover business because once people try our product, they tell 10 other people and we get that loyal following.
Where does the sustainability story come in?
Then, the sustainability piece is important, even more important to our type of consumer than a lot of others because ours spend their time out in the wild and the countryside. They want to be associated with brands that honor the environment and we feel that we have close alignment with our end users on that.
What can run shops expect from inov-8 moving forward?
I can say we're building. We already offer the most comprehensive range of outsoles for the different types of terrain. Then, we offer a combination of different midsoles and fits. So, we have the most important components in place and we'll build out from that using the best technology that's available. There's going to be innovation coming in from all different areas — at least two big innovations each year across the categories.