The world's most prestigious trail event has a new headline sponsor. Hoka One One has signed an exclusive deal to become the official technical footwear and apparel sponsor of the Ultra-Trail du Mont-Blanc (UTMB), the 18-year-old event that brings some 10,000 trail runners from around the globe to Chamonix, France, to compete in one of seven races.
"When you think about the communities we are each passionate about and want to serve, the UTMB puts this front and center, allowing Hoka to add another layer of support to the trail, ultra and mountain running worlds," Hoka senior director of global commercial strategy Steve Doolan tells Running Insight.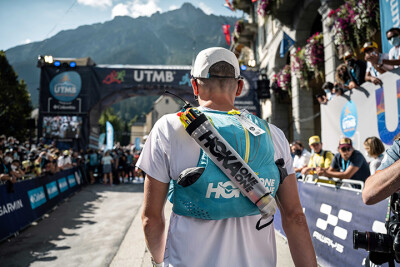 Over the multi-year partnership, which is official through 2023 with options to extend to 2024 and beyond, Hoka will help bring the global trail running community together in Chamonix and around the world "through activations, footwear and other areas designed to support and inspire," according to Doolan.
The partnership follows the May 2021 announcement of the UTMB World Series, a globally branded series of events scheduled to take place across six continents and provide athletes a clear path of entry into the World Series Finals in Chamonix. The first UTMB World Series qualifying event is slated for next February in New Zealand.
"In our mind, the UTMB and its plans around the World Series represent the pinnacle, and we're so excited to support, build and grow both of our brands around the world," Doolan says.
The UTMB partnership presents an undeniable opportunity for Hoka to continue its rapid ascent in the performance running world and grow its global business, especially in areas across Europe and Asia.
Yet more, the partnership enables the Deckers-owned brand to deepen its ties with the swelling trail running marketplace and trumpet its mountain-running roots, seeds first planted in the French Alps by Hoka co-founders Jean-Luc Diard and Nicolas Mermoud. In addition to its success with trail-running footwear franchises like the Challenger and Speedgoat, Hoka also sponsors trail running icons such as Jim Walmsley and Magda Boulet.
"This is an opportunity to grow with the UTMB World Series and grow our business and visibility outside of the U.S. … while also allowing us to focus on our core constituency [of trail runners] and remind them just how committed we are to that community," Doolan says.